Prelouge:Wanted to this ride for a long time.A long weekend for this specific ride was particularly awaited.I was
planning this ride for some time now and this would be my ride after a period of two-three months.Plan was to
ride from mumbai-jaisalmer in one day and visit the sam dunes and ride bak home all in three days time.Well this
one was specifically very ambitious and I wanted to give it a try.Since people had pulled out of the ride I had
to make it solo...
June 21:Ate some sandwiches but didnt have heart to pack them up.I was too anxious to get back on the saddle and
see if I can make it.Started at 6:00 am in a gusto.I am greeted by long line of trucks outside mumbai and I lose
lot of precious time crossing them.Eventually it occurs to me I had made a wrong choice of time to start.Well to
reach jaisalmer I would have to ride for more than 18 hours.I think my HIDs would drain out the battery in 9 hrs+
of continous use which means I could be standed in middle of night with no headlights.I am riding solo too.
Plan was to get good sleep before riding but ir doesnt work out well.I should put my HID as auxillary and have a
60 watt bulb which can go all day long else for a 24 hour ride I should start at 12:00 midnight so that I get 6
hours of headlamp+12 hours of day light to charge the battery+6 hours more of night ride.its better than 12 hours
daylight+12 hours of darkness.
I zip across towns and thru gujrat.Somewhere in between I stopped for pee and water break and some boiled corn@10
bucks.I navigate thru trucks and bad road.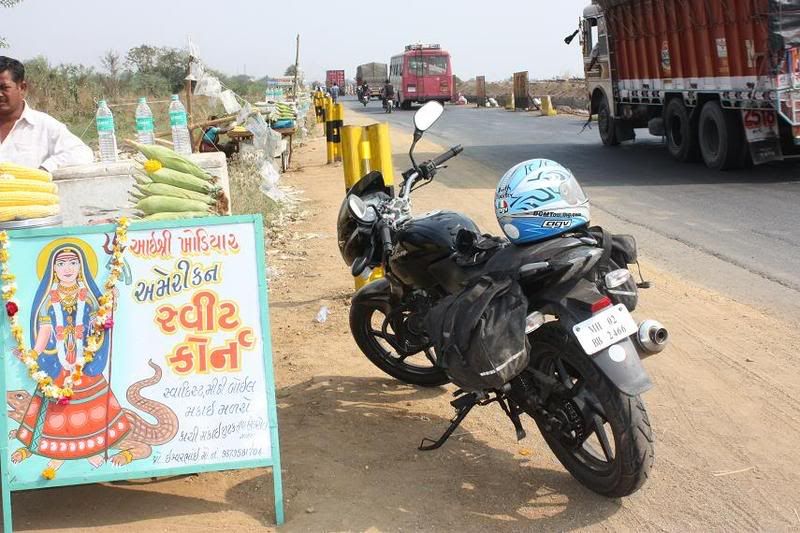 Area close to surat is under construction.However the strech between
surat and vadodara is almost complete and in better shape than it was one year back spare some 20-30 kms
kilometers near vadodara.A year from now it would be fun ripping on this road.I reach ahmedabad some 525 kms from
my place at around 3:00.
I took a long petrol break at a petrol pump near sardar patel ring road.
Took the ring road and turned towards mehsana.Ahmedabad mehsana road is quite unique in
the way its the only place I had to pay toll as a bike out of 11 states I have ridden thru.There is a toll road
and there is a non toll road where you can go without paying toll.The road was pretty much fun and I reached
mehsana in a jiffy.Moved to palanpur and stopped some 20 kms away from palanpur at a small town near a bakery
which looked too good for the small town.
Since I prefer veg while travelling,I asked "What all is veg?"."Everything is veg.You wont find anything which is non
veg here" came a prompt reply.Maybe gujrat is a veggie's delight.I ate veg puffs.They were really delicious.At 7 bucks a piece and piping hot I had plenty of them.
I enquired abt the road ahead wondering if it was four lane."Yeah its better than this one.Military uses it" came the reply.I was happy and ripped thru planapur and reached deesha.palanpur-deesha is an absoulte fabulous road and ripping thru it was real fun.Somewhere while I was doing 3 figures a old guy on cycle with agriculture produce crosses the street.The typical way....."If you dont see the vehicle coming and close your eyes it wont hit you"I do an emergency brake and stop in time.Somewhere I feel the hint that my bike which is very very very steady even at high speeds is wobbling while slowing down.I reach deesha by the time it was getting dark.Deesha is a big town than I expected.
After deesha I take the route to a place called (Tharad).Its getting dark now and the road gets bad.After crossing some 15 kms on deesha-tharad road I meet some localites who inform me that I should take take deesha-dhanera road to join NH-15 which would be much much small.I have missed the shorter route on my map.I ride back to deesha and take route to dhanera.By now the area surrounding the road is becoming like a desert and I see sand on the road.i hit a pot hole and my bike wobbles voilently and I diagonose a bent fork.By now its abt 8:00 pm and I am damn tired after riding continuously for some 750-800 kms.I dont know how the road ahead would be and definately with possibility of sand infilrating the road its not good to have an unsteady bike.I have tons of more fast riding to do if I have to make it back home before tuesday.i had an important meeting in office on tuesday and was required.I give up,maybe I was tired .That isnt usual me but perhaps I was not in right state of mind and wasnt 100% fit for this ride so decide to head back.I will ride back comfortably and come back another day.So I head back towards deesha.I find a hotel and watch some tv and go to sleep.
Distance covered: abt 800 kms in abt 14 hours
Sunday June 22,2008:I wake up and start late at around 7:30 am.I still have some bitterness abt giving up last night and have a relatively easy distance to cover in 2 days.I head back to palanpur.I see mount abu board and have a thought of going back.Now road between deesha and palanpur is again good and once I glance upto the speedo to see me doing 110+.Maybe I was really tired last night thats why I gave up and I should give Jaisalmer another shot.Jaisalmer was abt 300-350 kms and I could maybe still do it and head back to this very town at the end of the day
and make it back home on monday night.Well i take a u-turn and head back to deesha and take deesha-dhanera route again.I notice my horn isnt working.Half way thru I decide to stop and check my horn.I press the engine kill switch to stop the bike and to my horror I find the display on my console dissapear.I try turning off and on the ignition key for self check and console display no response!!!!!!I try checking the fuse and it seems in place.I am struck half way to dhanera in a small town and am all alone and bike is absolutely dead.
Sorry for the delay in last part.
Well the story ends with me dhakka starting the bike everytime it shut down.Well i didnt kill the engine from deesha to surat.It stalled once or twice.I tanked up my bike using the spare key
Stopped at surat on way back home for the nite .Rode back four hours again non-stop to mumbai.
There was some problem with my battery circuits which was later fixed by my mechanic.The bearings near the cone were crushed and was later fixed.The chainset in rear wheel were replaced since they werent n good shape either and was causing all the wobbly feeling.
HID is dismountable auxillary now(would mount it on rides only) and with avy 200 coil plate and 60 watt headlamp I can ride for 12 hours in darkness(dusk to dawn) without danger of being stranded on highway with a drained battery.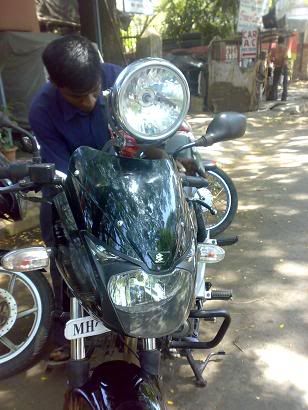 Now just waiting for the right time and mood to finish this unfinished business