Disclaimer:Had tried manual focussing for the first time with my camera for all the pics and it did not work very well. :(
So don't get disappointed by the pics
Itch for leh had started immediately after I finished my Bhutan trip.
I was tied up in work for past year which gave me little time to ride.Leh was something
I was looked forward to when I thought abt riding and it kept me going.
"Why Leh again?","Did you fall in love with some girl in ladakh you are going again....you had been there just two years ago?"..
all sorts questions were asked at home.
Marsimik-la ," the unfinished business" was the reason I had used to justify my ride to
friends,family members who have no clue why bikers ride to leh again.
Having my own prejudices abt riding in a big group I had decided to ride with just one more
rider.Unfortunately he ran into some work related commitments and couldnt make it.
Since it was too late in the season to replan the thing again and convince someone else
I decided to go solo.Leh I could make it solo since I had already done that,I wasnt sure abt
doing marsimik-la solo.I hoped I could find some company at leh or pangong-tso for m-la and how right I was
Day 1:Mumbai-HimmatNagar:
Plain jane riding on NH-8.Stopped at himmatnagar.Reached my destination at 4:30 pm.checked into hotel Lnadmark which was the
best looking hotel in the town.Wanted to stay for the remainder day in AC room.Changed my engine oil at bajaj service center in town
PICS: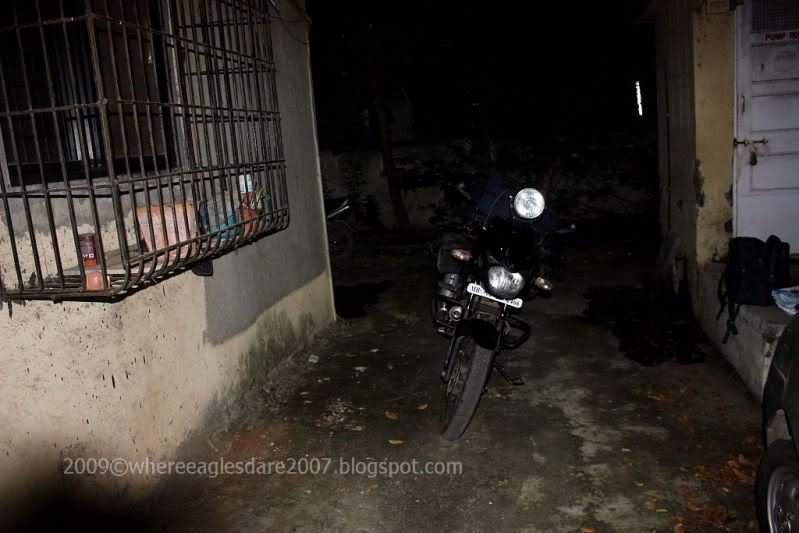 Day 2: HimmatNagar-Jaipur-delhi highway
Roads were excellent and covered the distance till udaipur in no time.Took the chittaurgarh
route between udaipur -jaipur(Its concerete racetrack).Reached jaipur very early.Unfortunately was not able to spot
any goodlooking AC types hotels on road.I had to bypass delhi via rothak the next day.So decided to ride a little further ahead on jaip[ur-delhi road.
A few kms later I spotted hotel "Highway Inn/Highway king".Looked good.This place had a big shopping mall too so might have good restaurants.
Checked in to that place.What luck the restaurant had a bar too.Relaxed and enjoyed some KF.
PICS: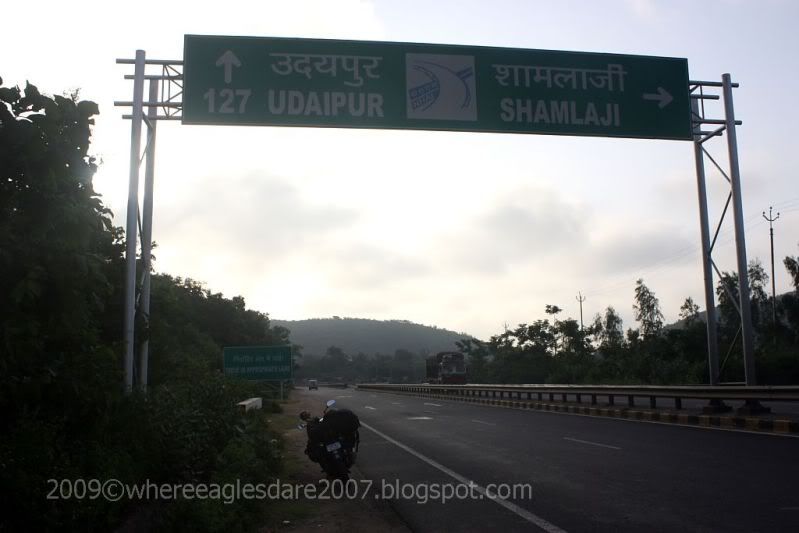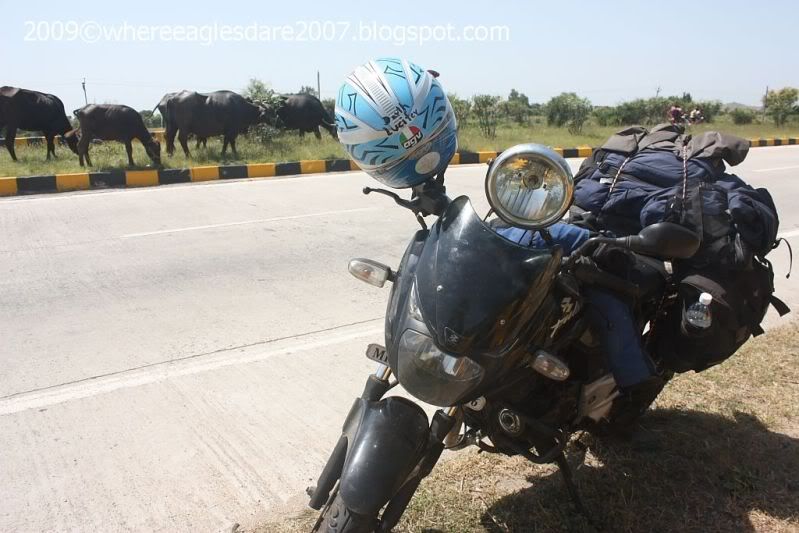 Day 3:Jaipur-dehi road-Chandigarh
I had to start somewhere between jaipur /delhi.I had already decided to take bypass via rothak to Panipat on GT road.
I took a diversion at place called bawar(sdomewhere after behroad) to rothak.Route was absolutely horrible.After cruising on
NH-8 for two days I thought I would regret this descion.Thankfully I reached rothak after sometime and route till Panipat
was good.Somewhere in between I lost my gloves.
I had decided to meet Akshay at chandigarh but since it was a holiday he saidhe would meet me in Ambala.We met in Ambala.He had brought his brother and cousin
and later Dhairya and tanmoy who were coming back from Chansal joined us and bakar continued for couple of hours more.
I had forgotten to pack my undies and fortunately I could buy them from the mall we had stopped at
Akshay offered to arrange gloves for me at chandigarh but later I thought it wouldnt be of much use since I would be wearing winter gloves manali onwards.
PICS: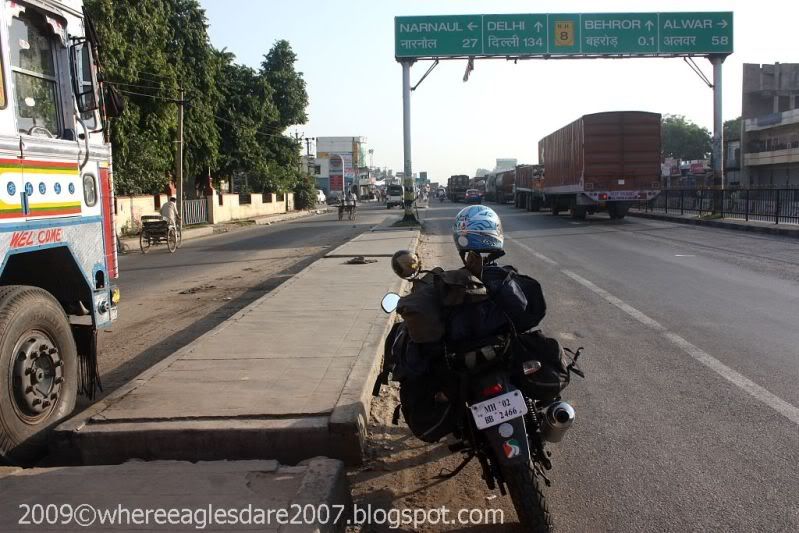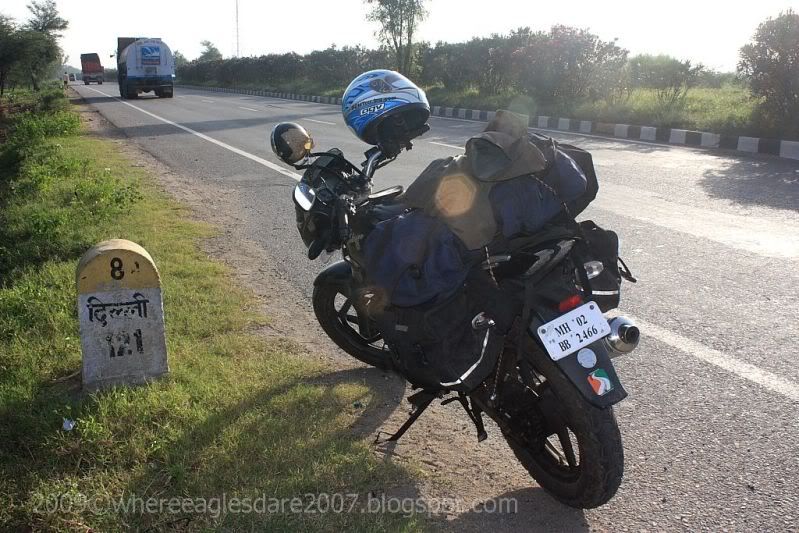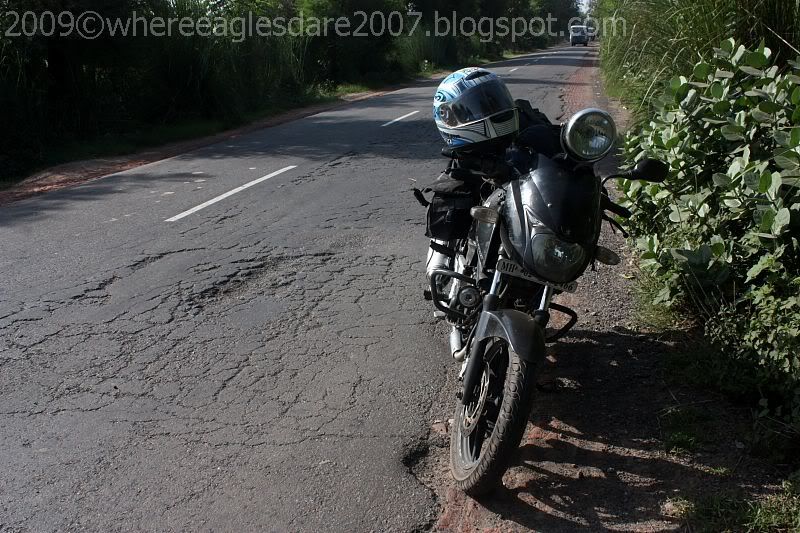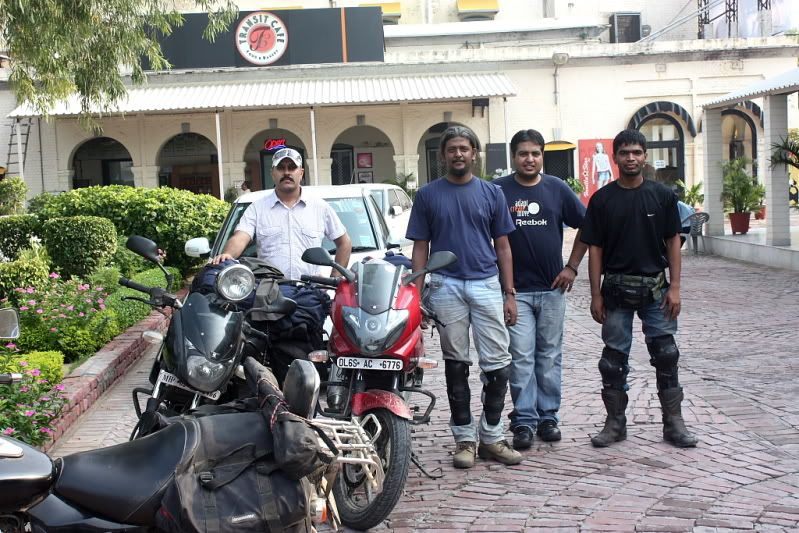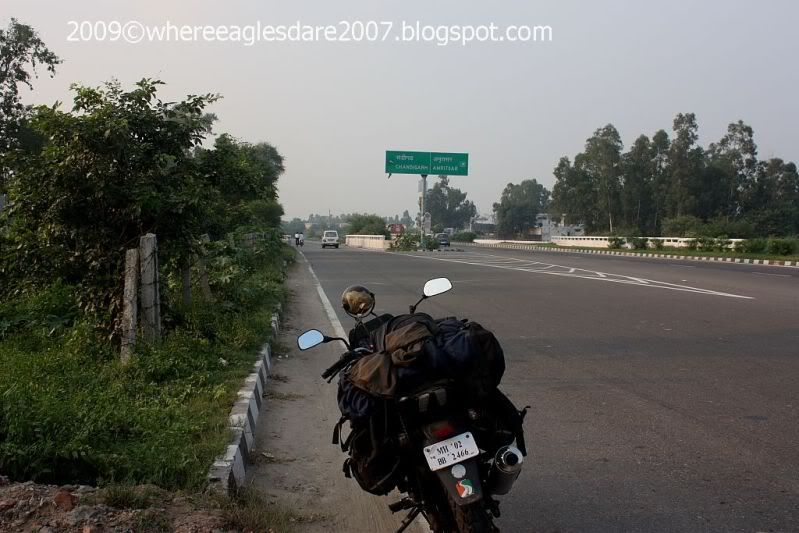 Day 4:Chandigarh-Manali:
Crossed in himachal early in the morning and I was doing my 6th state in less tan 3 and half days.
I made a note that I would have enjoyed being a truck driver if not my current profession.Apparently business is so bad in non season days that they send people on bikes to pitch for their hotels
at place where you pay your green tax.Agreed to a deal which gave me hotel at mall road with hot water,TV and parking for 200 bucks.
Reached manali and checked into the hotel.Bought survial kit for himalayas and some wollens.
PICS: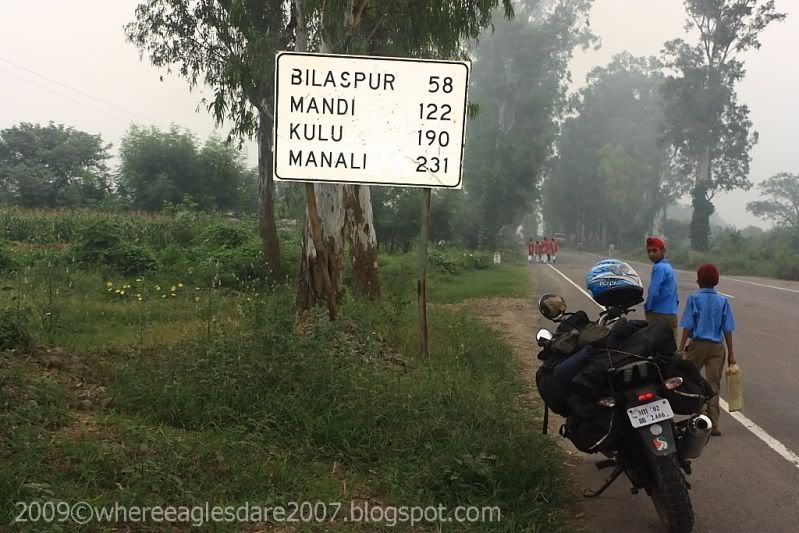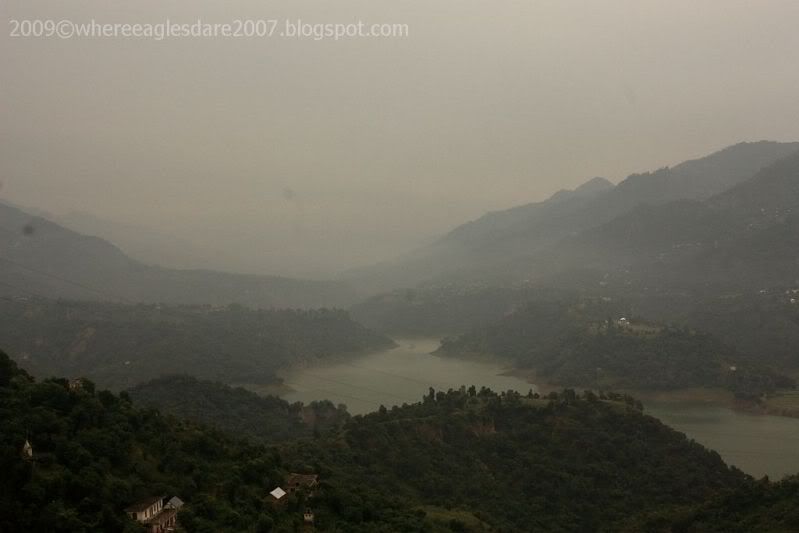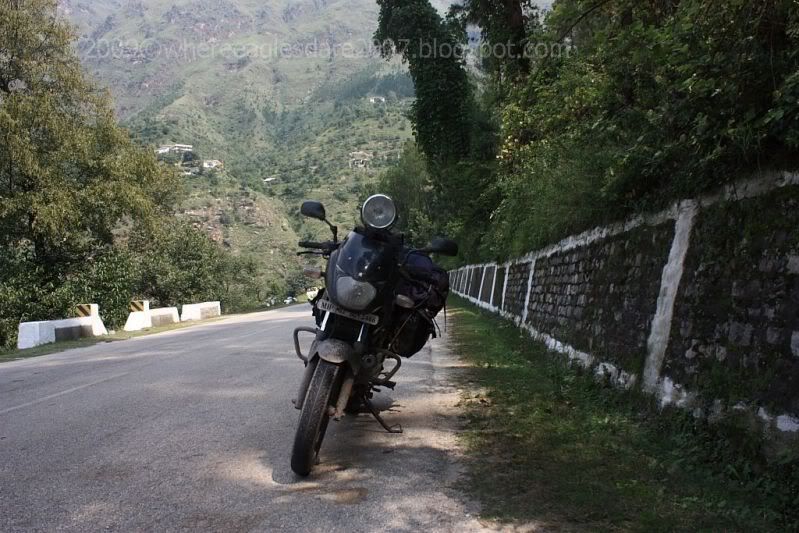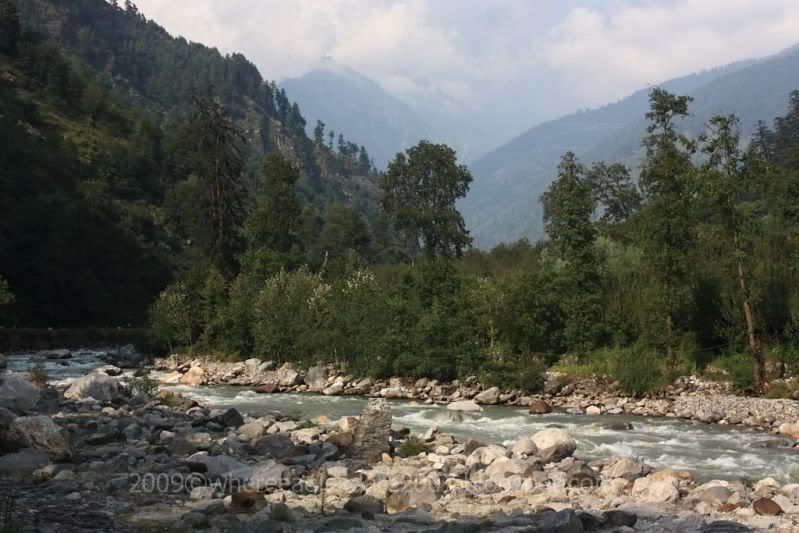 Himalayan survial kit:
---
Day 5:manali to keylong:
Started early in the morning to avoid traffic on rothang.Road was all messed up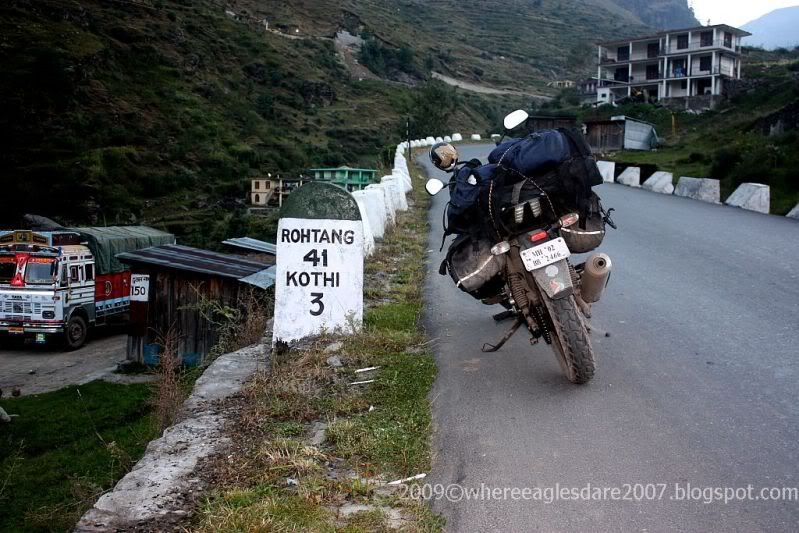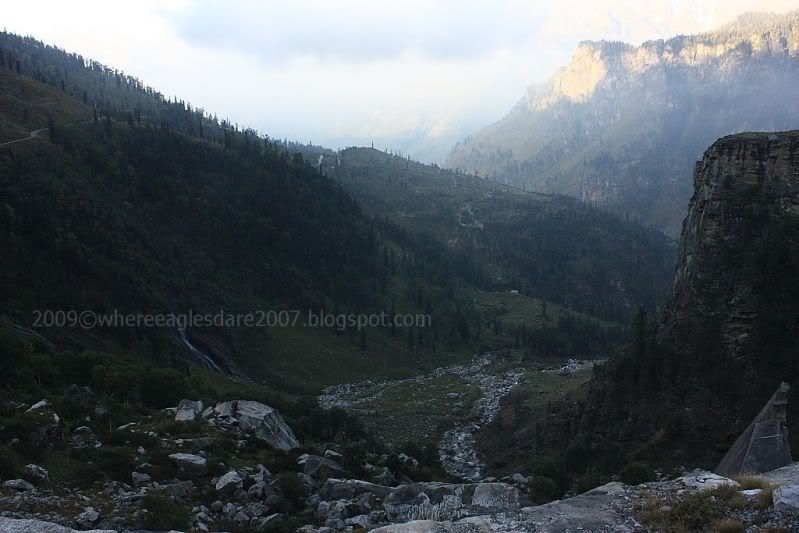 Stopped at Sagu cafe at Marhi for some piping hot parathas and chai:
Made some fans at Sagu cafe who were surprised to find that I had reached all the way there in little over four days.They wished me good luck.Couple of taxi drivers were curious abt my shoes were asking the price and all.
Continued journey up with more bad roads
Finally reached the top.It was 14 degrees celcius and I had removed my jacket and was roaming around.Found people in snow gear/cold weather gear and all.There was no snow apart from some "Cheete" here and there which tourists were passing around to each other
.Taxi drivers did take them for a ride
Rothang top board is no longer there since there is two laning going on.Not missing an opportunity to pose: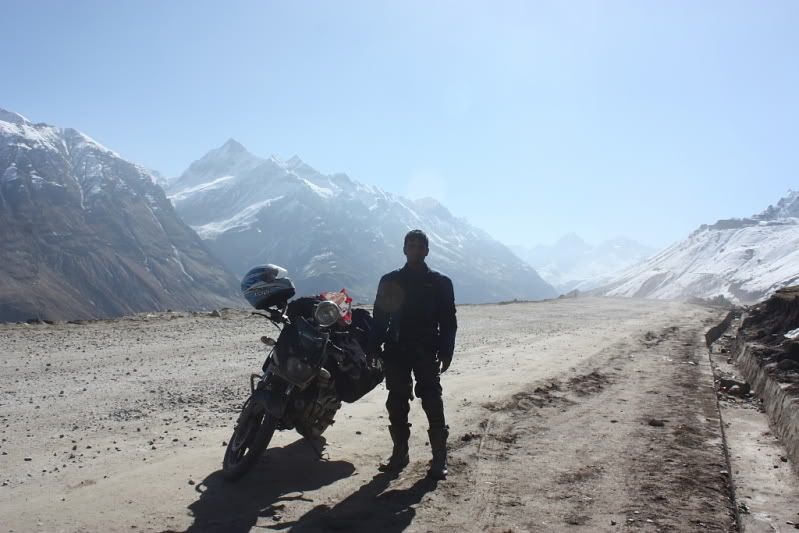 Got down and had breakfast at koksar.Saw some people yapping on cellphone.BSNL only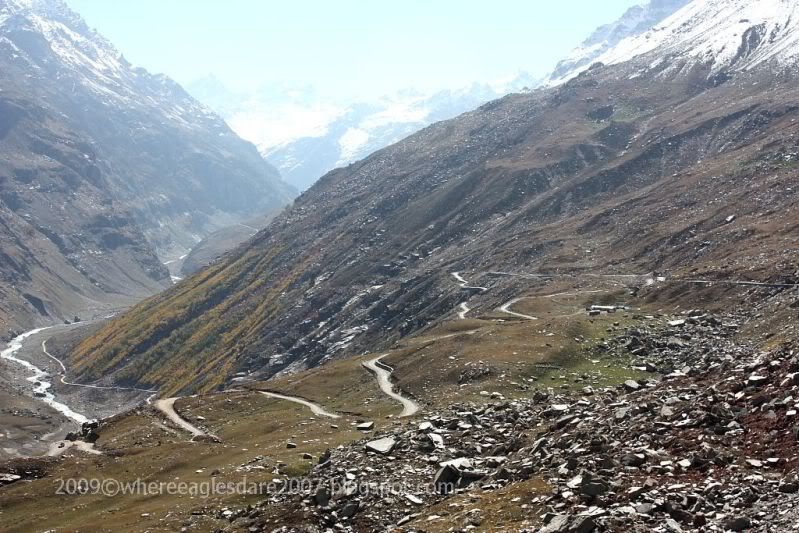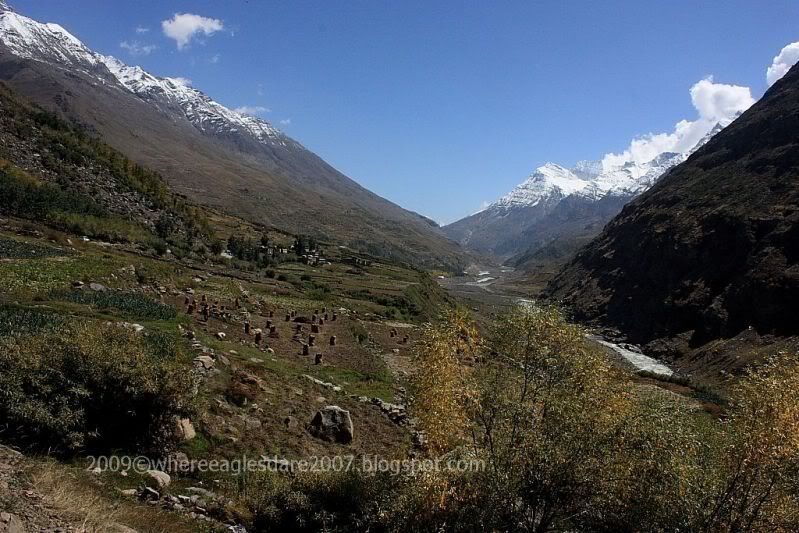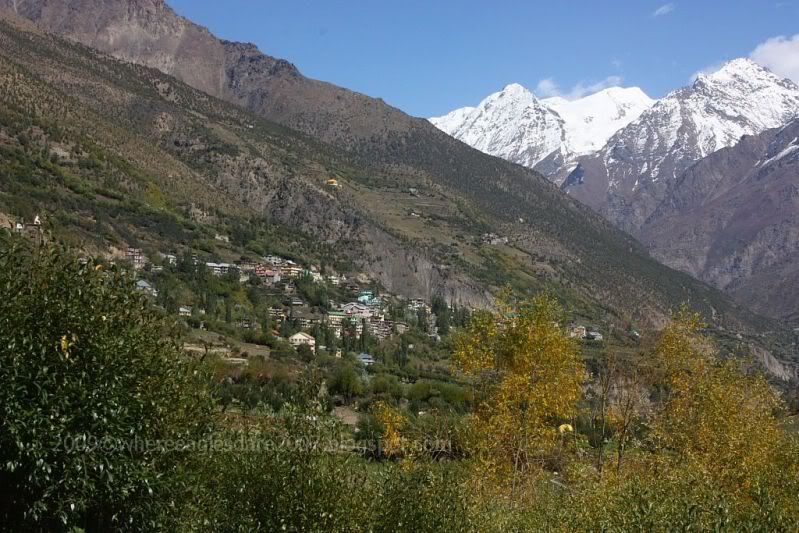 Got myself a nice and comfy room with a view at keylong
Bought another quarter of OMR at Keylong since I was gonna use my contingency rations and relax for rest of the evening.
A hard days ride,cool weather,a room with a view and OMR...what else would you want!!
__________________
Day 6:
Keylong-Pang:
Next days ride had plenty of good vistas......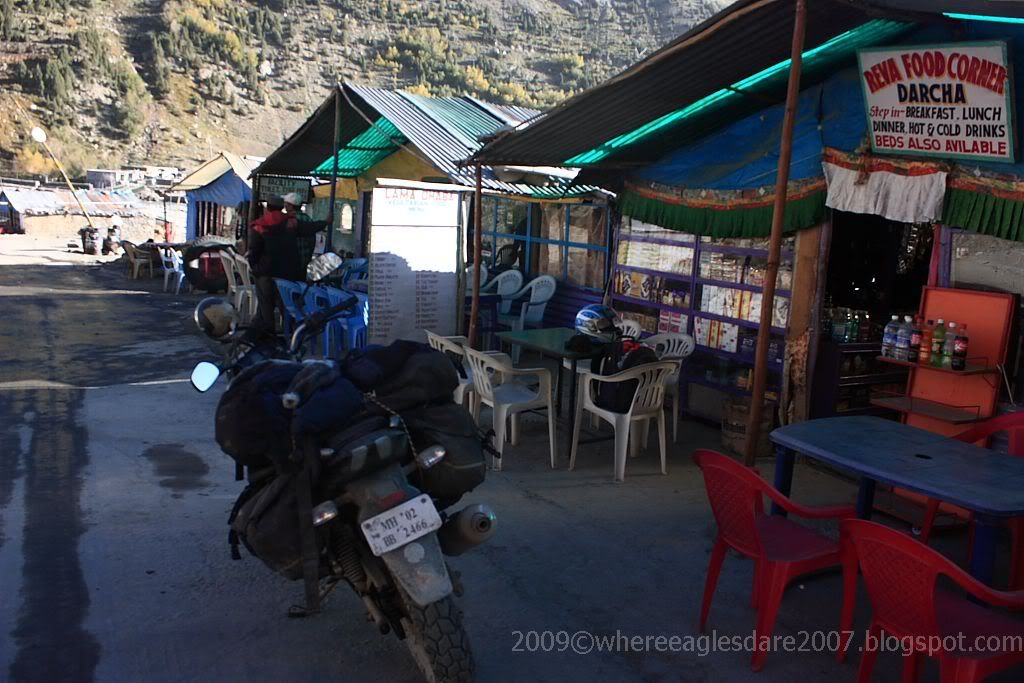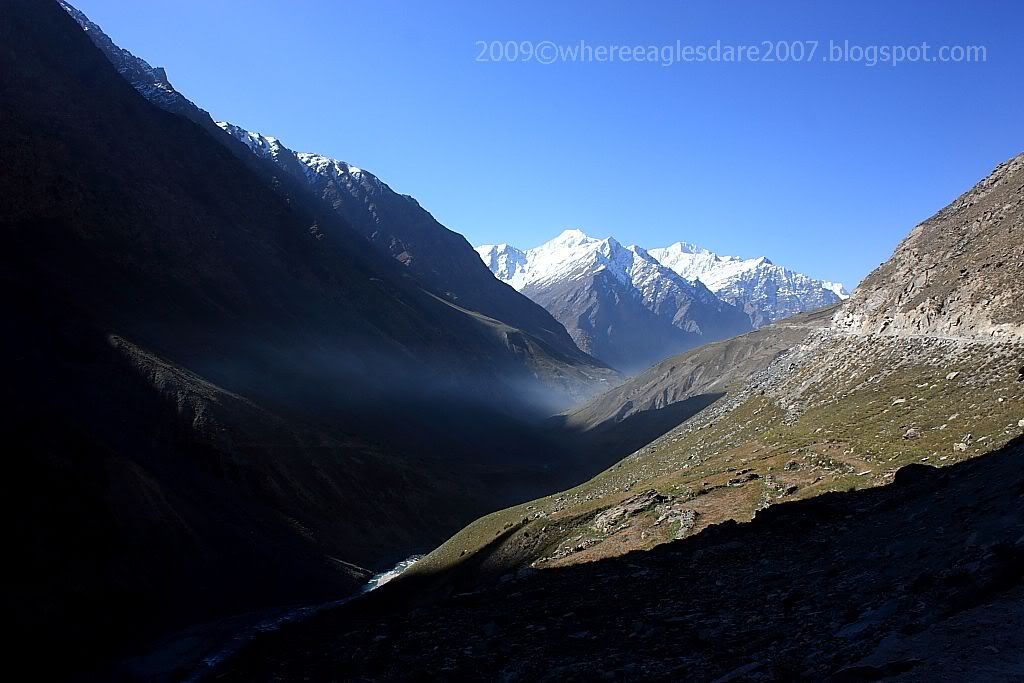 Was dissappointed to find very little water in suraj Tal.
The presence tent camps in sarchu was almost non existant....most of the people had packed up for the season
Had lunch at Sarchu at one of the tents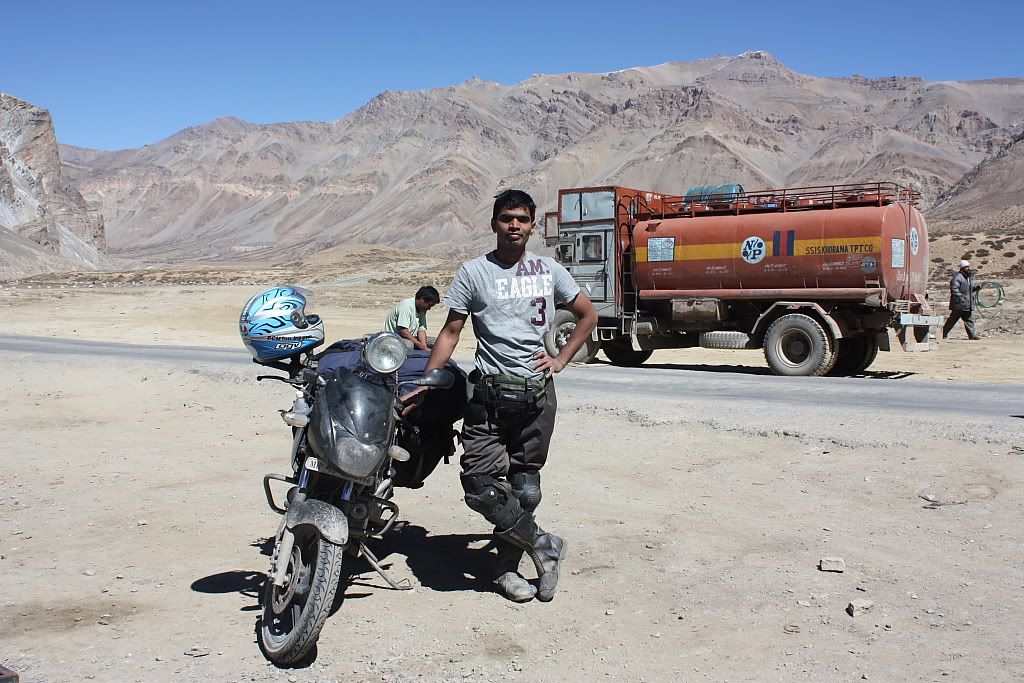 Reached Gata loops...
Reached one of the loops where there is small temple types where people make offering for some dead boy.
People had made offering of water bottles,empty beer bottle,cigarrates
This time I had got a chocalate bar to make it.I peeked inside it and was shocked to find a human skull
at the little altar made.....Alrighty the story of someone dying from dehydration over there is true then.
Reached Pang.
Surprisingly it was almost empty of tourists.Went into tent camp.
One of the caretakers commented I was very tough to walk around just in a light sweater and riding solo.........kya kare majburi hai,people drop out.....Jeez Im a social retard and maybe I like it that way
For a minute I felt good and I imagined myself pushing my bike to bike to m-la top all by myself
Had almost 12 hours to kill.
Fished out a novel I had brought along with me and kept reading it till it was daylight.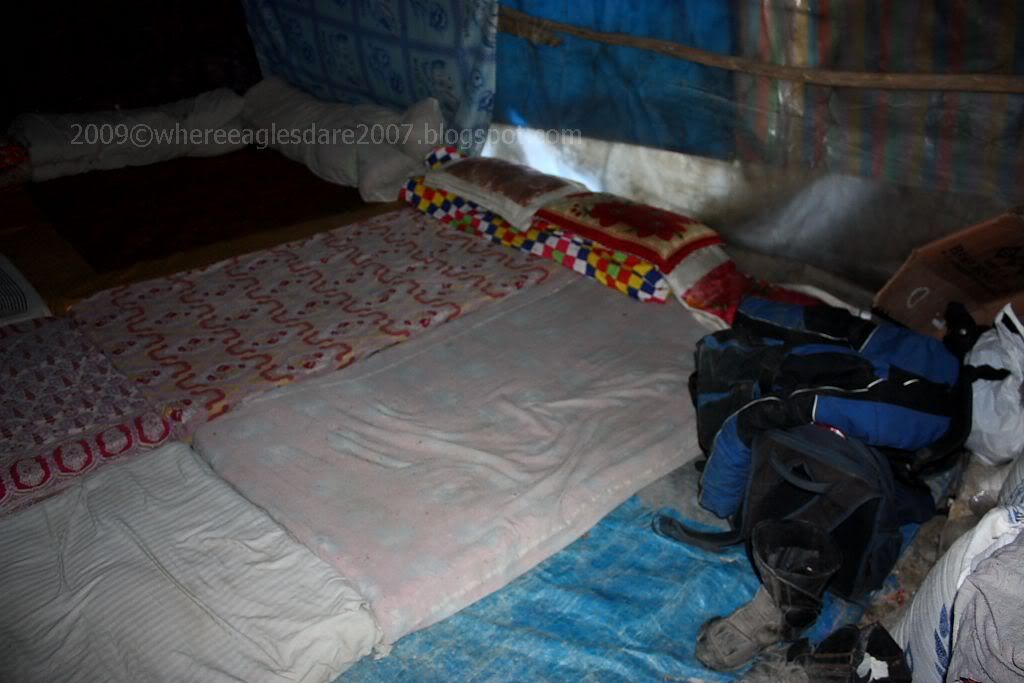 __________________
Pang-Leh:
Got up early from my bed early at around 5.I had to get permits fast...
I didnt have much of AMS.I am fast becoming a himalayan mutant
Started the bike but she wont respond.The lady at dhaba suggested I should wait until sun
is shining bright.Waited and kept checking starting my bike at regular intervals.
There were little bonfires lit.There were not many tourists and I thought might need some dhakka start
I befriended a friendly types guy besides a bonfire who I thought was a tent owner and I kept chittchatting with him.
He had khakhi trousers and a sweater later I learnt he was a cop
posted at Pang to note down truck numbers.
Thankfully sun was out at around 7 am and temperature was crawling back to zero.
It was above zero soon but bike wouldnt budge .Had to park it diagonally till sun warmed up the engine and clutch case metal.
Minus 1.8 and steadily rising....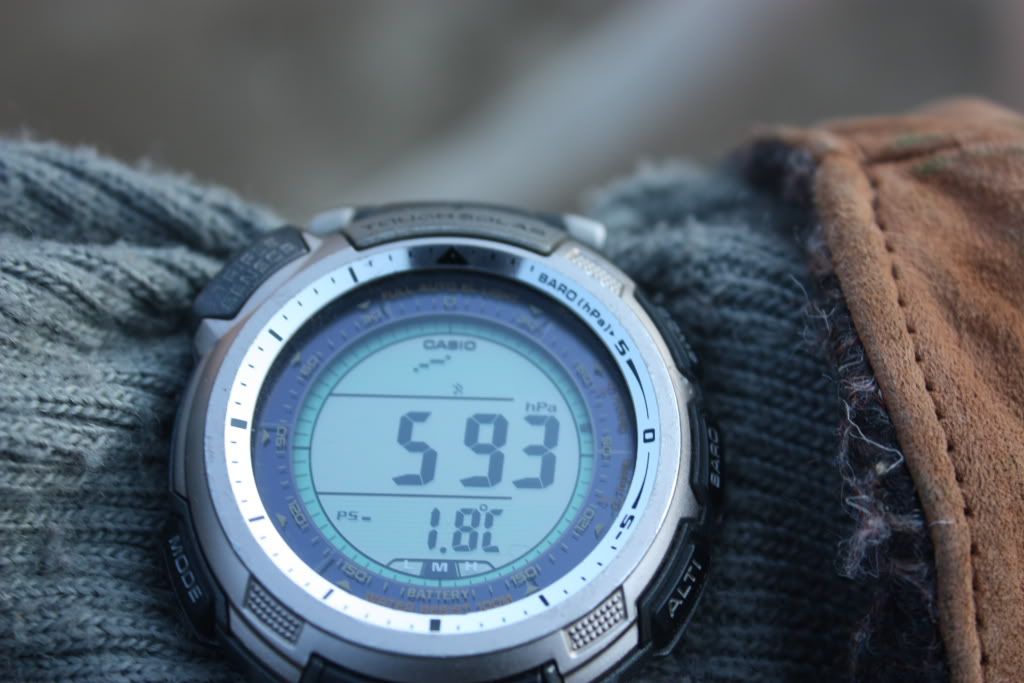 I decided to check starting my bike again.Yipee it started........
Reached Leh in jiffy.................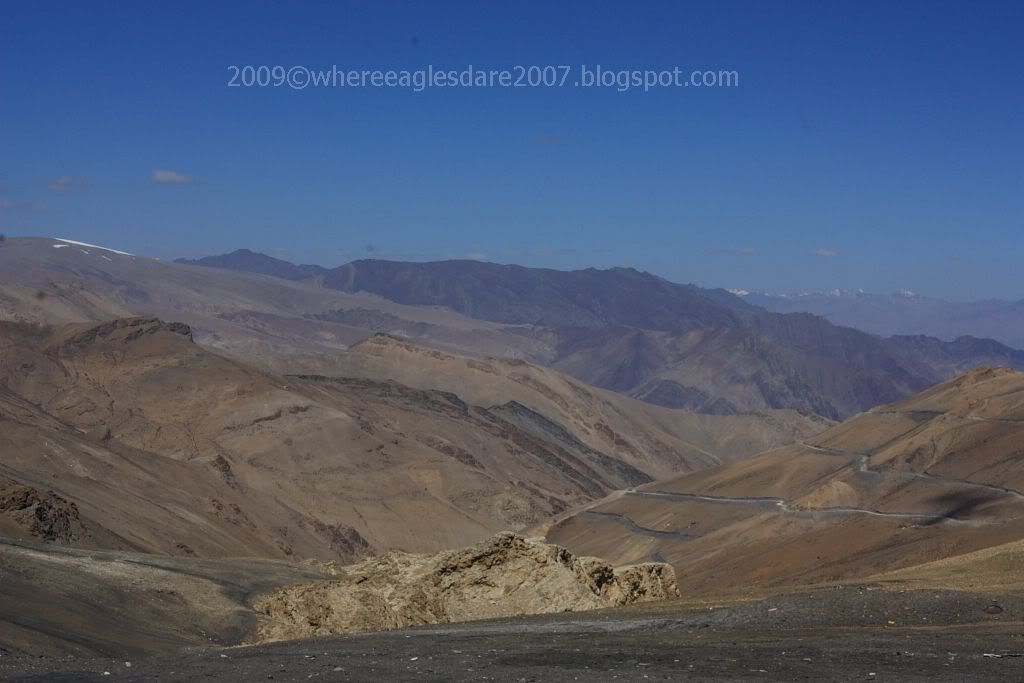 Went to DC office and got permits.Checked into a cheap 300 rupee room where I had stayed earlier in 2007.
Slipped on a tshirt and went to take a stroll.
Surfed the internet,had a burger and took a walk in market to get permits photocopied.Photostat is 3 rupee per copy in leh and I initially went to lot of shops to bargain for the prices since I had to make 15 photocopies....I had nothing else to do in life that day
One of the shops had a pretty looking lady and I decided to walk in and finally get my xeroxes ...Meanwhile a guy walked in.He had alpinestar jacket and AGV helmet...bikers are plenty
but someone with good riding gear generally is a serious tourers.I was dressed in casual tee shirt and jeans and my bike was parked at hotel.He broke the Ice first and asked
"This is all you need to get xeroxed".I nodded.I asked him if he was with a riding club.He said XBHP.
I said I was over there too but I wasnt a active tourer these days.I told him my id and gave me his id.He was Darth Veda...
He said," I know you ,You are the other sith lord around
"
He took me to introduce me to Praful Tripathy standing outside.
These guys were gonna do nubra,pangong and marsimik la....same as me.What a stroke of luck!!!!!
I had company for most difficult parts of the ride.I later got introduced to Pranay.
For next four days I had fantastic company of good riders.