Do it or do not,there is no try-Yoda
This is a old triplog of ride done in Jan 2010....
Prologue
I had attempted this trip last year,trying mumbai to Jaisalmer in one day.I was not exactly in correct state of mind , physically and mentally I found myself turning back myself from disha-dhanera route back to Disha and checking into a hotel.Next day I again gave a half hearted attempt but my bikes fuses got bust just a few kilometers from the start.I parked my bike and realised I was standing at the same place where I had turned back the night before....i had to dhakka start my P200 and ride it back some 700-750 kms back to mumbai.
I somehow started associating this ride wid the mess in my personal life during that point of time and finishing it off was important.....
The Plan:
This ride was in making for last year or so and I was just waiting for another oppurtunity to have a go.The ride wasnt gonna be easy.....somehow DJ (Dhanjay aka trojanrocks) joined in.We planned to start at around 4:30,ride at 85-90s to reach jaisalmer at midnight....The night before DJ called me up and said lets ride at 70-75s,ill tell you why tommorow morning....i wondered why?
The start:
I woke up at around 3:00.DJ would be coming all the way from Vashi so checked if he is awake.We agreed to met under Jog Flyover.I reached the spot and kept and eye for 220 with HID projector coming from the highway.I could see a bike coming with a biker in gear but it wasnt 220.It was DJ on 150...what the f***.He told me that P220's block-piston developed serious issues on the night before and he had to get his old pulsar 150...knowing him as a good and fast enuf rider I didnt see any issues with 150.We started at a decent pace......crossed outskirts of mumbai and Manor in no time.
The crash:
We were riding at brisk pace 80--85 s the road being lit by our 55 w bulbs.NH-8 immediately after mumbai is mostly a six lane road and as a habit I ride on right most lane of the road which is for faster vehicles,to avoid troubles of gravel,stones left behind by parked trucks.It was still dark and I was pretty much on the right most lane and got blinded by incoming vehicle.By the time I could see clearly I saw myself riding straight into divider.Well Im not that bad a rider to crash into a divider ill let the diagram do the talking....i think such exits are called truck bye lanes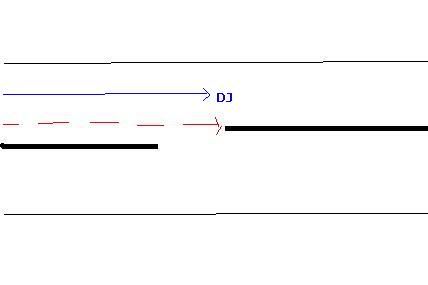 I slid for almost a very long distance.Me on one side of the divider and bike on the other side for a good 25-30 feet.Thanks to my riding gear and guardian angels I didnt spill blood on the street.Got up in no time.DJ who was riding close behind me in parallel lane to me did watch the whole show with horrified eyes.He stopped his bike.Luckily there werent any incoming vehicles to hit the fallen bike.My saddlebags and all were thrown.We picked up the bike and parked it across the street.
Quickly collected saddle bags and rest of the spilled stufffrom the road.It was still pretty dark.removed my gear to check for injuries...actually to my surprise there were none...knee seemed to be have a paint like a minor bruise.....
Well the crash almost seemed to have fcked up what would have been a long weekend.
"Thats a bad way to start a ride" I said,"Did you know I attempted it last year and stopped twice at the same place".DJ gave me a look.
DJ said "I had put new tires and prepared 220 for this ride and it broke down yesterday"
"Bohot panwati ride hai(Its jinxed),wapis chalna hai kya tereko".I didnt know what to do.
By this time I had realised my watch was no longer on my jacket....damn...it broke away...DJ started looking in the same side of divider as my bike was and I told him I slid on the other side...took us some time to find the main dial...it appeared to be working.I
couldnt find the strap though.We decided to wait until there was daylight so that we could find the rest of my watch
Meanwhile I was shaken up,didnt climb the bike.Bike was badly scratched and asked DJ to ride and check it for damages so that rather than returning home we could ride someplace(Velavar park or something) since Jaisalmer would have been difficult
coming up(how we finished this in style)........................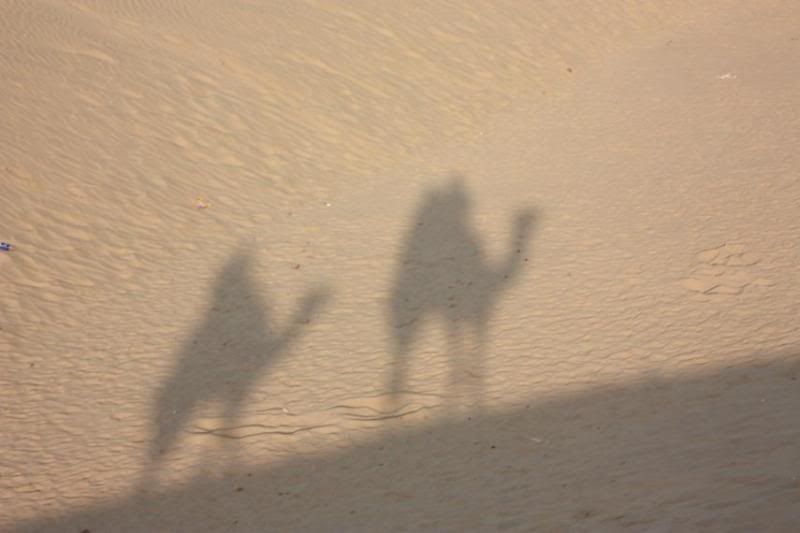 ----------------------------------------------------------------------------
PART 2:
DJ rode the bike for a while and reported that it seemed okay apart from twisted handle.By this time there was little bit of light and we managed to find rest of the pieces of my watch.
Still shaken and dazed I climbed my bike to check it for myself.A push of throttle and instinct took over and I felt comfortable riding it again......
My scratched helmet and torn jacket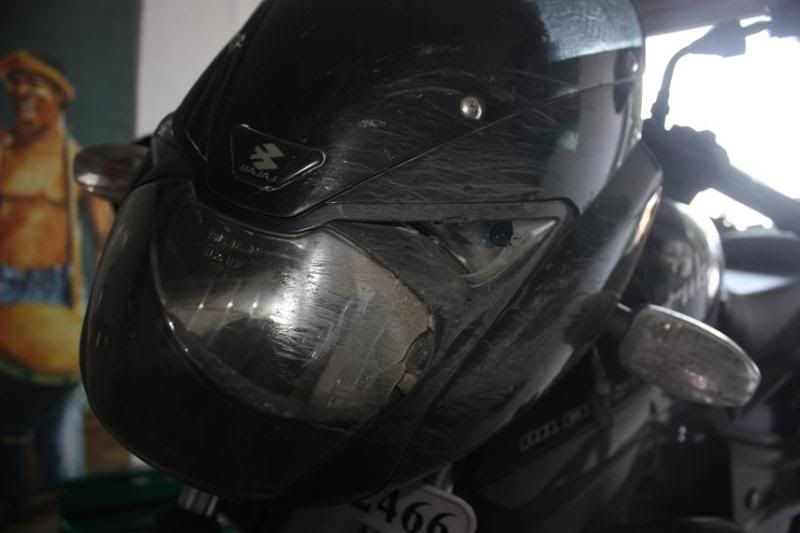 "I am sorry I wouldnt be able to keep up the speed with twisted handle".I said knowing how fast DJ rides....."Dont worry I wouldnt mind even if you ride at 20 kph"....somehow I felt I had chosen a correct guy to ride with.
We crossed the street and set off.Sometime later we crossed the gujrat border and we took a break(DJ wanted to click a pic of a truck).It was completely bright by now and I was feeling much better and Jaisalmer was back in my mind.
Getting the bike fixed:
We didnt take lot of long breaks just one major one somwhere after Baroda to have lunch which we had brought packed(to save time).I was able to do speed of 70-75s with twisted handle and we reached outskirts of ahmedabad by 4:00pm and saw a bajaj service center close to ring road
In rolled the bike and we got the handle replaced and DJ got his oil changed.Took about an hour or so to get the whole thing done and we were on road again.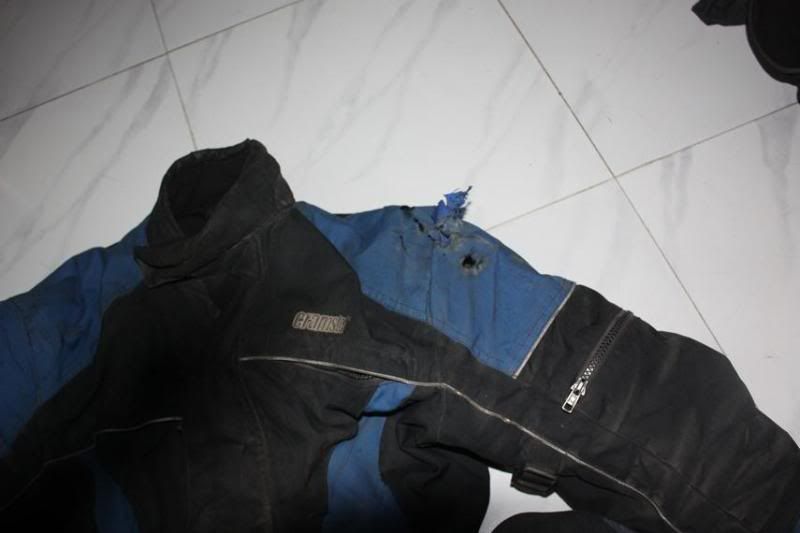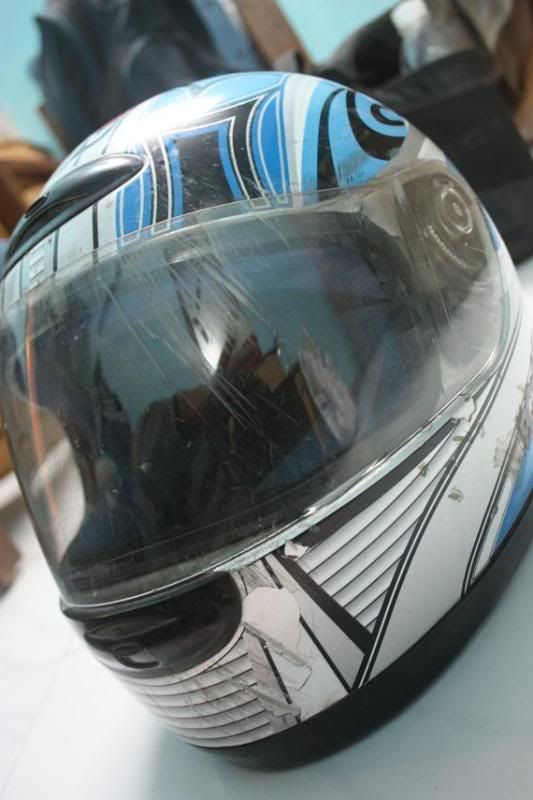 Reaching palanpur:
Getting the handlebar replaced pumped in a new life into the bike.Took the ring road and travelled for a good 40 kms on ring road to reach the road for mehasana.It was getting dark by now and we had to drop down our speeds wary of what happened early in the morning...we reached Palanpur.Since I had been on this road an year back,Palanpur was the last place where you would get ample choice of restaurants since its on touristy amdavad-abu road.While I had a couple of sandwiches for dinner DJ returned from washroom and said he was feeling better,almost like he a rebirth(He took a dump)
....to be continued
__________________
It was starting to get cold at palanpur....i tucked in my sweater underneath the jacket...and DJ put on stuff underneath.Post dinner tipped the watchman of the restaurant 10 bucks for watching our saddlebags.
Seeing the first jaisalmer distance board on the trip
We proceeded cautiously towards Deesha.Palanpur-Deesha is 26 kms of 100+ highway.Yet somehow we rode at 70-75 ish (cold and cautious we were).
Took a right diversion from deesha towards dhanera.This is 25 kms of small road which is infested with pot holes and lot of truck convoys take this road.This is a small strech of road where I turned back twice on last trip.We had to cut down on speeds since it was getting bitter cold as the night grew and I had to make it sure that nothing went wrong this time....nothing did and we reached dhanera.
A small break later we took another right to sanchor.Deesha sanchor was a deslote road and riding it at almost mid night gave a very creepy feeling.A few kms away from jaisalmer we saw a signboard jaisalmer 303 kms and we gave each other thumbs up sign...we had almost made it and would ride all into the night to make it to our destination.
It was getting real cold and we pulled into a dhaba to enjoy a cup of tea.
We pulled into almost one of every five dhaba we saw since they were so few of them and dhaba breaks were a real extended ones on the bizarrely creepy and empty road with almost no towns/villages or dhabas on the way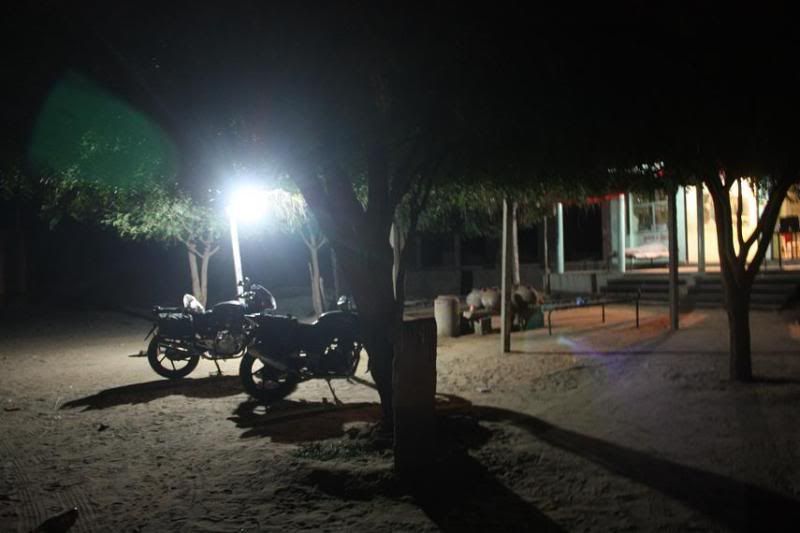 It was past midnight I was tired and both of us were shivering now.Given his bigger size I put on two more tshirts from DJ's bag and we rode to sanchor.
_____________________________________________________________________
The cold Night:
And we reached sanchor we found some cops on sanchor/NH-15 intersection...we at least found someone to ask for directions.The said go right...we got lost and roamed on the empty streets with no one to ask for directions.Tuned back and hit a road which looked like some highway...Stopped at a dhaba and asked for direction....go straight to reach barmer...again go staight and you will reach jaisalmer.
Well we set off and kept riding....It was cold so more breaks at dbaha for tea after every 30-45 minutes.....It was a big highway but lonely desolate with few dhabas and with villages spread at 40-50 kms from each other....we saw a deer on the road staring into headlights but we were riding at a distance from each other and going fast so didnt stop....
DJ cursed me later for it for not stopping to click a pic.It was shivering cold and we stopped at dhaba for some tea......while leaving couple of truck drivers who had just arrived at the dhaba came and told DJ..."Sir aap bohot overtake kar rahe ho".....turned to me"Aur aap bhi unke piche piche chala rahe ho"....lol....people riding motorcycles on remote highway at 2:00 in the night are so less...let alone two measly bikes honking and harrasing truckies to make way for their bikes on the road and riding as if they owned the night and the highway......
We looked at each other and smiled at them and they smiled back and we carried on riding into the night rowards barmer
_______________________________________________________________
Barmer:
We were speeding to Barmer and DJ was riding in front of me.I could see him slow at what looked like pieces of plastic on the road.A few seconds later a Qualis was visible which has run off the road and some people crowded near it.We went ahead and stopped at a dhaba a hundered meters or so from the stop.While I waited and watched the bikes DJ went back to investigate.I informed him I had a big first aid kit in my saddle bags.
I told guys about at the dhaba about the accident he said that there was a loud noise about 10 minutes before we arrived but no one was hurt in the accident.
DJ came back about 10 minutes later and informed that I went there everyone was drunk.He had to tell them to remove the plastic pieces from the road to avoid another accident....
Dhaba wala who was making tea for us told us that druken accidents were common on this stretch at night....well that freaked us out.DJ argued with me was it really worth riding into the night."You want to see for yourself if you can make it to the destination,well we almost did it and both you and I know we can make it till morning"."We are riding fast on dangerous road....lets stop and pull into the first hotel and finish off the stretch in the daylight,It would be less cold too"....he made a lot of sense and I nodded in agreement.
We rode away and kept going till we reached Barmer in about 3 in the morning and started looking for hotels.We reached a hotel with disintersted people which said 1600 bucks.1600 bucks for 3 hours of sleep didnt make any sense
I fished out lonely planet and tried calling up the only hotel listed there.No response....we decide to go to station and check if there are any hotels there...luckily we found a boy on the street who took us there.....
Well all of the hotels were charging more than 1500 bucks....One of the hotel rooms said only superdelux room is available for 1600 bucks...I checked out the room and it was shitty shower.
Well we almost wasted an hour trying every hotel and decided to keep riding to jaisalmer.It was almost 4:00 now and we were on saddle for 24 hours now.
Didnt click lot of pics that day coz my mind was fixated on finishing off the ride.
While we were leaving the godforsaken town we saw a hotel and decided to give it a try....400 bucks....oh wow!!We checked in and slept peacefully at about 4:30 in the morning...Jaisalmer was 150 kms away but we had rode extremely well to cover a huge distance of almost 950-1000 kms during the day.
What a memorable day it was!!!!!We went to sleep in no time.
______________________________________________________________
And Jaisalmer finally:
Well there was a knock on the door at 7:00 am to ask for chai and I cursed the person who knocked.DJ was awake and I asked him for half an hour more time...He finished his chores and I was awake at 7:30 am too.
I noticed for the first time that our hotel room had an AC.
Started at abt 8:00 and we had about 150 kms to cover and we figured out that we should be there till about 11:00 am.The road was butter smooth and we had an absolute three digit rip fest occasionally slowing down to 80s we thought we would reach earlier.
DJ was still cursing me at the missed oppoturnity of clicking the deer.
But today we saw a peacock crossing the street and I slammed brakes,fished out my zoom lens and tried following it...well it was elusive as usual.
Well further down the road we found an entire peacock family and again...
And again we saw lotsa birds and we stopped often but didnt mind slowing down for debate on what bird it is and odd click(we had three complete days at hand to reach the destination)
Further down the road,we didnt stop for any more peacocks since they were regular occurance.
But one funny incidence..I was riding ahead and DJ following close to me...saw a peacock on the street getting ready to fly scross the street....I didnt stop....maybe peacock saw 150 following chucked and underestimated DJs speed thought he could fly faster
The end result was peacock flying and hitting head into with DJ's joe rockets.DJ was shaken up(a big bird that it is) and I could see him slow down in my RVM.He rode upto me and narrated the whole event and I thought WTF!!!!!We have dog hits,cattle hits maybe this is a first peacock hit while riding
We rode back to check see if there were any signs of peacock injured around,there were none.Satisfied we kept riding....stopped at dhaba and texted abt the incident to our bird man vaibhav who would have loved taking pictures of so many peacocks.Well I later realised that it was he was in middle of his engagement when he had sent a reply sneaking away from all the footage he was getting that day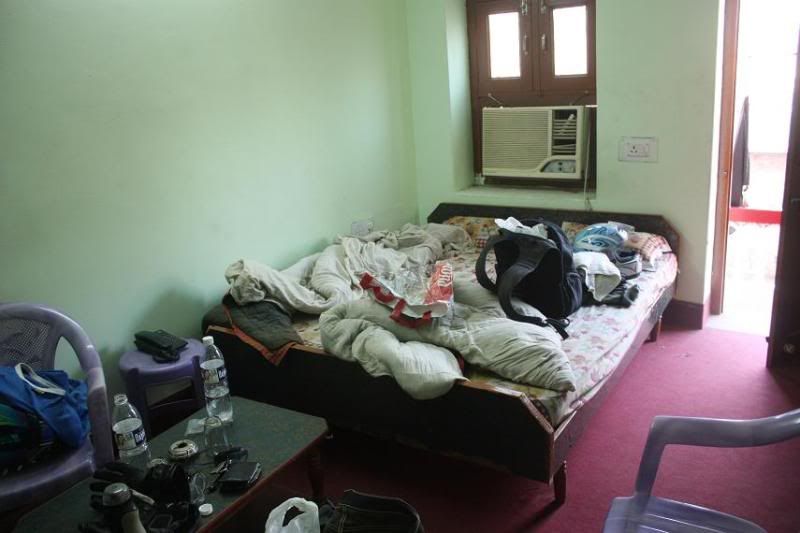 __________________
Finally Jaisalmer:
We finally reached jaisalmer at around 11 am and while we were on outskirts of the town and I was looking into places to stay at Jaisalmer into Lonely Planet a scruffy looking man on motorcycle rode upto us and asked if we needed any rooms....."How much" I asked expecting something overpriced."400 bucks,its inside the castle and you can see the whole city" he said.....cool we followed and he took us to Desert Boys which is inside the Jaisalmer fort.
I waited outside while DJ went to check the rooms and I mentioned him to bargain in marathi....when DJ came out I asked "How much"...."lets stay in 800 bucks wala room" he said "Its amazing"........
We checked into the hotel and room we got for 800 bucks was simply one of the most VFM room I had stayed in.....