This is my trip log of mumbai leh solo bike trip from august 18 2007-2nd september 2007.My name is Amit Patil,I stay in Mumbai and I am a software engineer by profession.I was helped by Yogesh Sarkar,Hitashu Gandhi and Jojo Khurana with my planning for this trip:
TIP:First day log does not contain any pics as my cameras were tucked deep within my luggage on Day 1
DAY 1(August 18 2007):
August 18 2007: Start from home.Its a saturday.A good nights sleep is absolutely essential for a ride and I slept early and woke up at around 4:30 am.Mom had made some cutlets previous night so that I dont waste any time in ordering food on day 1.Start from home at around 6:00 am.Tilak and send off from home...even the neighbourhood aunty is awake to wish me luck..Tie up saddle bags,sleeping bag and tripod using rope used for hanging clothes.have about two pieces of 15 meters each.One rope suffices.The descision to use this rope instead of bungee is foolish I realise later.I dont wear the carbon fiber gloves of cramster i have as I need a good control of accelator(again a foolish descision as I realise on 'minor' fall on day 2).I wear the k2k jacket and skating knee caps(which I later remove for want of circulation to my legs....again a foolish descion).
5 kms into the ride from andheri i reach malad flyover.I am carrying a small sack having about 4 liters of water and cutlets in silver foil and half a dozen bananas.The small sack is resting uneasily with sleeping bag behind my back.I dump a two liter water bottle on the flyover and tie a one liter bottle to my saddle bags( which falls off at the bumpy road near manor)and have a liter in sack....The load off my back makes me comfortable.
See a chick with boyfriend on a Bike who keeps staring at me for my strange gear.This is not the first time I am stared at.I get used to it by day 2 and I keep getting stares till chandigarh
I keep drinking water.....peeing after every hour or so(to avoid dehydration)....ride at 60-70 and progress is good.Stop at dhabas occasionally to buy new water bottles.road from baruch till vadodara is bad and progress slow.After vadodara the road is welcome.
I have kept my camcorder and still cam in a pouch in saddle insead of turtle...Turtle is having magnets and I dont want to risk my cameras.I want to click pictures on day one...but saddle bags are having tripod and sleeping bag on them and removing cameras means removing those stupid ropes.Reach ahmedabad at around five-six.
Had spoken to vimal(friend from gujrat) and enquired about towns after ahmedabad.Gandhinagar and himmatnagar are next towns.Take the ring road.spot a reliance petrol pump across the road.Attendants boys crowd near my bike.Maharastra number plate??where are you coming from???Biking all the way???Yes I am going to jaipur(dont mention ladakh for fear of freaking them out )After filling up take decide to stop at ahmedabad.Take a left turn and start searching for a hotel.
Find a hotel for 200 bucks(some sonabadi chawl or something is the locality).Damn cheap then expected and ring road is just couple of kms aways.good place parking.The young boys carrying luggage/hotel manager and all again hound me with questions about my trip.Again I am going to jaipur.The hotel boys ask me if they can wash my bike.get a wash done for 20 bucks.there is a decent restaurant for in front of hotel for a nice dinner.Buy bananas,water and electral on way back.read a prayer book and get a sound sleep.No pics for day 1 since the cams are in saddle and i have done this part of ride several times.I keep camera in my hippo pouch and camcorder in turtle(risking the magnets) next day onwards
DAY 1:On schedule
-----------------------------------------------------------------------------------------------
19 August 2007:day 2:Brush with the reaper:
I woke up early.Settled my hotel bills.Tied my bags.started at around 6:00.
I did not carry a watch throught the trip(fear of losing and scraching it) and my cell phone was sole source of my time and most imp it was a source of alarm.
Road between ahmedabad(amvad as it is called locally) and gandhinagar was amazing surrounded by trees and all.I stopped often and clicked pics
All was fine and well and I was feeling good and nice empty roads were invitation to speed.
Again my gloves were in turtle bag and so were knee guards.I covered the distance till rajastan border in no time.I was in rajastan(the most my office buddies predicted i would reach in 15 days).I expected rajastan to be a desert where I would see sand dunes and camels and stuff.but i was dissapointed.No sand dunes in sight.Soon I passed a small town or hill station.It was surprisingly green.Just the trees were different from one on western ghats.The town had a shivji statue which could be seen from highway.
I picked up speed...determined to reach udaipur soon.Just then about 70-80 kms from udaipur tragedy struck.I was speeding singing to my myself and enjoying the landscape.It was a four lane highway.pretty nicely paved.What could go wrong here????Just then a d0g zipped acrossed.
I hit it head on instead of avoiding him on which I would have crashed anyways.Everything then just stopped for a moment.I felt myself sliding on the road.my palms and hands brushing.After I came to a stop I picked up myself.realised my leg was still under the motorcycle.she had come tumbling down too.Some village folks rushed to me and picked me and my bike.Looked at me.yes my hands were still there.I removed my shoes and checked all my toes.they were still there and seemd no broken bones.Looked back at the place where I had fallen.Saw some glass shards there.Realised my right rear view mirror had been shattered.Bike seemed to have no external damage.The cone at the handlebar must have surely conked off I realised.hand were bleeding and right plam seemed to have two blisters.the leg gaurd and saddle bags saved my right leg.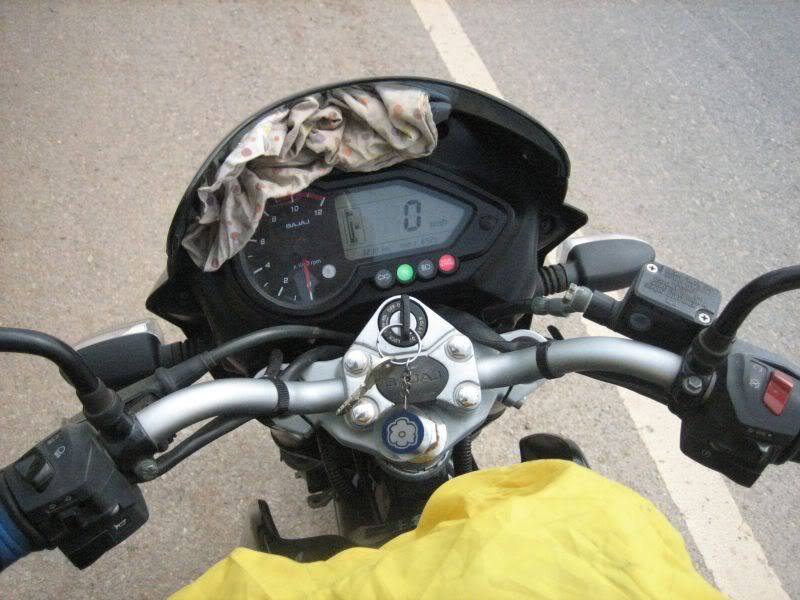 The village folks praised me that I had walked out from falling at high speed.They asked where am i going with all stuff and where am i coming from.I gave usual answer....mumbai to jaipur...many of them wowed
Some one got me iodex for applying to my wound.I said no thanks I had my first aid kit.Someone said I am going on such a long trip so i am well prepared.He said helmet and my gear saved my life.I looked at my helmet.It had a deep scratch on the chin.Looked at my jacket saw a hole in the chest.It saved my upper body.there was a hole in pvc pyjamas on my trousers.Both had nice holes on left knee.My knee was bleeding too.
some how i wanted to go away from accident site.I thanked all the villagers and stepped on my bike.It had a twisted handle for sure....maybe a conked cone too.Udaipur was around 100 kms away.I trodded till udaipur.
Stopped at dhaba and cleaned my wounds and applied bandages.Entered udaipur.there was a garage open.Replaced shattered rear view with a new one...he said cones and handles cant be replaced on sunday,.Sunday is a bad day to have accidents.Not many mechanics and not many doctors.Saw a bajaj service center in udaipur...It is open but has no mechanics...manager says Bike will be fixed only tomm.Its still noon and I might be able to reach jaipur by tomm.
udaipur and jaipur has two lanes.four lane road is longer someone told me i rightly decide to take 2 lane roadsince i wont be crossing 40-50 kmph.stop in decent hotel and again clean wounds and dress them.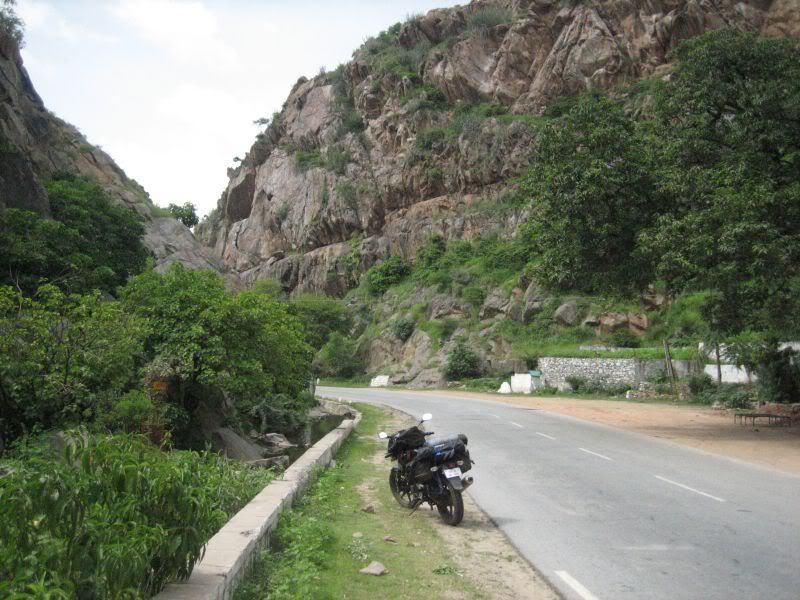 I enjoy nature and take snaps where ever possible.Decide to post for help and have the Bike fixed in delhi....ill post for help today night where ill stop at ajmer.
Enter a small town.......natwara...I see bajaj service center on the right beside the road.The guy says i cant fix it today.He takes a small ride of my Bike and changes his mind.He ushers it in the workshop and changes the handle with a standard pulsar handlebar.Cone seems to be okay.
the process takes time but I am thankful to these guys.I let them take small rides of my P200 which have never seen let alone repair it.The new Bike is talk of the town.The manager summons some potential customers and explains abt the bike.These guys are happy to repair my bike.The head foreman is talking to a boy who is replacing my handle in local language...."what you are doing only big mistries(mechanics) are allowed to do".I concurred with him.
I start again at around 5:30 pm.The service center guys attach the sticker of their center to my bike.These guys took pride in the work they did so I preserve the sticker through out the trip.I checked my Bike and it was good to go.Not much damage even after such a nasty fall.
I plan to reach ajmer today night.Its getting dark fast.I decide to use the knowledge of night driving I had read on bikenomads.decide tail a truck strategy.The poem of the reaper on my rear seat in the same article spooks my mind.I have a lousy 35 watt stock lamp.trucks stop at toll nakas wherein i switch my hosts.I see a decent settlement with dhabas and hotels.Give up ajmer and decide to stop for the night and not try for ajmer.find a hotel room for 300 bucks.as usual it has excited luggage boys and all usual questions.I reply my destination as jaipur.I am getting used to it by now.
thankfully the town has a medical shop.I go and buy a syringe and needle and surgical blade.I perform a minor surgery and drain all the blisters on my plam(not recommended at all).If i did not deal with them now tommorow blisters will grow and would be more sore.I bandage and dress the wounds again.
A look at my k2k jacket revealed the intensity of the shearing force of the slide.codura fiber had been brushed off at several places on my both elbow.Had it not been the jacket it would have been my flesh.
helmet saved my a$$ and jacket some of my blood.Promised myself to write cramster a testimonial for it.
Maybe if I had worn gloves i would have even forgotten about the fall.
I had a meal at local dhaba.I survived today.The feeling of "It cant happen to me!!!!" vanished.I read my prayer book and fell off to sleep .
DAY 2: Some 250 kms away from jaipur(Target for the day)
------------------------------------------------------------------------------------------------
Day 3:
Started early from my dhaba-hotel.It was early morning and a local bus had stopped at dhaba for tea snack.Got a zillion stares from its passengers for 15-20 minutes while I prepared my Bike and tied my luggage.I somehow ignored the stares.road was good and started ripping .Reached beaver(byawar)...soon crossed ajmer...was planning to stop for breakfast...I saw a reliace A1 plaza 14 kms ahead board.Yesterdays crappy dinner was still in mind...i decided to hold on my hunger pangs till i reached A1 plaza.
This was the first time I was having food in A1 plaza.Even though it was in middle of nowhere the food would be better than the fare served in dhabas...most importantly it could be hygenic...the people serving the food would atleast be wearing clean clothes and have had a bath(Standards expected from reliance)...reached A1 plaza....Had two plates idli and a aloo paratha...food seemed to be decent..kitchen seemed to be clean...and guys wearing clean clothes...not having travelled much before the reliance A1 plazas(i wish there are more of them) are a boon for a person like me who are fussy abt where they eat...i ordered to parcel a couple of aloo parathas for lunch(they were tasting good)...had bananas and fruits /glucon d and electral for emergency snack and energy..
I was al set to go ahead....reched jaipur by noon...good going I thought..
road between road between ajmer-jaipur was amazing is eight lane amazing expressway and i reached outskirts of delhi by evening....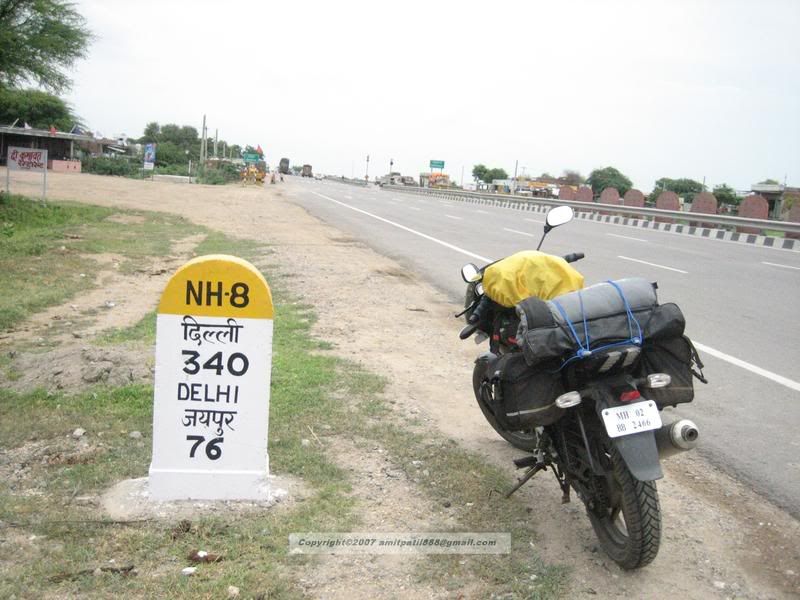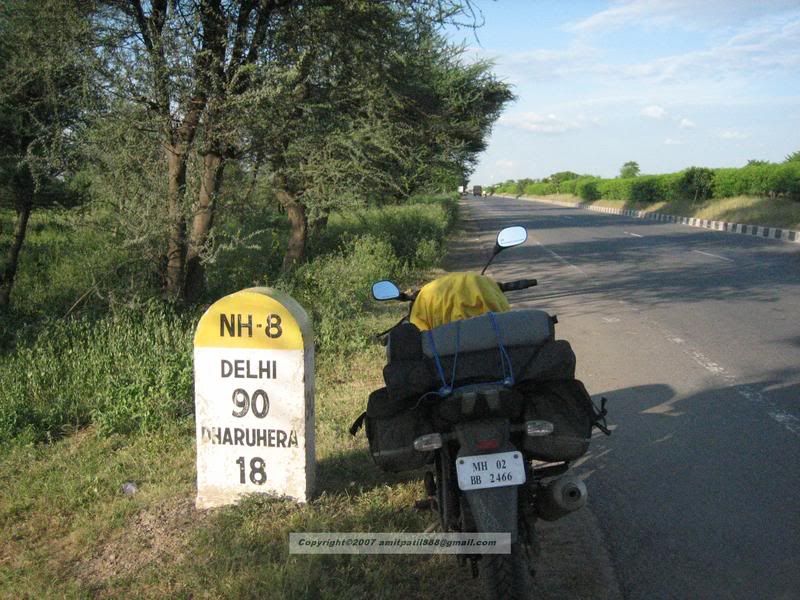 I was somehow dissapointed by rajasthan...i did not see any sand dune...no camel convoys and people travelling on back of camels on sand dunes....there was nothing pink about jaipur from what i saw from jaipur bypass........saw some camel carts though.In manesar the traffic started and continued into gurgoan..i had to change the highways from NH-8 to NH-1...this meant going to heart of delhi and changing highways.I didnt see any point in wasting time in evening traffic and thought i should stop in gurgoan.Found a hotel rajmahal or something in gurgoan for 1100 bucks(only hotel in the locality)!!!!!checked in that hotel...
later visited a cyber cafe to inform my friends of my progress and there was a clinic(Aryan hospital) nearby.....visited it to dress my hand....doctor over there seemed to me like a phony(I asked for a bill and he made the stupidest bill I have seen in my life) and prescribed some medicines(tablets)...he later prescribed me erythromycin which is more powerful and expensive than amoxycillin which is used to aviod infections.......I did not take any unknown medicines he had packed in a pouch for lack of faith in his judgement...asked him to give me a tetnus injection which he gave on my butt(why not shoulder???)
Had a decent meal in hotel..called up hitanshu and yogesh sarkar to inform them I reached delhi(More for polictical reasons coz i would need their help later during manali-leh highway...i didnt want to surprise them saying "hey I am stuck on manali-leh and i dont know where to go next...help me!!!!").Hitanshu tells me to start at 2 am if I want to reach manali.....he tells me ambala -chandigarh is a one lane road(I realise what he meant later).Yogesh tells me to try to reach mandi and not manali and tells me to not go into mountains tired.
I have to change highways and i dont know where is NH1...infact i have never been to delhi before......I decide to start at 6.00 am next morning coz i need locals around to guide me to karol bagh and take NH1....call up jojo khurana(a orkut biking buddy from chandi) and inform him that I would be passing chandigarh tommorow by noon....i thought I would easily make it to manali next evening not knowing what awaits me the next day.Read prayer book and fell off to sleep.
day 3: target chandigarh...reached gurgoan...abt 300 kms behind schedule
------------------------------------------------------------------------------------------
DAY 4: DAY OF SWEAT AND TOIL:
start at around 5:45 am.Tank up in gurgaun and reach karol bagh..spend some time loitering with my Bike trying to find NH1.Locals are as stupid as the ones you find in mumbai.No one had a idea of NH1.Fished out my map and asked them road to places enroute on NH1....many knew road to karnal...its called GT karnal road as i later learnt...
NH1 starts at a lousy and unclean chowk ...following that there was some work going for delhi metro.....there were NHAI boards later...(okay i was on a highway)..pass some places shown on map...okay i was heading in right direction..later there are some road signs(ambala,chandigarh etc which confirm i am heading right way) thankfully i was heading in right direction...
stop at a dhaba and order some parathas...they are tasty...i ask the hotel boy how much i have to pay...he says wait ill ask the owner...from what it seemed the prices varied from customers to customers...i was charged 50 bucks for two parathas(Seeming unseasoned and rich kid on a new looking motorcycle)!!!!I argue but I cant do anything...i am in a new place where i dont know anyone and I am alone....knowing very well I was fleeced I sheepishly pay up....... I decide to ask for price before ordering anything...i stick to my protocol for the trip....Dont fight or lose your temper...avoid confrontation with anyone
...pass one town after other......and reach karnal...this place looked beautiful and nice ...keep drinking water...peeing and eating bananas and dry fruits and energy biscuits....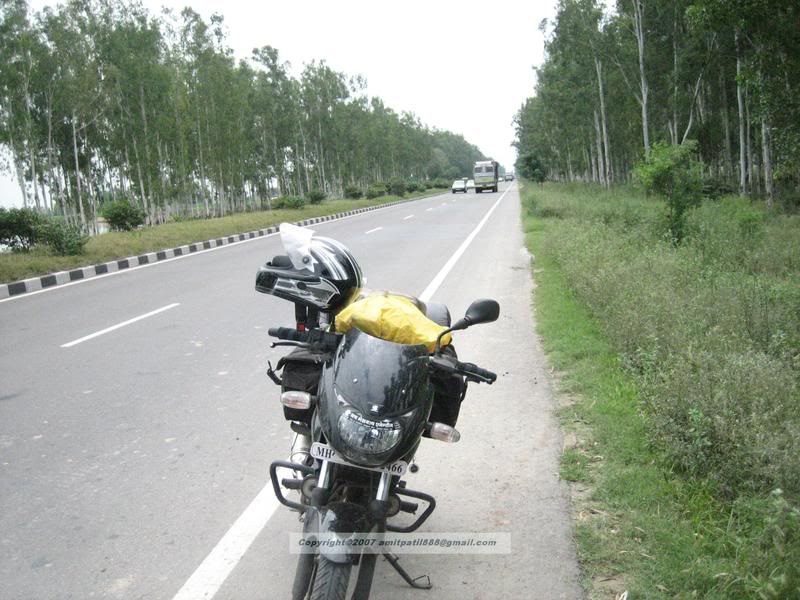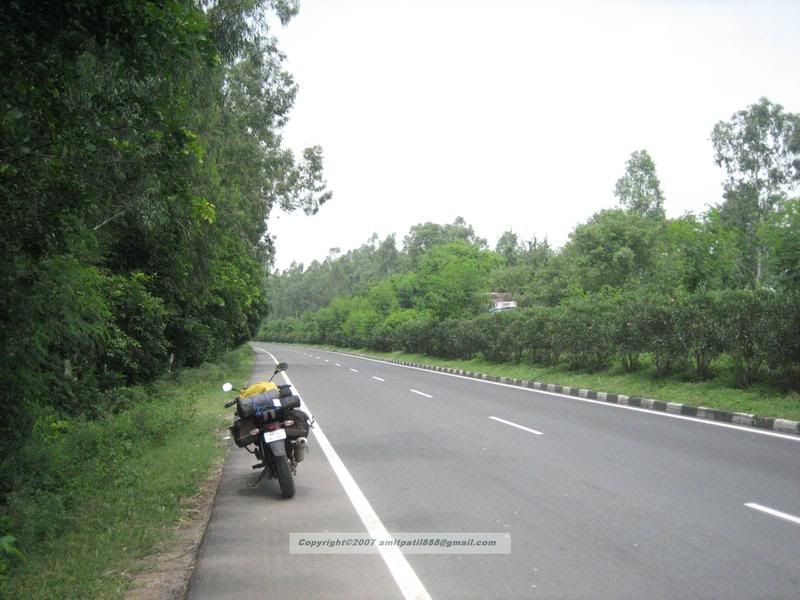 I reach ambala cantonment...see a fighter plane low in sky...u sont see these often if you are from mumbai....i know i have to take NH22.Reached a bridge where NH22 starts.there is a board showing shimla/chandigarh...I aks a truckie...he tells me to go over the bridge...i ask a reliance petrol pump guy nearby...he tells me to go over the bridge
There is a small tunnel under some bridge..on top of it is written NH22. the approach to bridge is blocked by rocks...confused where to go ...i decided to go under the bridge...all these roads lead to the same road i realised later.....
The moment i see the other side...its a diffent word...the road is undergoing construction...now i know what is a one lane road.......crappy road...add to it its noon...i am sweating heavily under my jacket...i keep drinking water...stop and buy half a dozen bananas and eat it...i did not have lunch thinking i would do it in chandigarh....
i toil from ambala to chandi...dusty road...traffic at places....no respite from sun and heat...i reach chandi at 2:30 in noon...its bloody hot and i am tired and dehydrated...i reach the board...welcome to chandigarh....i have run out of water and my body is hot in the heat...maybe i should stop for today...there is no point fainting and trying to be brave...i fish out my cellphone call up jojo khurana...i tell him of my physical condition...he tells me next town is ropar and its worse in terms of heat and advices me to stop and rest at chandi...he says he will be there to meet me soon...i stop park my Bike and rest under few trees few meters from chandigarh entry...remove my jacket/gloves...eat glucon D and dry fruits to avoid fainting...i still have no water...
Jojo calls me up in fifteen minutes and we talk abt my hotel budget.He says..."come straight...after a few roundabouts you will be near goverment medical college" I will catch up with you there.
get up and head in direction...after reaching the medical college I hear a thumping of thunderbird following me....I am easy to spot with luggage....a sikh youth waves at me and gestures me to follow him...we introduce each other at next traffic signal...its jojo
I follow him to park view hotel..two cheap rooms...one without ac at 650 bucks and another with ac at 960 bucks.i pick one with ac.nice hotel...nice rooms...jojo and i chat with each other till 5:00 pm...i am shivering with cold under the ac by now.Jojo leaves at around 5:00 and i have a bath and curl up hungrily under the blankets...
when i wake up its 8:00 pm already by the time i wake up...call up jojo and invite him for dinner at restaurant under my hotel..he arrives in half an hour with two more buddies on bullets...these guys dont have dinner but some light juice(they wanted to booze later in the night) while i enjoy a decent chicken biryani...we talk abt biking ...manali,hills,jobs etc while I was enjoying my dinner..later they go away wishing me good luck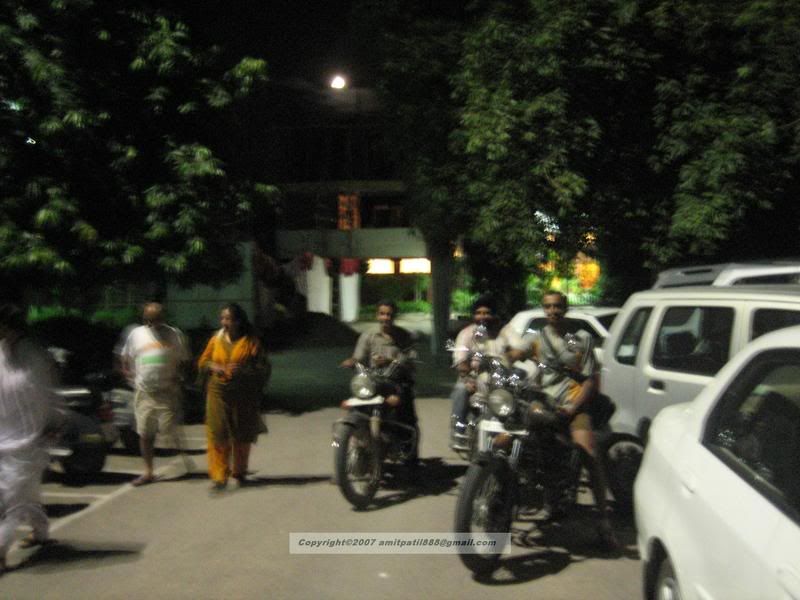 I go back to my room and fall off to sleep
Thanks to Jojo Khurana for the help and guidance offered in chandigarh
DAY 4:Target was manali...1 day behind schedule
------------------------------------------------------------------------------------------
DAY 5: Heading for the hills
Start from my hotel...chandigarh is the most amazing well planned city in our country...straight away head to NH 21(called himalaya marg in chandi).Going is good.Pass mohali and ropar and other town...
After some time hills are visible on the horizon.
after a while I enter a ghat called swar ghat...is this himalayas??I think...HP number plates are evident on vehicles..a change from CH,HR,DL and PB number plates I have been seeing...the mountains keep growing big and are beautiful and amazing.The only hills I have seen before are western ghats(Highest point is 1.6-1.7 kms high).I sms my friend "Himalayas are fcking huge and we are wasting our time trekking western ghats"....Now its time to mention I had severe acrophobia(fear of heights) some years back.. it was so severe I was scared to look down from fourth or fifth floor balcony... i have a friend who introduced me to trekking on sahyadris and we climbed some forts in some rather unconventional ways...yet the fear was still in back of my mind till this trip....the beauty of mountains just kept me wanting to go deep into them...and yes there was no fear of heights somehow...there is a fcking road...no trecherous climbing...and reason says passes(ghats) are built over lowest points on mountains not over the summits...
SWARGHAT pics: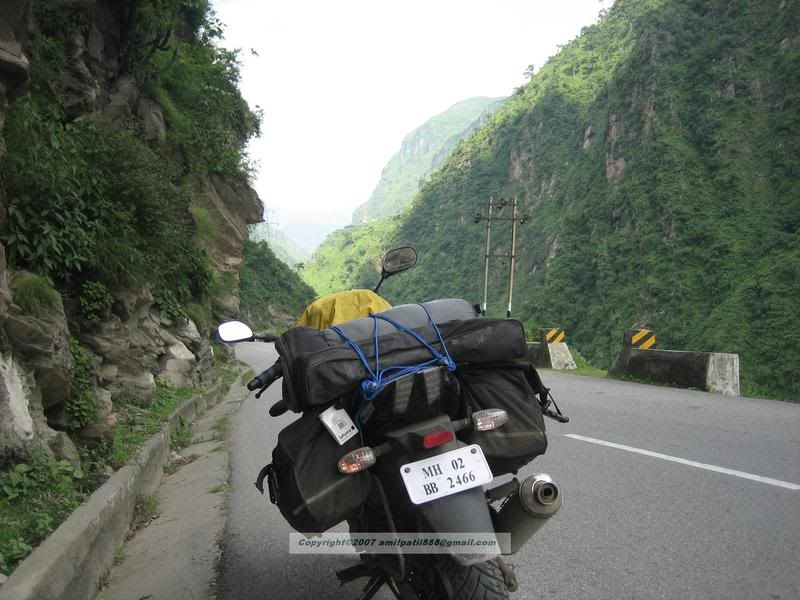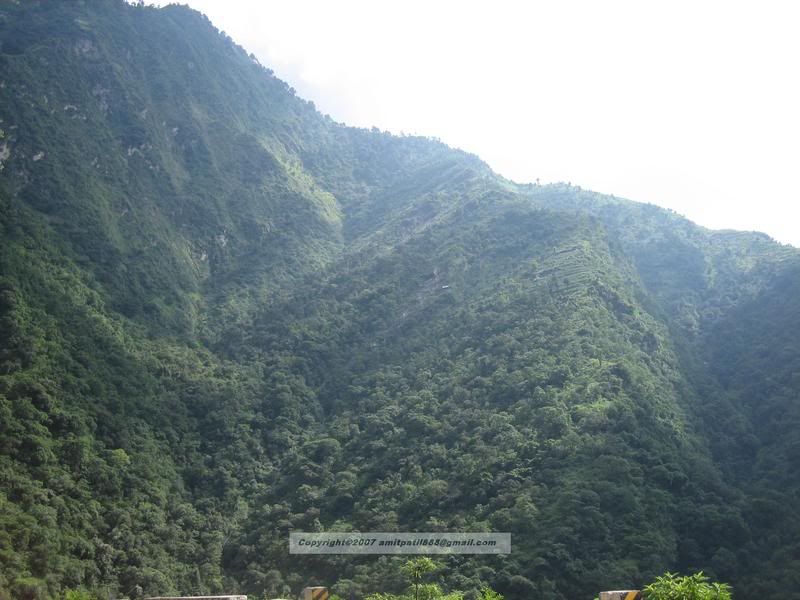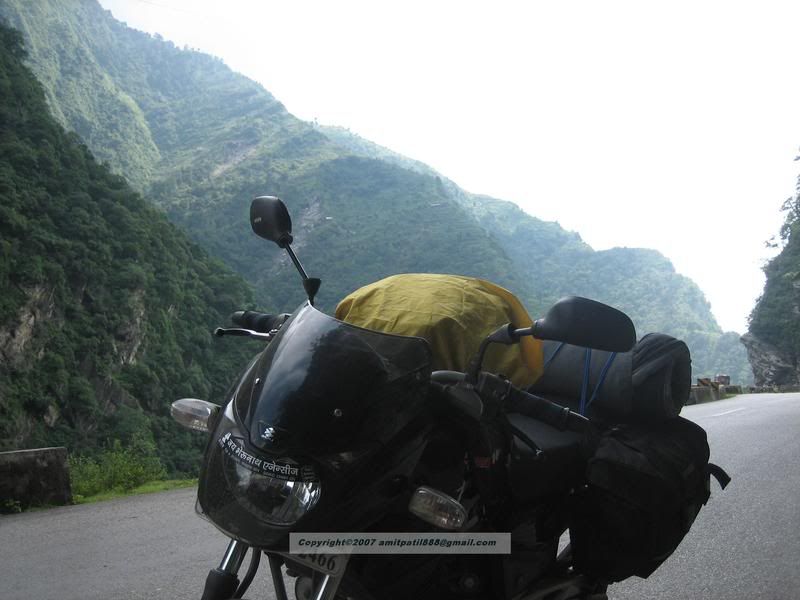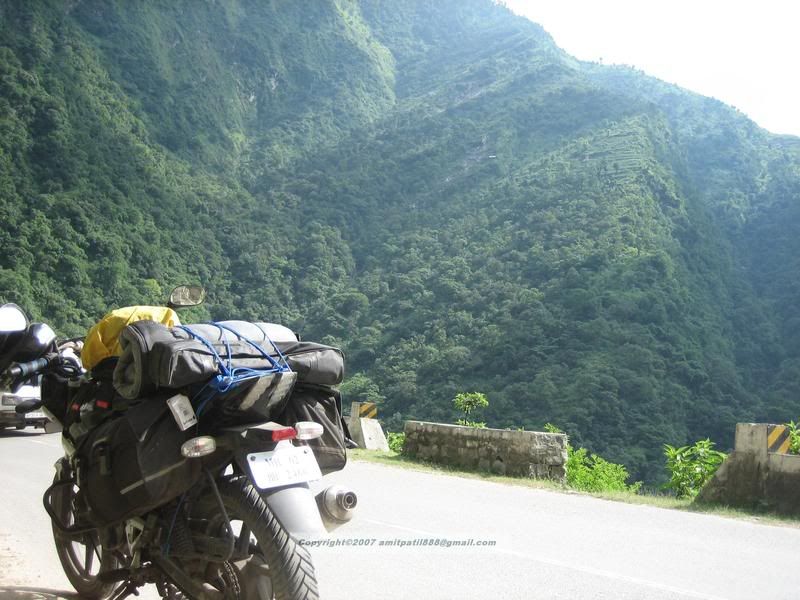 There were plenty of trucks with broken axles on swarghat and plenty of traffic at places...somehow i didnt suffer thanks to beauty of the place..
Passed mandi and malhotra bajaj service center...kept it in mind for future trips....saw plenty of pretty girls in mandi.
RIVER BEAS SOMEWHERE DOWN THE ROAD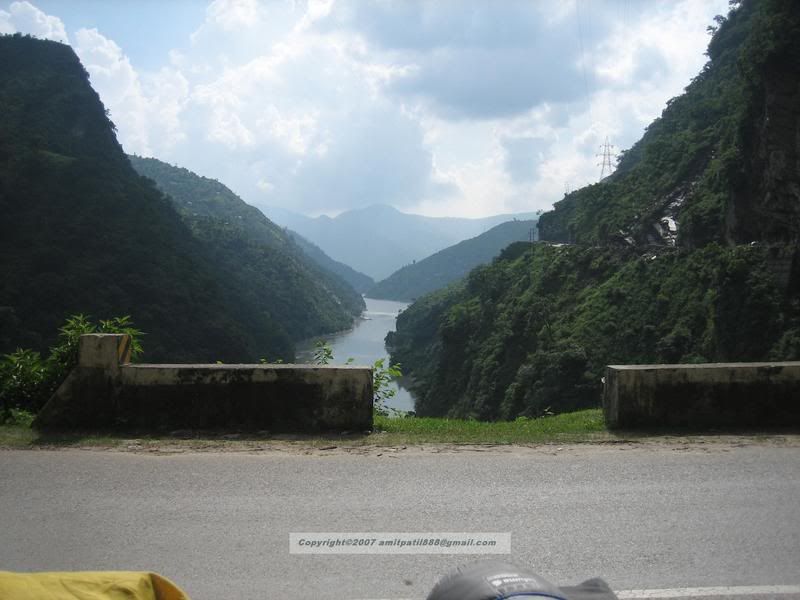 Reach manali in evening....Find a hotel room for 650 bucks....The boy tells me this is off season so its cheap...i ask him does off season mean only crazy people...he laughs and nods..funnily no rooms here onwards have airconditioners...there is river beas right under room...I hear her rumbling all night..it rains lightly after i am in hotel.I ask the hotel boy to wash my bike.I am later charged 50 bucks for it in the bill...thats the last time i order anyone to wash my Bike on the trip.
Have a good chicken biryani and half tandoori at the best looking restaurant in town(besides taxi stand)...maybe it would be the last time i have a good meal for a long long time...i buy apples ,bananas,water and box of electral and glucose,two strips of diamox for trip ahead.I got muffler for neck..buy two of them...ask price for wollen socks(40 bucks....i was charged 200 for wollen socks in mumbai(Paton...vile Parle)).....i buy two pair of socks(that makes three pairs with me)....i loose both new pairs till i reach leh.i buy woolen gloves(I had cramster touring gloves)...for 150 bucks...i later realise on the both gloves handed to me are of the same right hand....happy with my progress i pop a diamox and i go off to sleep after calling up my parents.
Tommorow the real test begins...manali was beautiful but crappy and crowded...In fact its a place i stopped getting stares....bikers are common thing here....In fact the hotel boy asked me if i was going to leh or coming from leh
My wounds on hands havent still healed thanks to gloves which rub against my wounds evertime i remove or wear them
DAY 5: One day behind schedule
-----------------------------------------------------------------------------------------------
Day 6:First Day on manali-leh:
Woke up at 4:15 am.Started at around 5:45 am.Saw a petrol pump which said last pertol pump in valley of gods.I tanked up my steed instantly and headed for rothang. I thoroughly enjoyed the beautiful scenery enroute.There was a mountain right in front of me like a green wall and beauty of it in morning light just swept me off my feet.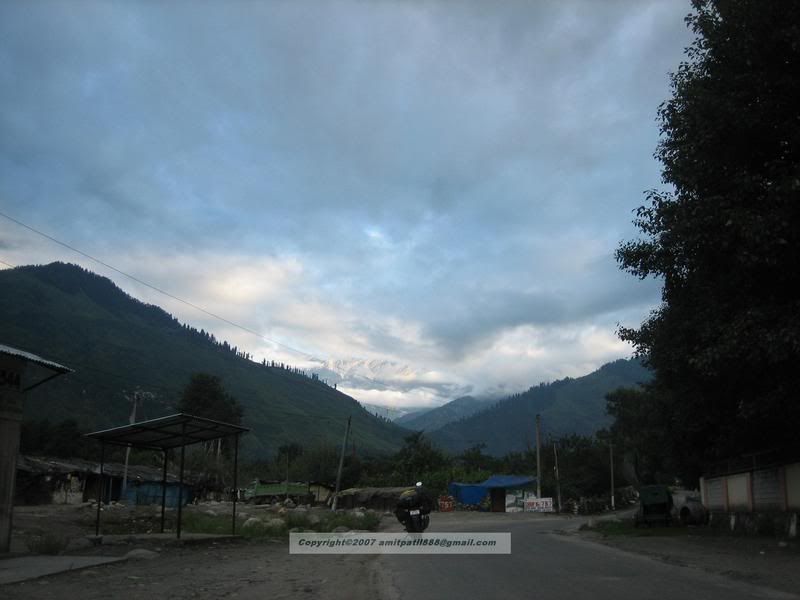 I was stopping and drinking water and peeing after every 20-25 minutes.Drinking water is best way to acclaimatise is what I have read everywhere.If you dont pee every hour you dont drink enuf water is a yardstick they say.I was following the rulebook strictly.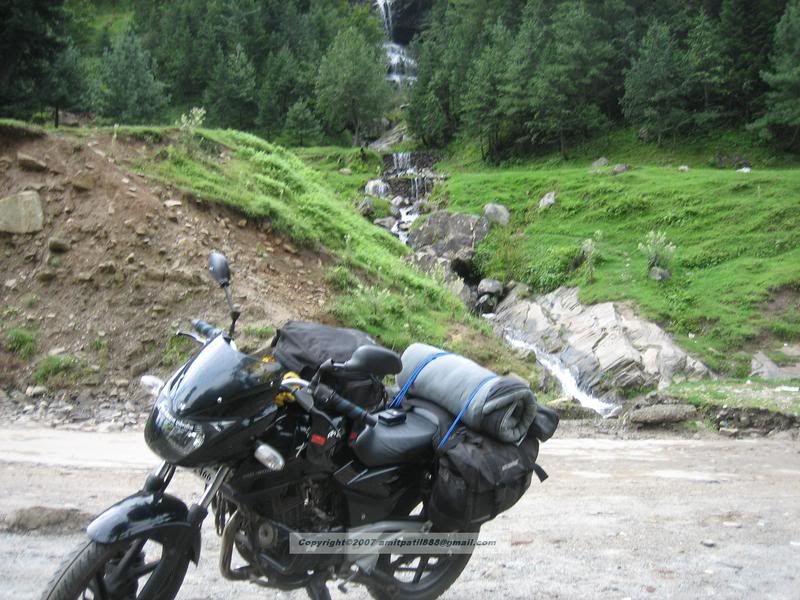 A group of young men zipped accross me on bikes(most of them 100 ccs).None of them didnt have any helmets and wernt carrying any bags and had some saffron flags on their bikes.I was 'stared at' by pillions and occassionally when i rode with them couple of them videotaped me on their handicams...perhaps they had never seen a fully geared rider..From their luggage i knew they werent going beyond Rothang
I stopped and clicked a few pics.
Just then a tumping sound of enfield was heard.A white man on a enfield was heard behind me and he was having a lady companion with what looked like luggage for a long ride...good i have some company ,i thought.I clicked some more pics and rode away in direction of rothang.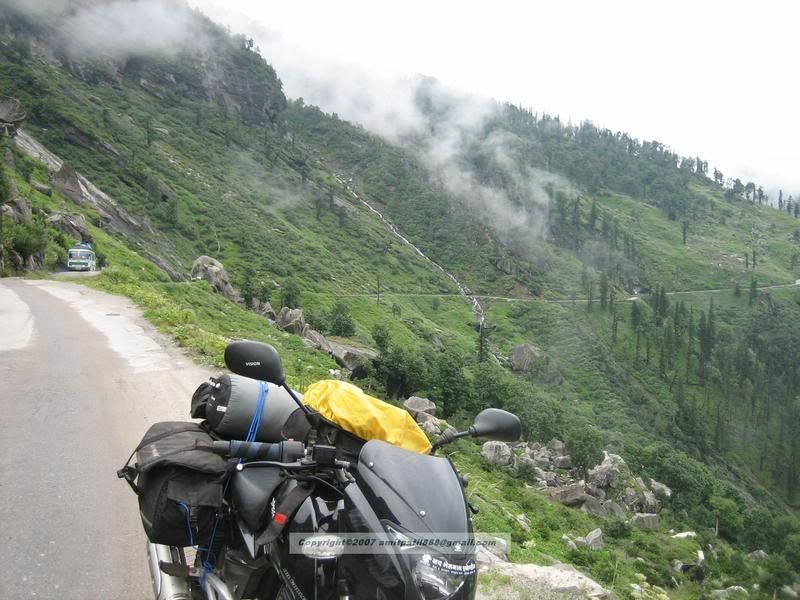 Manali side of rothang was completely bad with the rains and there was a army bus struck somewhere and all the motorcyclists who did ride ahead of me were waiting at a place..
There was decent traffic jam at approx 7:00 in morning.I cant imagine what would happen at this place at 12:00 in noon.I did make way for my Bike , to my traffic jam negotiating skills i have developed in mumbai.Rest of the bikers followed.I soon reached marhi.The white couple on enfield was riding close to me and everyone stopped at sarchu/sagu cafe and I ordered tea and parathas.
The white couple also made it into the same cafe and I managed to break the ice and ask where they were headed.
"Leh???that great...I am going in that direction too".I asked them where did they plan to stop for the night...the white man said "Pang"...I asked him have you done this route before???he said "NO"..i secretly somehow knew he wouldnt make it till pang on day 1 but didnt talk abt it."Okay" that man said..."we will keep meeting each other enroute"...how right he was!!!!!!!
Road on manali side of rothang was horribly damaged in rain
On rothang top I clicked some pics.The air was lighter.And it was freezing cold.I could see some frost on rothang top board.Must be below freezing i thought...first time i am experiencing sub-zero temperatures...there were some snow capped mountains seen from the top and this was the first time i saw snow covered mountains in real life.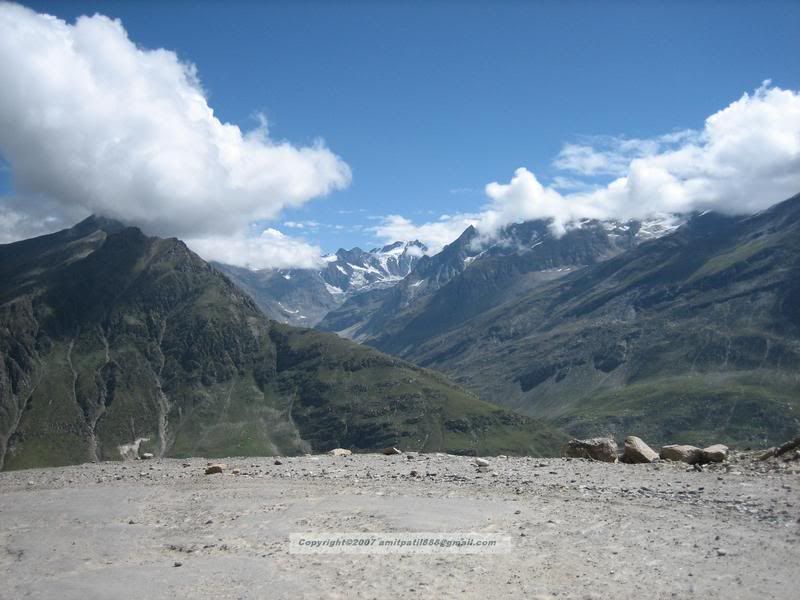 while I was spending a few moments at the top the english couple had zipped ahead of me.
After a while I moved ahead of them while they were taking some photographs somewhere on descent.
While descending from rothang the roads were pretty good.I stopped to take a leak and parked my Bike on side stand after descending a bit.Maybe the incline wasnt right for side stand and my Bike fell off.GREAT!!!!!!!!!I made some effort to pick her up but picking a pulsar 200 with all luggage at 10 k feet plus is a different game.She wouldnt budge.I waited for help...
Luckily the white man passed me again..he stopped and helped me pick up the bike...while picking her up...he said "****" and pointed to my broken left foot peg.Great!!!I had to shuffle gears of Pulsar without footpeg!!!!and where do i keep my leg???On the leg gaurd...I thought.....I did complete the rest of my journey without left footpeg!!
I said i was okay and thanked the man on enfield.It seemed he was waiting for me to ride with him...i urged he should ride ahead I would make it to leh at my own pace...well he said "there is a mechanic at keylong.Get her fixed".I nodded and he rode ahead.
After riding a few kilometers i fell down again cornering a V- turn on descent.This time I was helped by a taxi driver driving behind me...
Reached koksar..Road from koksar to keylong is pretty bad...it has a first water crossing i ever made.........its abt 10-15 feet long and only one vehicle can move at a time...I removed my shoes and turtle tank bag ...walked across and keep it on the other side of river..I start my motorcycle and am half way across when a truck enters from other side.....i am struck and helpless and there is no place to turn back and the rocks are decently big enuf to put her in neutral and drag her in reverse..soon another bus walla is waiting behind the truck...the truckwalla obliges...he is the one who has reverse gear not me...he makes way for me smilingly...i have started liking truckwallas...had it been a stupid autorickshawalla from mumbai we would both be sitting at that point till today with long pile of vehicles behind us...A truck was put into reverse to make way for a biker...happend first time for me
The landscape has changed dramatically now..greenery of manali is nowhere seen..wind beaten barren mountains are everywhere.
Filled up my Bike till brim at tandi..had to fill 4.9 liters...my Bike is giving me a decent average i realise
Reach keylong...its only 12:00 in the noon...there is a jispa IBEX hotel advertisement board which gives their number...my cell phone is working in KEYLONG.This is an oasis indeed!!!!call up the hotel in jispa ...he says 1200 bucks for a room...the cost is higher than the hotel I stayed in gurgoan...i decide to stop at keylong where possibly i can charge my camera batteries,my cell phone works,there is a mechanic,i might get a choice for food a cheaper place to stay and i acclaimatise better than jispa or darcha due to higher altitute of keylong .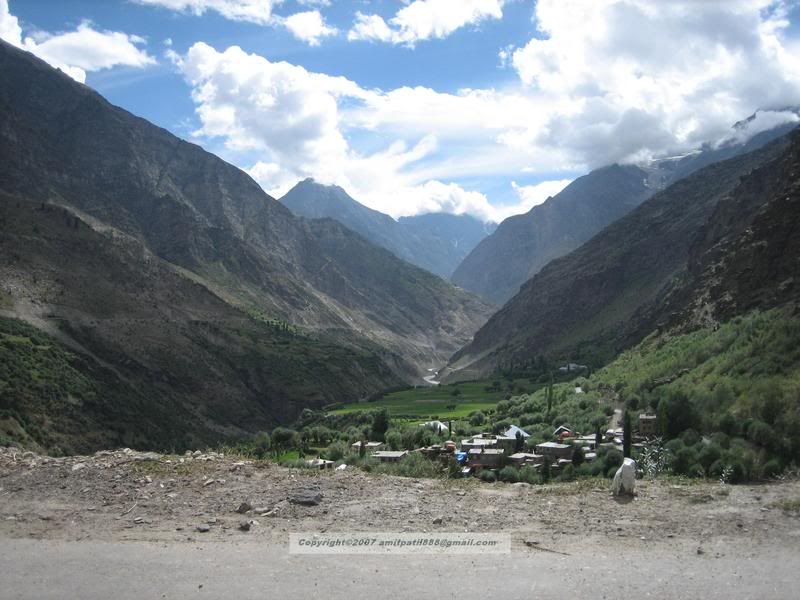 I find a hotel snowview..bargain a room for 300 bucks...this room even has tv..even though tv remote doesnt work.
The room window has a nice view of a glacier ...i have seen snow for the first time today(outside my fridge)...
i rest for a while...at around 5:00 pm i summon the hotel boy to take me to mechanic..he takes me to a mechanic above the keylong bus stand...the mechanic is doing something to a bullet.Just than a lady says "hi" to me...i realise its the white couple i met at rothang are besides me..somehow they recognised me minus my jacket and helmet...
we introduce ourselves to each other...their names are tasha and david...they had some issues with the clutch and have decided to stop for the day at keylong...
I suggest we do ride together next day as i was unsure about baralacha la ...david nods postively..he asks me whether i was alone riding all the way from mumbai???I nod..I think to myself this fella can recognise indian numberplates.......
I ask my hotel boy who was still with me if he knows where their hotel is located and if he would help me find it in the morning..he nods...The mechanic says the footpeg cant be welded together and there wouldnt be spares of P200 even in shrinagar let alone leh....damn..i tell him to lube my chain and bade farewell to david and tasha agreeing to meet them neXt day at 6:00 outside their hotel.
had a dinner of dal chawal at nite...watched idiot box(some stupid channel which cycled trailors of hindi movie one after the other) and poped diamox and fell off to sleep...I cleared my first big pass without any much issues.......tommorow was gonna be a big riding day..and even a bigger night at pang or sarchu
-----------------------------------------------------------------------------------------------
Got up early in the morning and prepared my bike.woke up the hotel boy and took him to hotel where my new european friends were staying.Knocked their door at 6:00 am sharp as decided.David opened the door after some time.He was shirtless and half asleep and I could see a lot of unpacked luggage and clutter."Wait for some time while we get ready" he said."No,I'll ride ahead and wait for you before ascending baralacha la.I did ride real slow and take lots of breaks and photos" I said.I rode really slowly capuring photographs and admiring beauty of the nature.Just before Jispa I heard familiar thumping of a bullet.David and Tasha caught up with me in less than 45 minutes.They are fast,hardly take any photos or hardly take any breaks which is all work and no play in ladakh
Man I really admired them.It would have taken me atleast couple of hours to pack that clutter in the room plus the road between Keylong and Jispa wasnt exactly in a good state.Or am I a real poor biker who is extremly slow.
I had parked my Bike and was gonna wait there for sometime more time.I urged David to ride ahead and not wait for me anywhere saying "We would meet in Pang.I would ride slowly enjoying and taking breaks"He said "If i make it to pang by 3:00 noon ,I would try for Leh".I said "Okay ride ahead but dont cross tangla-la late in evening".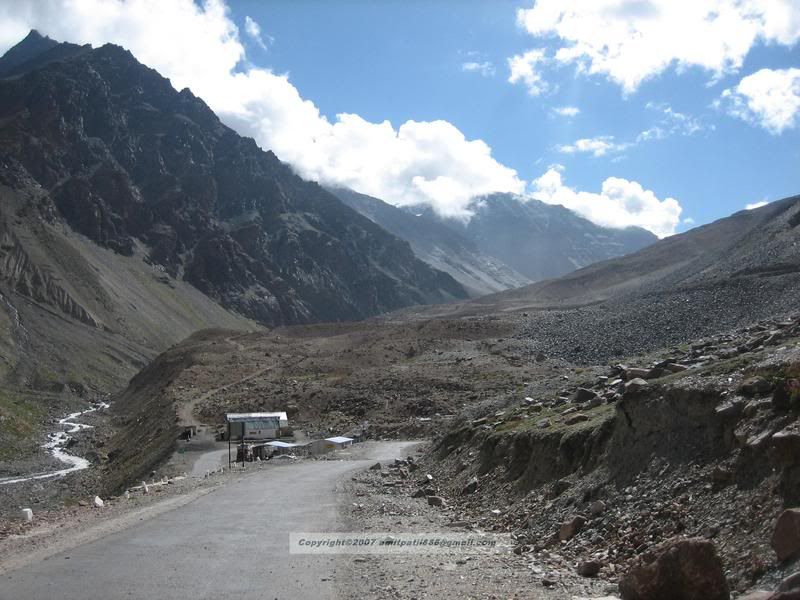 Soon I found myself crossing baralacha -la.Saw surajtal on top of it.Water was indeed blue as I had seen in pictures..I looked at color of mineral water bottle i was having.It looked as usual.Hahaha.Something in that water makes it blue....its not the atmosphere.I shot a few pictures of suraj tal and was happy that the water looked blue in the pictures too.I couldnt wait till I saw pangong "It must be blue for real too"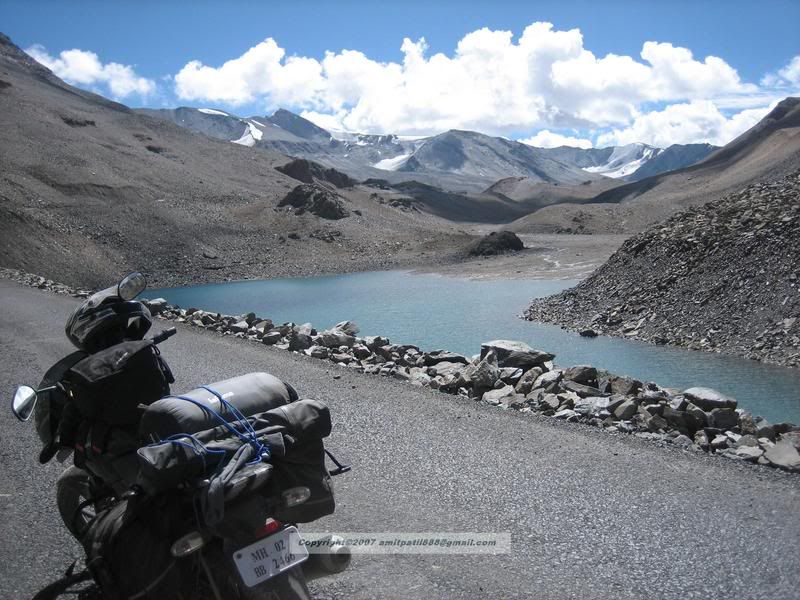 Later I started descending baralacha la.
Road was pretty bad while descending add to it I was alone and hadnt seen many humans for last hour or so.While descending took a left turn.Could see some tents immediately.Was it sarchu????Sarchu??So early in the morning.I realised it was prolly bharatpur.
And Bharatpur it was.Bought myself mineral water over here and rode off.Reached sarchu early in the noon.Sarchu is a general second day stop but I wanted to risk staying in pang over sarchu even though its more higher,colder and windier there.The reason being wanting to cross Tanglala early in morning and reaching leh early as I would be reaching leh on saturday and I had to get permits on same day as DC office would have been closed on sunday.
At sarchu the landscape is dramatic.The faces of the mountains show wind-erosion and displays ferocity of the winds.The landscape looks more like a desert and the sun was pretty hot.Drinking water ,nourishing myself by eating biscuits,glucose,fruits and dry fruits at regular interval I beat dehydration that was setting in.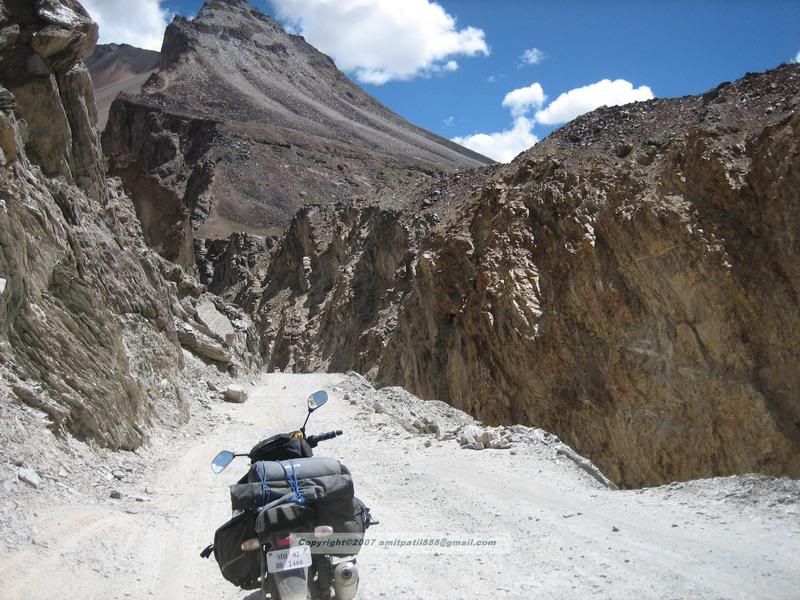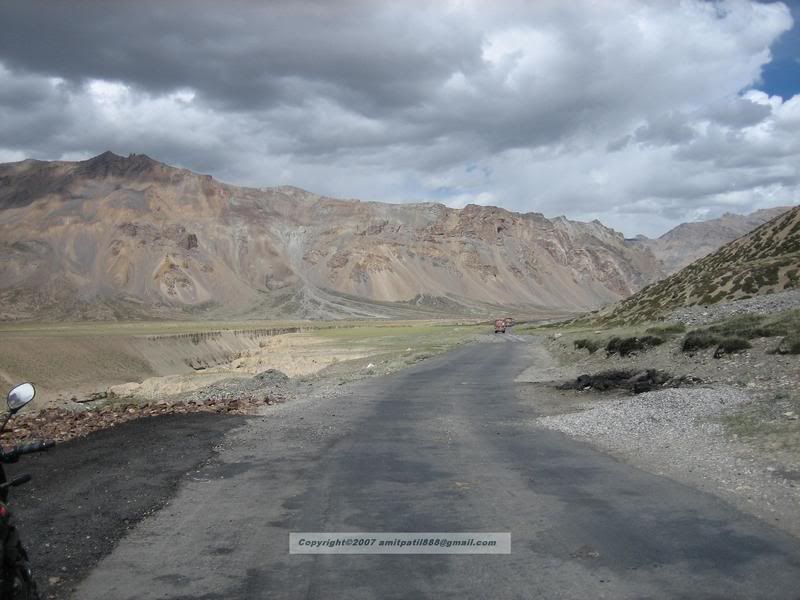 Reached Gata loops at around 2:00 noon and I was pretty tired.Didnt bother to count them but I had company of some trucks.Loops never seemed to end in the heat and the fatigue that was setting in.I stopped at a place where there were offerings on a side of a particular loop.There were offering of water and food by truckies for the spirit of dead boy who haunts the gata loops.He had died of dehydration at that place.I had read about it beforehand and I didnt want to mess wid any spirit(especially when I was alone ,had no backup and was dead tired).So inspite of running low on water I offered half a litre water bottle at the place.I knew this point was 16 or 19th loop as I had read .In someway I was happy that loops were gonna end ,just more two passes(Yogesh said you would hardly notice them if you miss the sign board)and I would be at Pang soon.
After riding for a while I could see a BRO signboard of a pass-top from a distance.I hoped it was lachulung top and I had missed signboard for nakeela.No it was nakeela and still lachulung top was to be done.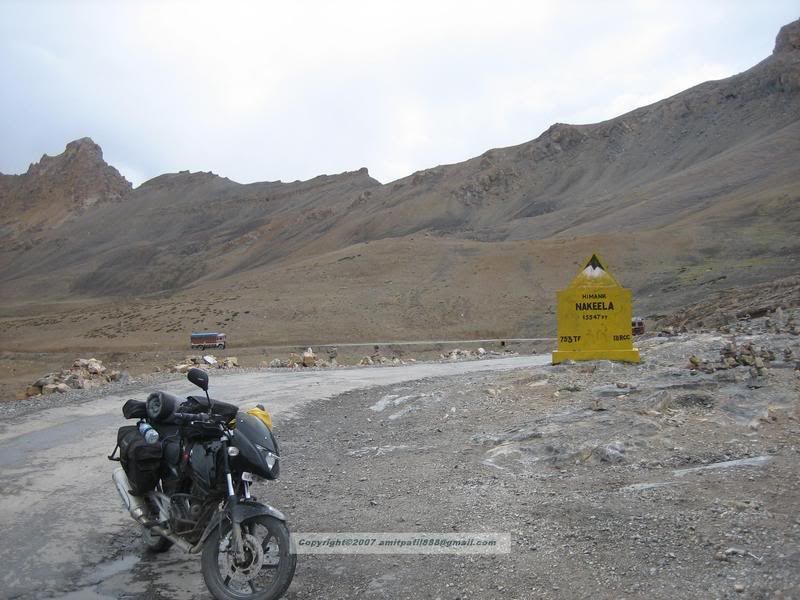 I could see trucks going higher around a mountain and knew it was l-top nearby.To add to my woes weather got bad.It starting drizzling and it was getting cold.There was more toil in store for me as i struggled up lachulung top.I stopped and clicked a picture.Noticed some ice/frost on side of sign board.Sub-zero temperature...hmmmnnn,add to it i was alone,it was getting cold and dark.The time on my cellphone said 3:00 noon.
Suddenly rain drops started bouncing of my helmet.In fact I could see some solid precipition which had entered my hemlet...ice flake or snow flake of some sort.my Helmet was getting getting foggy with my breath and I was shivering in cold climate.I had never experienced snowfall in my life,neither had experienced hail but alone on top of a 16 k feet plus pass ,when you are tired and running out of water and when it was getting cold and dark and u have a lousy 35 watt headlamp u dont want to stop and check how does it feel in hail or snow.All I wanted to do was desend.So much toil at pass people say "YOU WOULD HARDLY NOTICE THEM".
On descending things got a little better.Soon I saw a beautiful sight.I saw the second rainbow in my life.Last time I had seen it was in mumbai and I was in playschool and still remember it vividly.I got down and clicked a pic of rainbow.checked if rainbow was seen in photo.Yes I had captured it.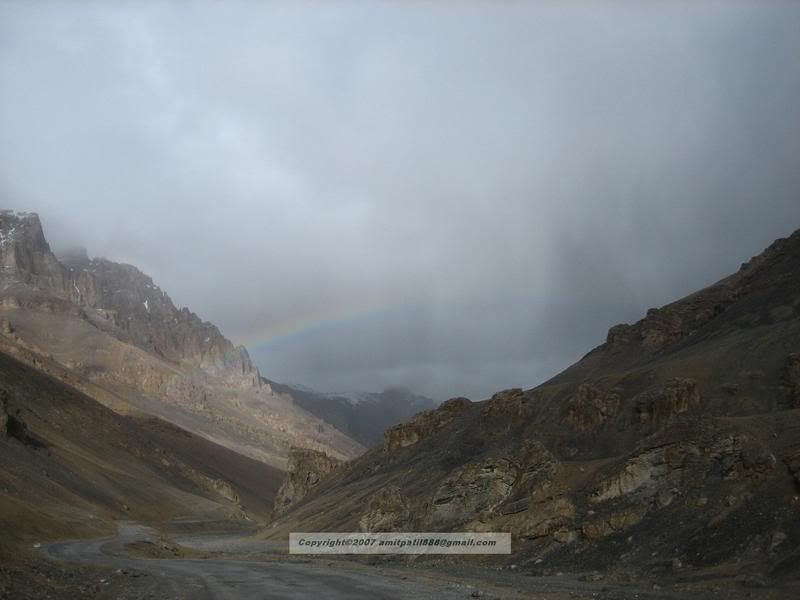 Clicked one more pic of rainbow with Bike just to show it is for real and I was there .I admired the rainbow till it went away after some time.
Again toiled towards pang.Weather beaten mountains again.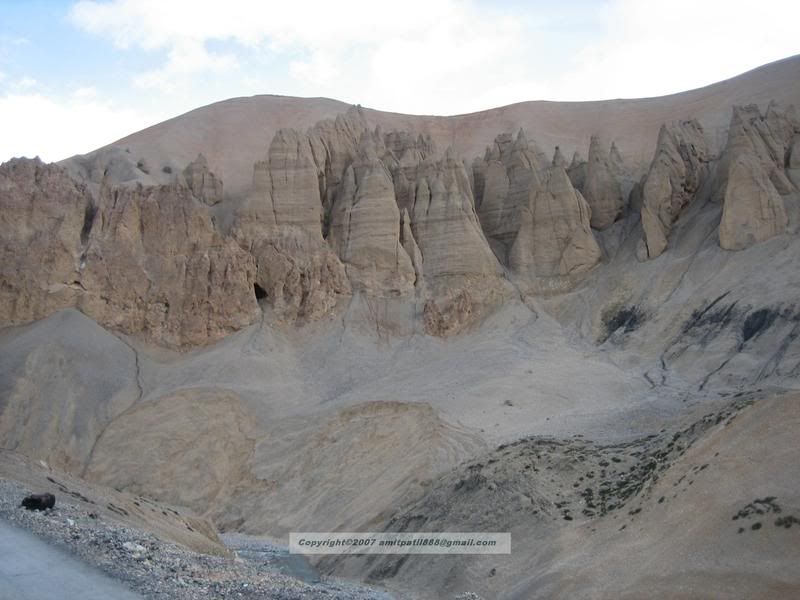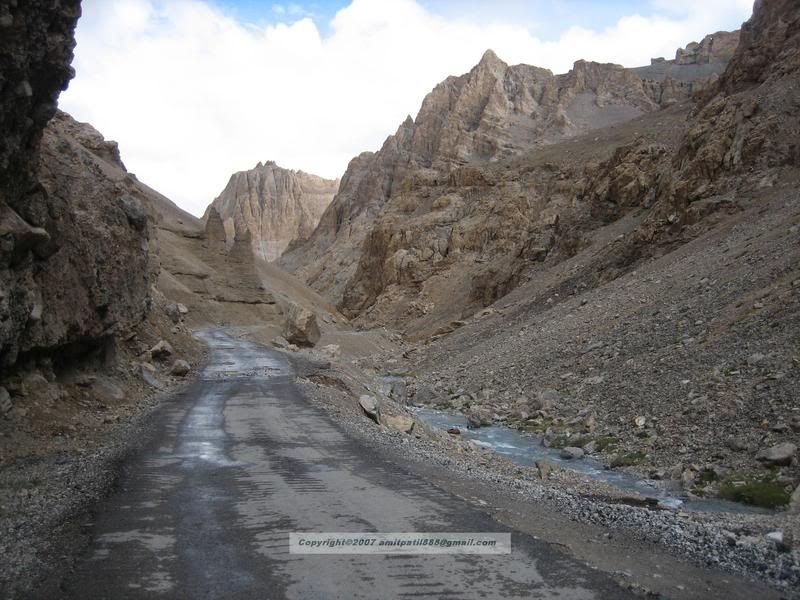 finally took a turn and saw some tents.Pang atlast.From about half a kilometer while getting down from small hill I could see a Bike with bright gawdy oranage bags.I knew it was Davids bag in his luggage rack and he was here too.I was delighted that I had someone for company at difficult place like Pang.
I announced my arrival at Pang tent camphonking my horn till everyone knew I was there.There were plenty of other enfields and david came out of a tent to greet me.I put up in same tent (50 bucks was the rent)as David and Tasha and heated hands and legs body over a kerosene stove.Pang is a tough place to stay and it is a place where you are most likely to go down with AMS,have breathing problems etc due to altitude...Its higher and badder than sarchu.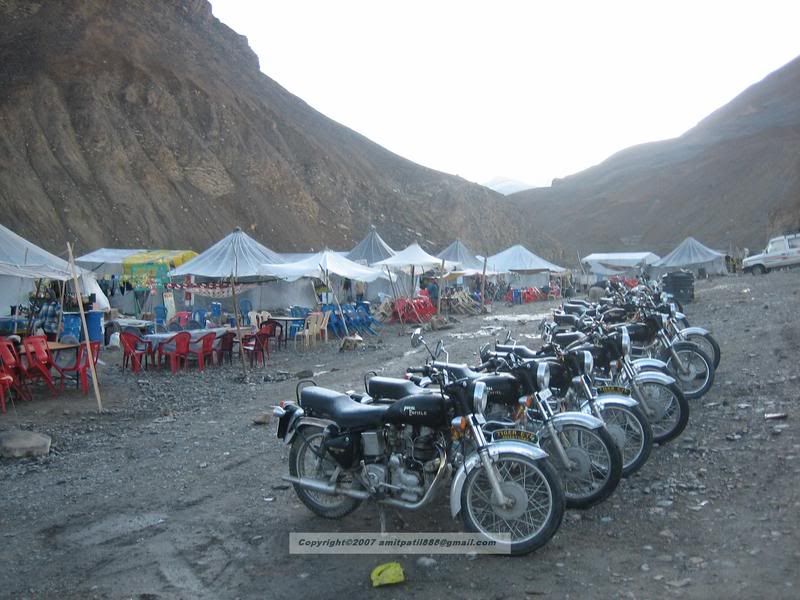 Chit chatted with david and tasha whole evening.They had been to spiti before coming here so had acclaimatised well.David had even been to a annapurna minor peak and tasha had been to the alps.So i was the only one who was gonna suffer tonight.The couple even consumed alcohol(Alcohol adds to ams effects) while we talked joked and chit chatted.
Told the couple and tent owner to admit me to a army hospital nearby incase I fell sick with ams overnight.Had a meal of maggi and fell off to sleep.Wind howled all night.Ferocious soound of wind I had never heard before.My jacket,woolen thermals and lafuma sleeping bag kept me warm and comfy in pang night and soon I fell into a deep slumber.
I had done well today and leh is just some distance away.
--------------------------------------------------------------------------------------
DAY 8:Final dash towards Leh:
Woke up early in the morning....as usual before everyone....I was really happy I had survived the night in Pang.I had been at the place for almost 12 hours now and still there was no sign of AMS.If u dont pee every hour you dont drink enuf water stuff and diamox worked really well.
David and tasha later woke up.
We checked our machines.David spent about 20 minutes starting his bull.
My Bike seat had a neat coat of frost.But my P200 started in third try without any choke....hahaha...gr8 bike
As usual they packed in no time.Dumped everything into two bright orange polythene gunny bag and put them on side racks of their bull.The side racks seen in picture can carry truckloads of stuff.
While I was taking time to neatly fold everything and make space for my luggage in my tiny winy saddlebags.While david was waiting for me to pack up...I told him to ride ahead and go to leh...I gave him my business card and said mostly my cell phone would work in Leh and I would take my time but most prolly reach leh by 1-2 in noon and we would catch up in the evening.The reason I told him to give me a call was I did not want to cross Chang-la(en-route Pangong) alone and wanted David to be with me just for company.
We bade goodbye and I started my journey towards Moore plains.
Moore plains has a tarmac road which was under repair so I had to take the dirt track and follow numerous track marks going in all directions all over the moore plains.There was a Tso-kar or TSo-moriri tourist tent camp somewhere reminding me thing there is a lake circuit after Pang(I think I had read it on XBHP only).And trust me I saw vehicle track marks going left,right and straight direction.
Moore plains they say is 40 kms long.Well I clocked 69-70 kms on oddo crossing moore plains zig-zag and frequently flagging down trucks 4 times in opposite direction asking for way to taglang-la.And it is not entirely straight.I went straight for half the distance and had to turn right behind some hills and then go again go straight.
Of course I clicked numerous photos on moore plains.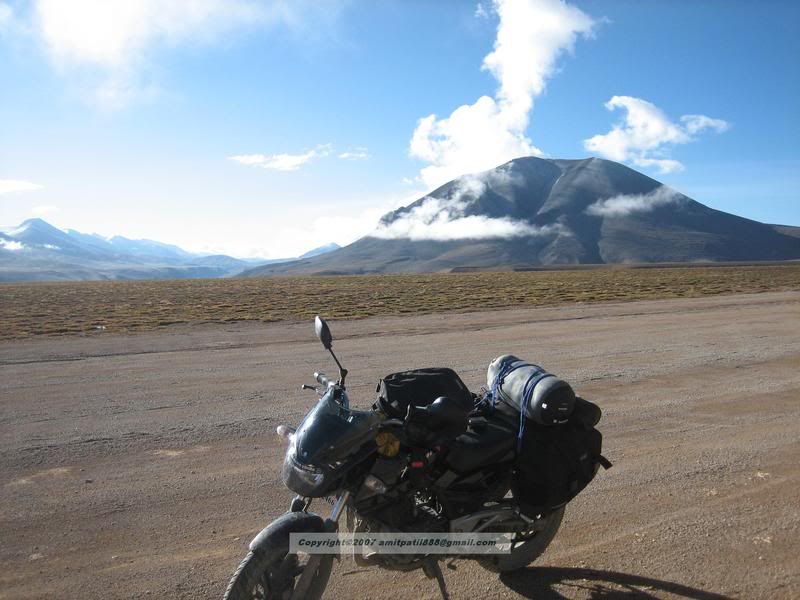 These plains would be a horror and killing ground for vehicles if it rained/became wet or swampy all of the sudden.It was swampy for half a kilometer or so.
Finally I was on tar road again with benchstones showing distance for taglang la.Taglang la was a easy climb,roads on manali side were.Roads mostly good and I was on top of it by 9-10 in morning.When I reached the top I was alone in Taglang la.I clicked a pic and there was a very loud human voice in temple praying.
There was no one else and there was no vehicle parked which must have transported him.Of course ghosts dont pray in temples(they are on the other side),but anyways I didnt want to check out the temple so I started my Bike and started descending on the other side.
The high altitude land trap between baralacha-la and taglang -la was about to be cleared
Descending taglang -la was a differnt story.There was a land side immediately after couple of kms from top.By now I knew BRO vehicles working means bad news.It always means repair and construction and or cleanup.I stopped for a few minutes ,during which a JCB was taking the whole lane was clearing stuff.I was closely watching these guys.These guys were doing manual labour at a altitude where I could barely walk a few steps,it was so early in the morning and it was pretty cold.I had the best warm clothes and best protection money can buy and these people were hardly clad.
I doubt if BRO labourers have the same nutrition as the Indian army to work in such harsh condition.By looks of it it didnt seem to look so.BRO website proudly boasts 400 men put down their lives every year for maintaining the roads.Definately its not something someone should be proud of.Agreed the terrain is like none other in the world but better ways/technology must be used to minimise the casualties.From the looks of it these men were very much exposed to merciless weather at such high altitude.These are the men who serve the nation equally well(even though they are contract/underpaid workers)My mind clouded with these things I started my Bike and my rear wheel got stuck in some muck.I was helped by 4 BRO workers.Suddenly I was sad for them and tears started rolling for them within my helmet.Staying at high altitude for long time makes you feel real crazy at times.
I started descent from Taglang la feeling sorry for BRO workers.After a a few kilometers I started making some steep descent 'V' turns.I could see a army camp.Rumste on the benchstone on road looked close.Yes this camp must be at Rumste.I could now smell Leh.
There was a big trip with big group for the journey previously.All people dropped out but I decided to go ahead solo with it knowing the opportunity of next season might never come again.I had almost reached my dream destination and lived my dream journey.And yes I had done the first trip and that too solo.I had suffered insanity claims,people claimed even I wouldnt make it back alive,I had never seen anything higher than western ghats let alone ride himalayas,I had refused job offers and even interview calls for last few weeks,people claimed I wasnt qualified rider enuf,some 'So called biker' had scrapped me "hahaha" when I told him I am going to leh from mumbai solo.
On a different spectrum again there were lots of people who helped me with guidance and support for this trip.My parents must have prayed daily for my safety.Emotion again overcame me and tears again started rolling down my eyes.It was cold and my face was covered with tears and running nose.My breath started fogging my helmet again.I mis-judged a V-descent on Taglang-la and fell down again.This was a clear wakeup call.I should never let emotion rule my head riding in these threcherous roads.Picking up pulsar 200 with all tied luggage at a very high altitude was a hurculean task and I managed it only on the second attempt.Somehow I was glad I wasnt riding a 300 kg + bullet.I never fell down again on any other pass or elsewhere in journey.
On descending Taglang la I ripped to straighaway to Leh in couple of hours not taking any significant halts.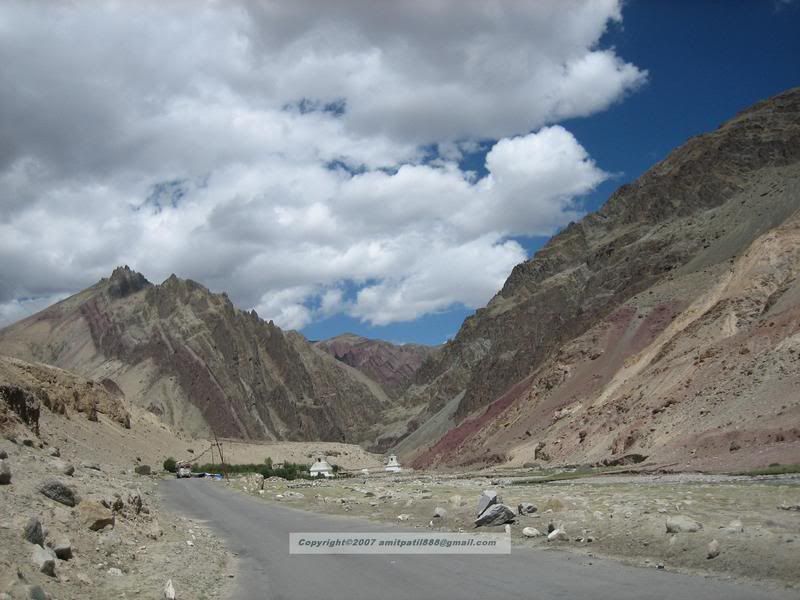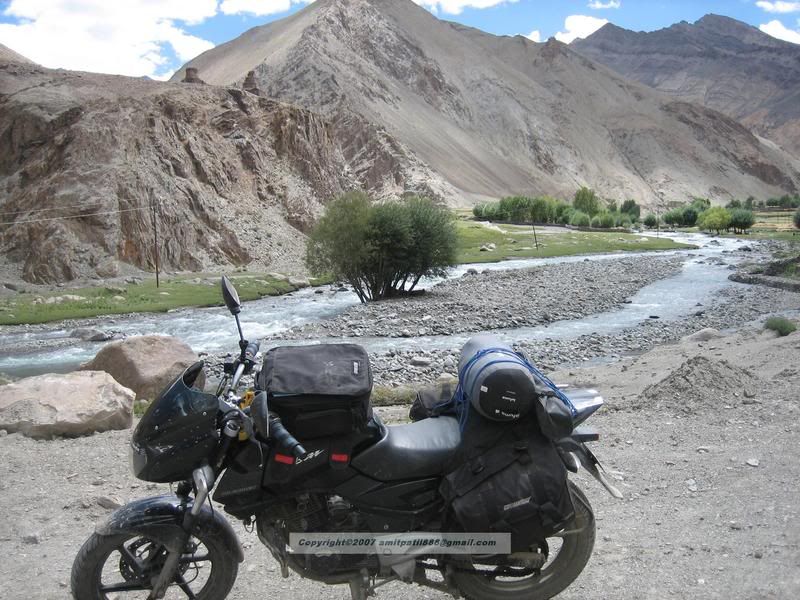 It was a saturday and I had to reach early to get permissions for pangong and khardung la(next day being sunday).
I reached Leh and circled the main market area I wasnt able to spot any hotels there.Later I entered some alley and found a hotel 'Singee palace' direction.It was the first good hotel I spotted and I checked into it.1000 bucks per day.I was in a rush for permits so I agreed and checked in.Mentioned to the receptionist I was in a rush as I had to get permits and next day was a sunday.He said not to worry and he would get it for me today at any cost(We do make our guests happy was what he said).He filled a form then and there for me and and ordered to boy to get sign and stamp of DC done and get the xeroxs.He said it would cost me 150 bucks for the permits
He told me to go to my room and take rest and he would give me permits in the evening.Well in the evening permits were ready and 150 bucks had saved my entire day(I had reserved entire day for process of getting permits).Most importantly I was back on schedule(I had lost a day covering delhi-manali in two days instead of planned one day)
In the evening David called me up(My cellphone surprising started working) and told me to meet me on penguin restaurant at Fort Road in evening after 6:00 pm.I went there and met them .David and Tasha were boozing and having chicken.Fort road was full of hotels and firangs.Leh has more white people and less of indians.David told me he had found a guest house for 250 bucks for couple per night.I envy his ability to find cheap places for living.It wasnt readily visible from the road yet he had found it somehow.I saw his guest house 'Khan manzil'later decided to check in there for rest of my stay in leh to save some money.It is on Xangasti road close to fort road
We went near the leh palace and waited foolishly starting at it for about 15 minutes after 7:00.Lights werent turned on.I later learnt they are turned on only during ladakh festival.
Went to my hotel,took my permits,made some phonecalls,surfed net ,had a good meal and went to sleep.Tommorow I was going to K-top.I was on schedule again and since I had buffer days...I had few extra days to spare
------------------------------------------------------------------------------
Day 9:K-Top
Started early in the morning.Filled up petrol and checked in guest house David and Tasha were put up.They were asleep.By the time I got ready after break fast and all David knocked my door room and announced they were heading for lamaryu.Well,they didnt fall for my "Pangong is 100 times better ,beautiful than bigger than surajtal." .Also they didnt have permits.That means I had to do Chang-la alone tommorow.And not once but twice on to and fro journey.
Okay but then then I would have had the honor of negotiating the highest road in the world I thought.
For Ktop I just took some essentials tools ,snacks,water an
d emergency stuff in tank-bag.Kept my foot pump at home thinking I would come back to hotel (Its only 40 kms)and fetch it in case of puncture.
Bade david and tasha good bye hoping to catch up with them on some trip.Exchanged mailed addresses before leaving.
Enroute K-top I overtook a army convoy of jeeps only.Later while I was showing permits at south pallu they overtook me again.Well I overtook them again and stopped at India gate to click the trademark photo of Bike between the rocks.The convoy overtook me again at that point.
"Where are those mushroom shaped rocks ???On leh side or hunder side???"I had asked Yogesh.He had said "Oh those!!!About 4 kms away from K-top on leh side"There were exactly 4 kms away.I stopped looked at them,parked my Bike on a side such that trucks could pass from one side and took a picture.
Suddenly cellphone rang.It was my aunt.She was asking me abt trip.For a supposedly secret journey, news had by now reached my relatives and members of housing colony.For next few days I had to reveal my battle plans and report to several family members.
Well I made it to K-top.Clicked some photographs.
A few jawans crowded near my Bike and there was regular gup-shup abt my trip and the bike.
The convoy which I had overtaken several times by now had also stopped.A few soldiers were taking pics indicating they were here for first time and wont be here for a long time.A senior officer from the convoy got down and congratulated me.A few questions abt where I am coming from,what do I do for a living were asked by him.
I replied and shamelessly added "Also Sir,I am doing it solo."
"Yes,I know .We passed your Bike a few times".
He pointed to my tankbag and asked wasnt I uncomfortable with this yellow thing(The tankbag covered by rain/dust cover)
Well afer praying at the khardung baba temple I descended.I am always happy to descend from a altitude and got down uneventfully.I had by now become expert negotiating descending 'Vs'.Those interested in cornering stuff can try those....and ones on Chang-la ,just dont forget you are throw off a cliff if you miss
Came back to leh,had lunch and rested and watched white skinned chics on fort road
--------------------------------------------------------------------------------------------
Day 10 and 11:
Living the pangong dream:
Reason why I was so desperate to go to leh was I wanted to see pangong.Pangong itch started when I was searching for some wallpapers a year ago and saw some stunning pics of pangong lake.Of course it brought out the biker in me(I had been riding for 5 years then) and Xbhp later followed.Leh trip was plannned keeping a full near full moon night stay in pangong in mind.
Well I was at leh and going to pangong meant crossing Chang-la twice.Personally I was terrified of Chang-la reading reading accounts done in winter with slipping and skidding on black ice
Not only had I to do it solo but I had to cross it twice.Both Jojo and Yogesh had admitted Chang-la was the most difficult of passes.It was the third highest pass(Not counting M-top ,actually its the second highest if you go by heights at boards.....K-top 18380 feet,Chang la 17800 feet,Taglang la 17580 feet but still somehow Taglang la is called second highest and Chang la is third highest).
Pangong being high on the priority list than K-top I decided to take a chance.Never the less i was worried about roads not the height.Well after a karu u reach shakti.Thats where there is a board "welcome to the land of beautiful lakes and mountains"This is where the ascent starts.Changla road is full of memorials for accidents of army guys on the road.Reached a TCP where a officer asked me abt usual details and stuff.The TCP guy called up a guy from Mumbai,Kiran had a pretty pleasent conversation and I was on the back on road to the C-top.
Riding cautiously I never had any issues reaching C-top.I stopped and parked my bike.Went into a cabin on which it was written,"Visitors are welcome".Drank about half a liter of hot water.Later I went to Chang-la baba mandir to pray for a safe descent.
By the time I was back from mandir I was surrounded by 10-15 jawans who had come to see my Bike were curious abt solo rider on Bike with mumbai numberplates.There was another group of 4-5 firangs who arrived in a qualis and were spending time on C-Top.Yet somehow everybody there wanted to know my story and were least interested in firangs.Conversation was last thing on my mind,it was pretty cold and I was anxious abt the perils on the other side and was keen to descend.However trying to be polite I had some nice conversation with them for 15-20 minutes and later excused myself.
I had a uneventful descent.A few kilometers while descending I had to report to another TCP.A jawan in a army truck chit chatted with me.He inquired abt the natwara sticker which the guys who had repaired my Bike had put up near the headlight.He later gave me a pack of buscuits .They were nice sugar coated buscuits which I relished later.After complete and uneventful descent from Chang-la I reached tangste.After tangste the road wasnt that great and it was about 4:00 in the noon.Water crossings are the nastiest at that time.
ROAD TO PANGONG AFTER TANGTSE
Add to it I was almost alone on road after tangste.Later a board said first view of the world famous pangong lake.I could see some bluish lake and I rushed towards pangong.
When I reached pangong I was delighted.My dream lake was as beautiful as I had expected.And it was blue.Not sure if I would get a view of the lake from spangamik,I decided to put up in eco tents over there.(I was quoted 200 bucks for tent and 400 bucks for room.)
Ordered a maggie from tent owner.The firangs later arrived in qualis and stopped at eco-tents.They were singing "Tu tu tu-tutara " and "Pardesi pardesi...."in their own accents which amused me.I knew which songs were being played in qualis all the time.Half an hour later they started to leave the lake.I looked puzzled at their driver and asked him in hindi if it was wise to cross chang-la in darkness and if tourists they had paid so much for taxi(it must be atleast 2000 bucks per person for a taxi from leh to pangong)had come all the way to be at pangong just for 15-20 minutes.He said "Yeh bh$$$$$t aise hi hote hai" and shrugged and walked off.I explored pangong for rest of the evening.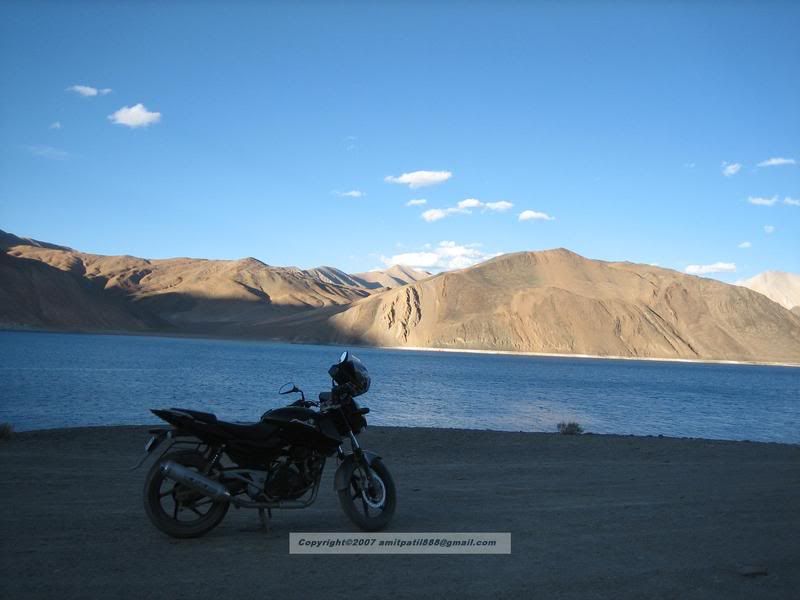 Later a new group arrived of three firangs arrived with their driver and lady guide at the camp and who called herself tibetean(I think it increases job propects of a guide) from what i overheard(Actually she looked like nepali. ...hahaha)
Later I learnt the firangs were quoted for the thousand bucks for tent .So they chose to stay in some barrack style rooms instead of tents.
Pangong is the lake which doesnt look like you are living reality if you are near it and if you come back the sweet memories and its beauty stay in your mind forever.I enjoyed sitting on banks of lake watching it change hues all through the evening and after it got dark I enojoyed watching the reflection of moon on it.Of course there was peace,no humans around and you could hear the wind and enjoy the nature.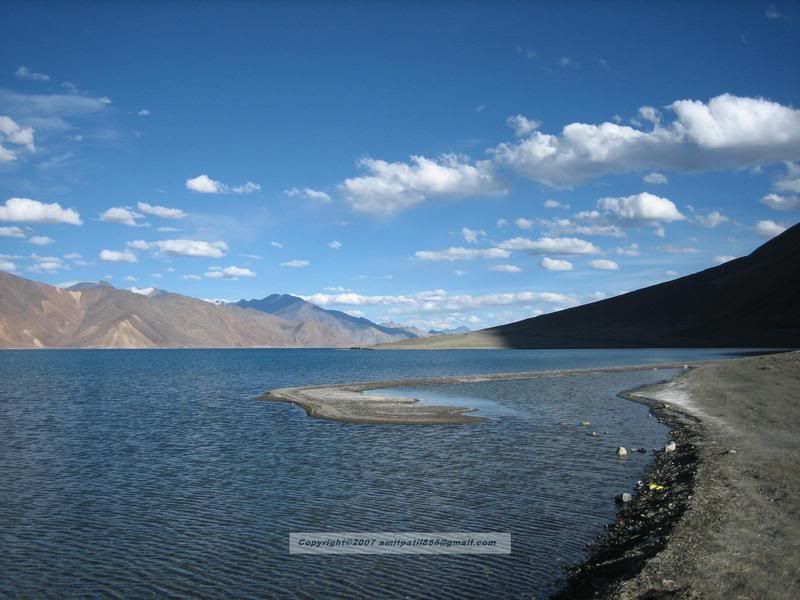 Apart from ME,three firangs and the driver/guide of firangs vehicle there was tent owner and his helper cum cook.There was none one else.I had some itch of staying in tent(It was near full moon of raksha bandhan and I had planned my journey so that I can camp at pangong on full moon and stay in tent)
I was offered a meal by tent-owner and his helper(Which was billed of-course)Later after the meal I realized that I was fast falling into sleep.I shook myself awake and realized at that point I could have been drugged/poisoned in meal by tent owner.If he had done so he would have been richer by 1.5-2 lakh counting my cash,bike,cellphone,cameras,equipment.There was a possibility that he could have crushed my head with a stone and I would have never woken up.
The tent owner and his cook knew I was alone and we had negotiated upon the rent on that particular day itself.So there was no possibilty of anyone else knowing I was with them at that particular time as I didnt interact with the firangs who kept to themselves.My parents would have known I was going to pangong thats it.Pangong is so big(134 kms).Tent owner could have killed me ditched my body anywhere where I would have rotted for eternity
Staying in a hotel room and bolting the door from inside is a different thing but being in tent alone meant being vulnerable all night.So that dream night I had been looking forward to for so long....I never slept.Having studied martial arts I aint scared of getting mugged/knifed(I can manage that) but head being crushed by a stone or being killed in one blow while you are asleep is not what I like.People say culture in ladakh is nice and people goody good....but it doesnt take time for rot to spread and greed is a primitive instinct.Of course I wasnt poisoned or drugged or not even a remote attempt was made to mug...but its good being paranoid and vigilant rather than being dead and sorry.
I waited all night at times taking a stroll to watch the lake.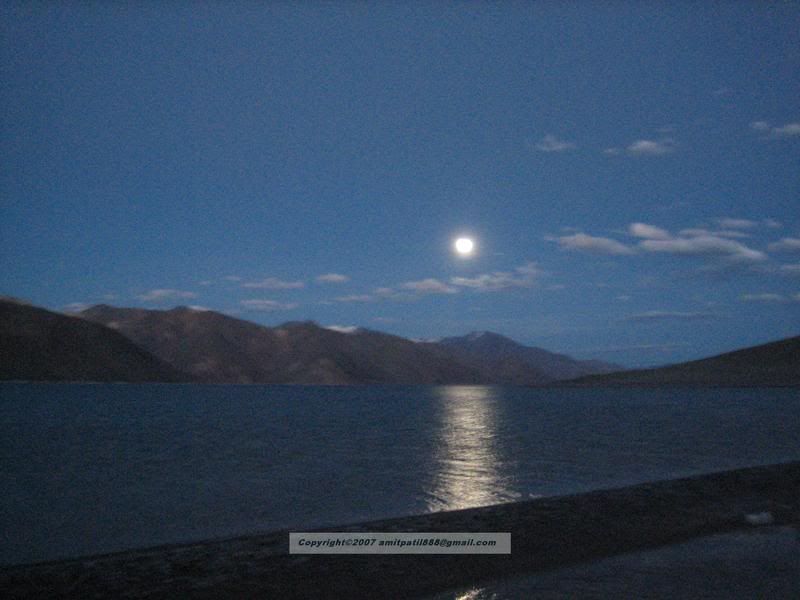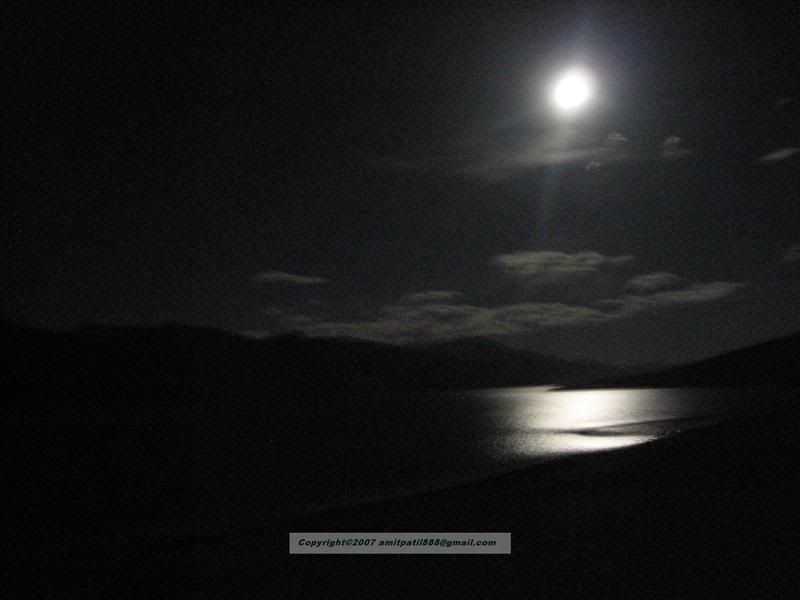 Went on shores of it at around 6:00 in the next morning to watch to the fiery sun-rise and lake change colors with sun.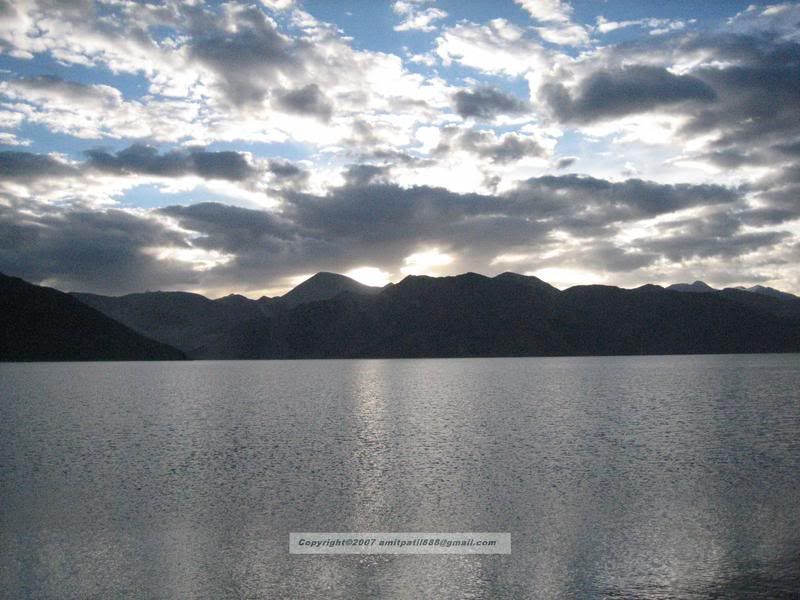 I didnt bother to go to spangamik as I had learnt from tent owner and firangs driver who was trying to reach there that the roads were full of nallas which has grown pretty big the previous evening.The driver had turned back and had come to stay in eco-tents.At around 7-8 am I bade the tent owner and his cook good bye and settled their bills.I didnt stay there till noon coz not having slept the previous night I wanted to cross chang-a before I was tired.I didnt see a human soul till tangste.The streams and water crossing which I had a tough time crossing yesterday noon seemed non-existant(The water in the streams you have to cross vary from time to time is absolutely right) and they get nastier in late noon and evenings.Trust me that nasty stream which I had crossed yesterday didnt seem to exist and had a minute trickle of water.
I reached chang-la top and prayed again to chang-la baba and descent was nice and uneventful.By lunch time I was back in leh and did rest for remaining day.Called up my friends to descibe how beautiful pangong was.My ride was almost over but most importantly all the nasty pass had been negiotiated sucessfully.Good riddance.
Having chang-la enroute to pangong is a boon in some way.That way only bikers and people who have deep pockets to shell out 2500 bucks per person for a days taxi-ride are fortunate enuf to visit it.It stays isolated that way.That way inspite of being so beautiful it isnt commercialised much.Since every tom,dick and harry dont visit it you dont find many bisleri bottles or lay wrappers polluting the nature there.On one end of spectrum there is dirty juhu beach in mumbai where u wont find place to park and there is no place to walk and on other hand you have pangong lake .You get a 134 km long beautiful lake all for youself.Not to mention the crowd in mumbai and soltitude of ladakh.Truly if there is heaven on earth it must be in ladakh.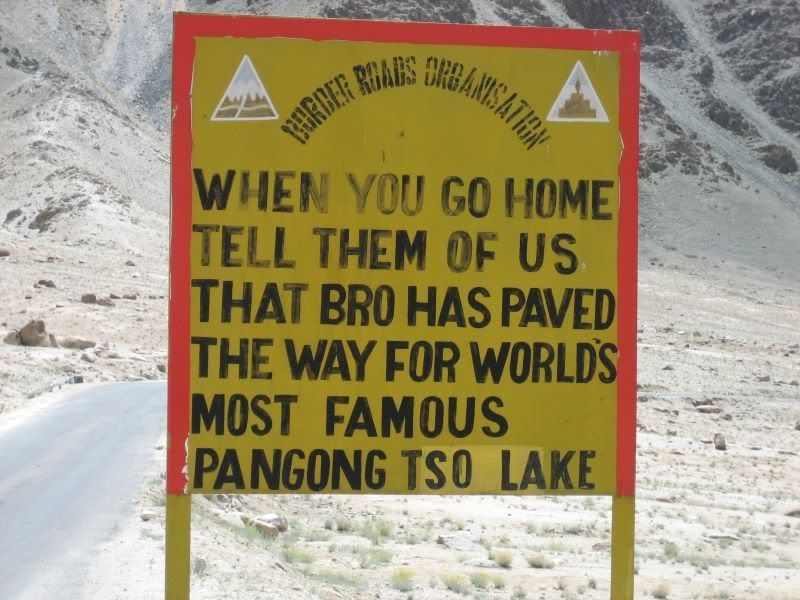 --------------------------------------------------------------------------------------------
Day 12:
Visit to hemis monastary
I had a buffer day so I could have started my journey towards Shringar today.
However I had found a 250 bucks per night room at leh and wanted to make maximum use of it.So decided to spend extra day in leh.Cursed myself for not taking permits to hunder or nubra.
It wouldnt have/hardly would have cost me anything extra.Anyways not knowing where to visit next I entered a cybercafe in the morning and checked out usual travel guides and all and studied route back via shrinagar
(All the time I had concentrated on manali-leh highway).I had already booked return air tickets of sunday from shringar.Hemis monastary seemed close and good and biggest and the best.
My guest house owner said stok place and stok museum(which was recently opened was on way).There are two routes to go to hemis.One is ofcourse from karu and there is another road which goes parallel on the other side of river via a bridge in front of a prayer wheel in Choglamsar(This road is generally deserted and suits riders who dont like other vehicles on the road.This road also goes to stok)
I wasnt interested in seeing a palace or fort.we have plenty in maharastra.Also There was no keenness in seeing a recently opened museum.Museums are like wine the older the better.
Headed straight to hemis.This place had lotsa foriegners.Also there were plenty of buddhist monks.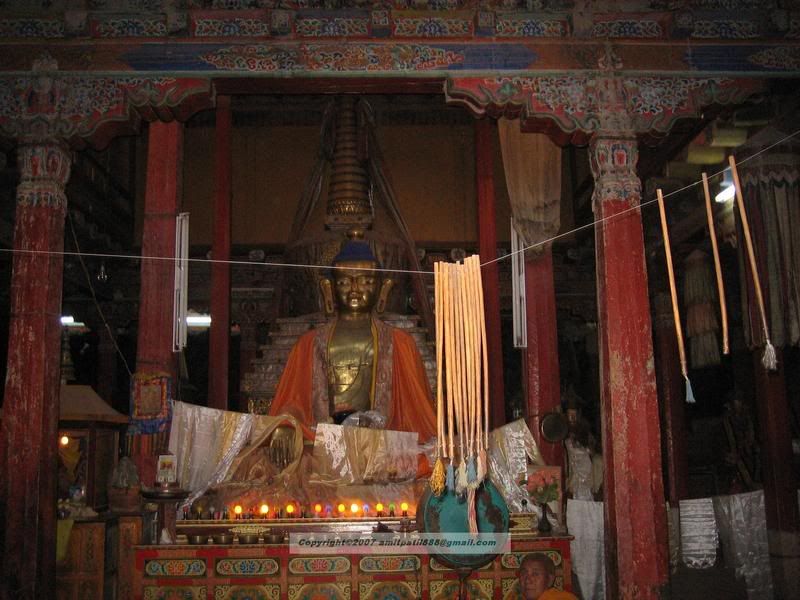 After seeing the buddha staute and all.I saw a museum sign.I definately like museums if it means they are of the richest monastary and the oldest I am certainly interested.
The charges of entry were quoted 50 bucks."Well I am an Indian" I said stupidly.The monk said "Yes I can see.Its 100 bucks for foreigners...gosh"as expected none of the foriegner had come in the museum and I bought a ticket.It better be good ,I thought.
The museum was small but had some priceless artifact and I spent a few hours in the museum.I enjoyed the museum the most which gave an insight into history of leh.I returned from the museum happily and thanked the guard standing over there.
Museum in Hemis,generally ignored is recommeded for those interested in Hemis visit.
I packed off and was back to leh this time via karu.
It was late noon and my 250 bucks room didnt have TV and I wasnt interested in seeing other monsatries,palaces enroute .
So decided to head to market and fort road and do timepass in shops ,do the typical Indian male staring at white girls thing
and visit cybercafe again(to study shrinagar route).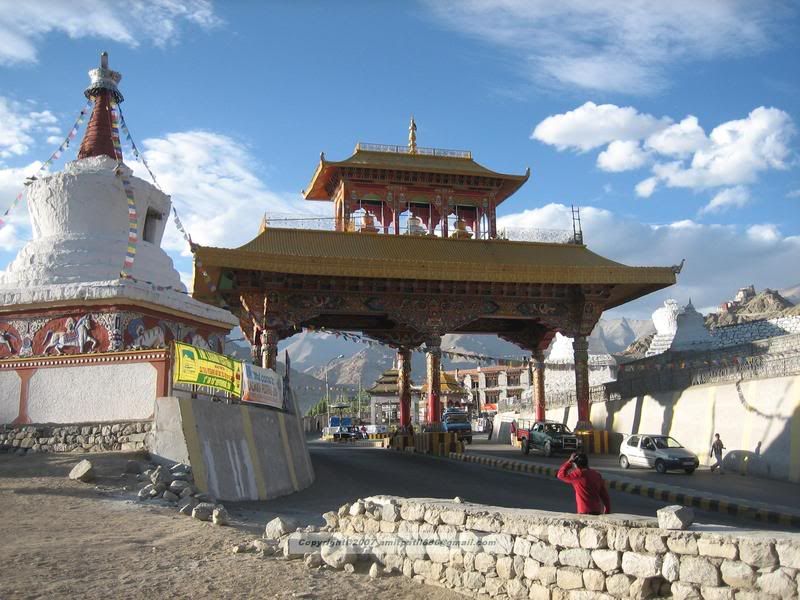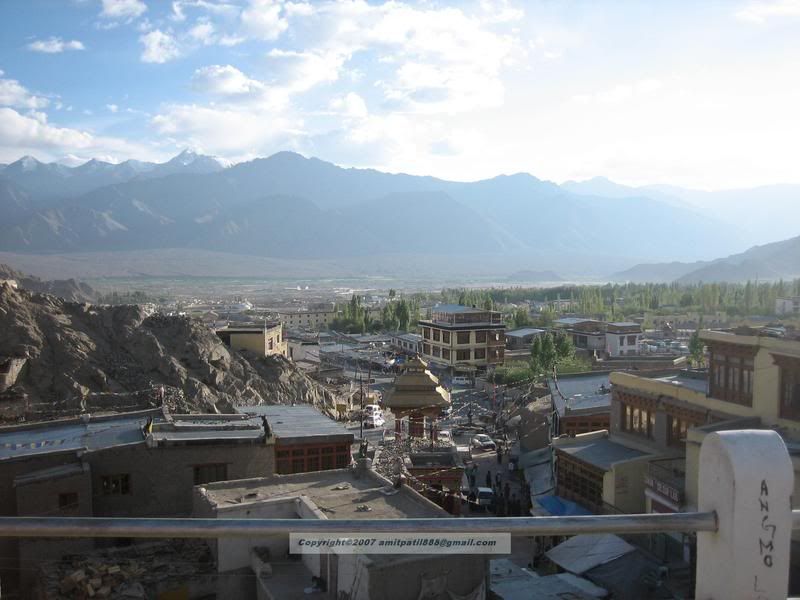 Had a nice dinner and headed back to guesthouse and slept early.
---------------------------------------------------------------------------------------
Journey towards shrinagar:
Started from leh around 8:00 am.Bade Khan uncle (owner of my guest house )good bye.Settled his bill.He offered my a chai and breakfast.I told him I would meet him again next year and I started.The moment u leave leh there is a distinct military presence...starting with a big camp on outskirts of leh itself.One town passed after other.I passed magnetic hill sign board.Of course with a broken footpeg and luggage and all I did not want to check out the chamatkar of my Bike going up the incline on its own.
Soon passed Lamayaru.Lamayaru is a place where tibetean culture ends and Kashmiri culture start.People of both the cultures are of course warm and nice.Before entering Lamayaru a peculiar landscape is
spotted. Its kind of lunar surface small hills and mounds of sand with gentle curves and quaint colour.Spotted restaurant in lamayaru called Moon view.Fitting name I thought.
After that I found myself heading towards another pass.Fotula top(Highest point on shrinagar-leh road)
.Later I cleared another top nakeela pass.They are nothing much to talk about passes...they come nowhere close to ones on manali-leh.On the shringar-leh highway,mountains have distinct jagged ,brutaland mean looking pinnacles or summits.Quite different to the gentle, weather beaten,snow covered peaks I had seen on manali-leh.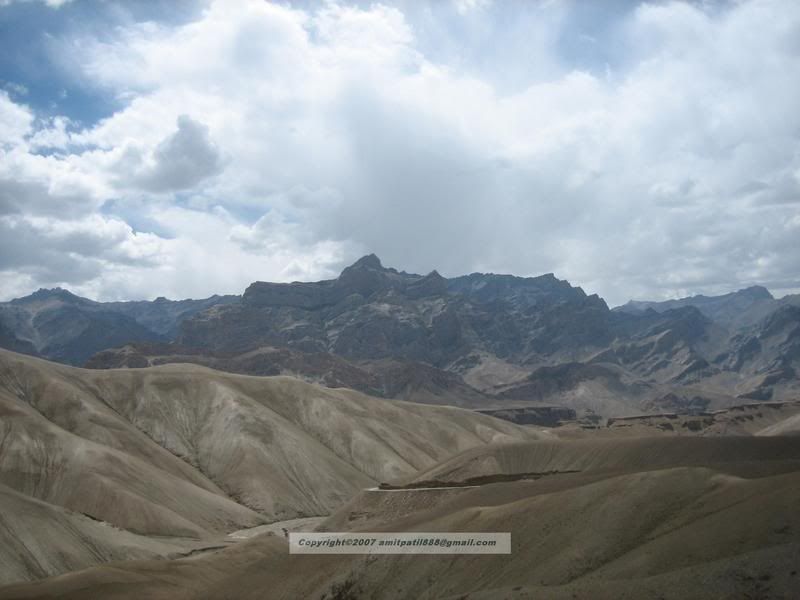 By mid-noon had reached kargil.People in kargil are hostile they say.I got stares there but I got them everywhere in India.Passed Kargil.Here ther military presence was significant.There was a river flowing and the other side was covered by barbed wire bridges and had military presence everywhere.
Twice I spotted a board saying "Caution
the enemy is watching you".People were walking like zombies near the board.The loc was far away I guess and even if the enemy can spot they cant shoot you with sniper.To shoot you from such a distance would require 10 times more skills than one of gold medalist shooter in olympics(Pakistan has none i guess...hahaha).So unless and until there is heavy artillery or you are extremely unlucky you are pretty much safe.IMAO these boards are just to thrill you and spice upyour ride.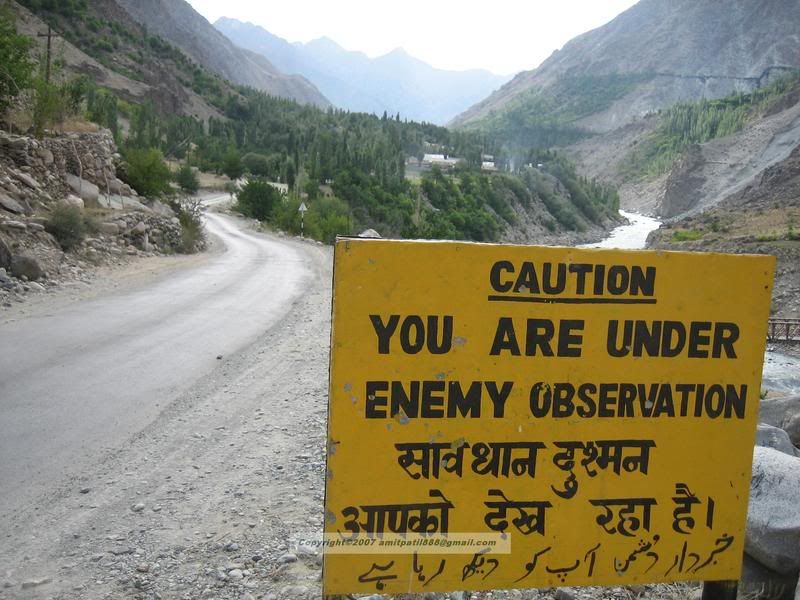 One more thing I would like to mention that Kargil onwards people didnt have the pahari look and the countryside girls I spotted were very very very pretty.Young boys oblivious to politics of war give you
high-five while you ride.I was almost knocked off my Bike when I met a sturdy,hard and stony hand of a boy(I had lost a left footpeg earlier and was resting my leg on leg-guard).
I stopped at kargil war memorial(which is a couple of kilometers before Drass).I was the third personvisiting that day and first civilian..I was treated really well by the guide who was happy that acivilian had come to pay his respect.He took me on the guided tour of the memorial.
I was knocked off the feet when he showed me tololang range which were mere few hundred feet away from
the highway.Tiger hills and rhino top was also visible and enemy entrenched in these places could have easily flanked any vehicle on shrinagar-leh highway.Thanks to our brave soldiers who climbed this
slippery,threcherous and mean looking peaks and evicted the enemy.Pakistan had to suffer a humiliating defeat for this misadventure."The only thing I regret is I have just one life to sacrifice for my country"...one sign board said.Paying my repect to these brave soldiers I started again on my journey.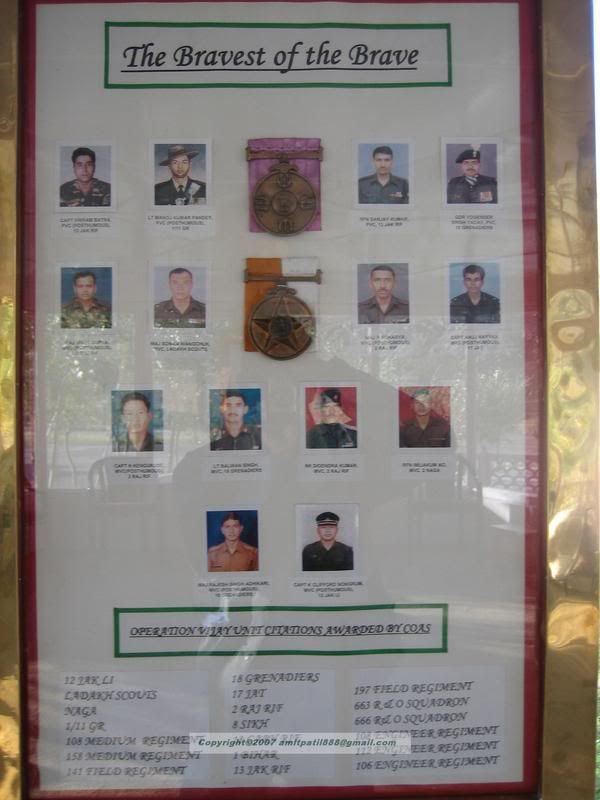 Just before drass there was a signboard saying its second coldest inhabitabled place in the world.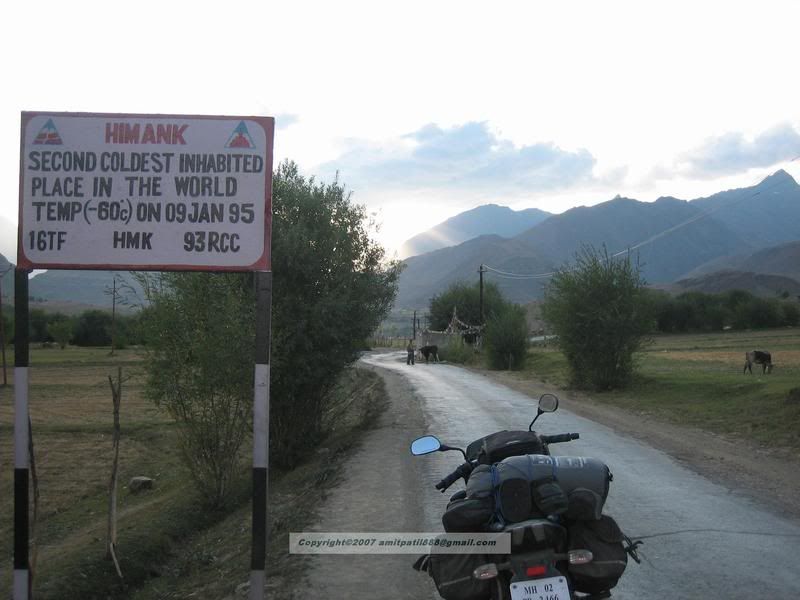 Stayed in hotel hill view(View of tiger hills) which is recommended.Got a room for three hundred bucks.Crappy room.Later found of that goverenment tourists bunglows are bang opposite.Cursed myself for not spotting
the board. later in the evening went to call home.Had to stand in a queue for STD.People over there watched me as I spelt out D-R-A-S-S to my dad.Went into a dhaba.It was pathetic ,shabby and smelling badly.I couldnt gooble food at that place.Not taking any chances I saw some fruit shops opened.Bought a kilo of apples and pears and some bananas.Later had a dinner of fruits,dry fruits,chocalates and glucose buscuits.
Drass is a strange town and people over there didnt seem to notice pakistanis taking shelter when tiger hills,tololang were getting encroached.They are so close to the town.Only when a Indian army reconnasance party didnt return they knew something was wrong.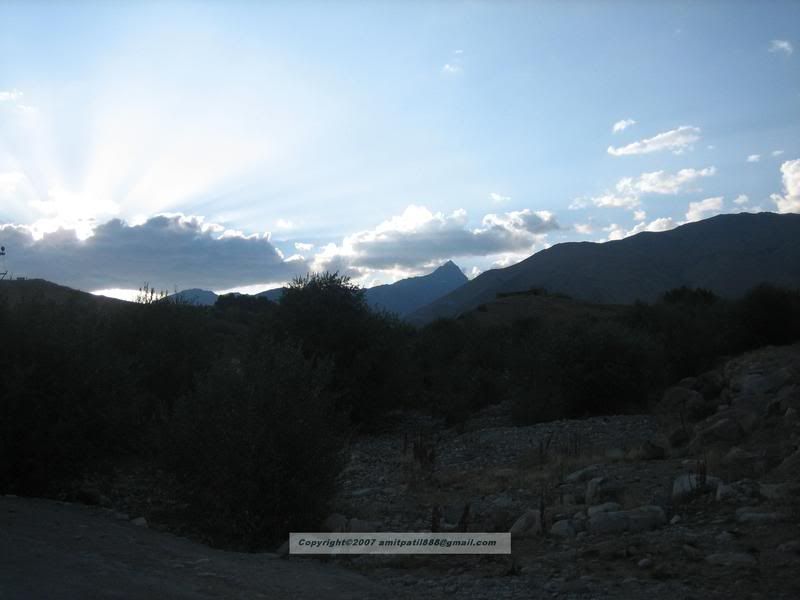 Many shops near hotel hill view are of
barbers.Wonder if they do good business opening shops so close to each other.Didnt bother to explore the town since it was getting dark
I went to sleep in my hotel.Tommmorow I would be in shrinagar.
--------------------------------------------------------------------------------------------
To shrinagar:
Started early from drass.It was biting cold.I had to put back my gloves further hurting the wounds which were still ripe on my hand.Ride was unevenful.Reached gumri where I had to report to tcp.There was a big army convoy of 50-60 army trucks from ghumri enroute zozila .I spent some time overtaking these trucks.They blew of lot of dust on the road and I was happy after I had overtaken the first truck.On zozila the descent was a bit steep,roads pretty bad and I had a army convoy on a$$.Keeping up place I descended from zozila.On zozila the traffic is allowed only in one direction due to its steepness,bad roads and narrow roads.
I was the vanguard for the army convoy and having so many soldiers following you and ready to help you in case you fall down is a good feeling.
Bikers are allowed in either direction at all time.On talking a turn you see a breathtaking view of the kashmir valley as you spot sonmarg.Typical tundra type trees with conical tops are visible.Beautiful is the word to describe.stopped at a decent point to click some pics.
Army trucks dont slow down for pot holes or rocks.they just descend at constant speed.Of course the convoy was on the a$$ again and I had to overtake some vehicles again.
At a particular place I could see a jawan with a walkie talkie holding traffic on the otherside to make way for the convoy.
Soon I was in sonmarg.I could see a cyan colour stream rwhich I had spotted from zozila.Yes the water was cyan.i thought must be beacuse of the rocks on river bed.But later I saw the water in a concrete channel enroute shrinagar.It was cyan too.And the mineral water I carried was as usual.There was Something about that water.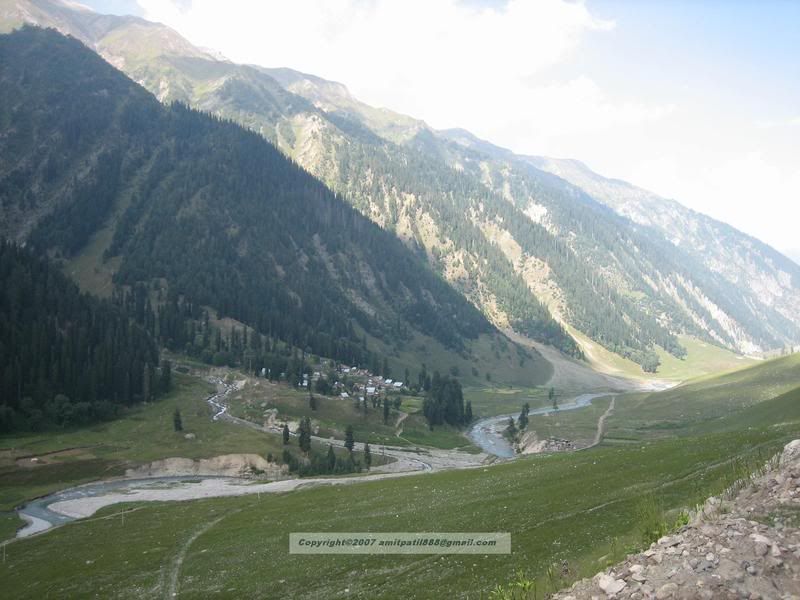 Road from sonmarg till shrinagar was bad at some places but within couple of hours i reached shrinagar.It must have been around 12:00 in noon.I started searching for GATI office.Soon I was on baramulla road.I hadnt charged my cellphone due to non-availablity of working electrical sockets in my hotel in drass and by now battery had died down.So I could call them up and find them.Covered 10 kms on either side of baramulla road.Thankfully spotted qamerbadi.Spotted PC depot and enquired abt gati office.They said those guys had gone to fruit mandi and they didnt know where.Finally reached fruit mandi on the same baramulla road.saw plenty of transport office.Saw gati office.The owner quoted 3000 flat for transporting saying pulsar badi Bike hai and extra for luggage.Later another guy prepared a bill of 2700 for Bike with luggage while owner was away.I quitely and happily paid up.I had to give 400 bucks to guys to pack my Bike and another carton in which I put my helmet,tripod,sleeping bag,saddlebags,jacket which were pathetically dirty by now.My Bike and stuff would supposedly arrive on 8 to 10 September 2007.I picked up my turtle and pouch(I would be flying back home after couple of days) caught a auto and told him to take me to dal lake.This is where my ride over.
After a sucessfull ride I put up in a hotel at Dal Gate.Dal lake is a crap and mess.Treated myself with expensive suite with a view of crappy lake(better than starting at some other building).Definately I deserved that.Next day I had reserved for pupose of transporting my Bike which I had already done.I thought of taking a JKSRTC travelling bus.But a tourist bus is a sitting duck for terrorist attacks.Took a nice ride in shikara(Recommended if you are hell bent on spending money),watched TV,watched pretty girls.
Next day I switched planes at delhi and flew back home.Got home to a nice welcome by family members
------------------THE END-------------