The route:
Mumbai-Ahmedabad-Udaipur-Jaipur-Rewari-Rothak-Ambala-Shimla-Rampur-Kaza-Manali-Chandigarh-Rothak-Jaipur-Udaipur-Ahmedabad-Mumbai
Distance:
4500 kms+
Days:
29th May-9th June(11 days)
*ing Riders:
Dhananjay Ambekar aka DJ aka trojanrocks on P150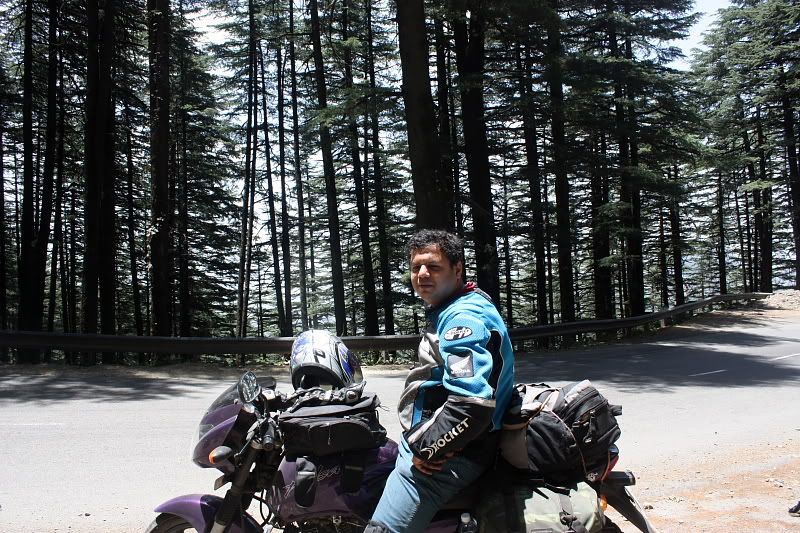 Amit Patil aka darth_lucifer on P200
Triplog to be finished asap...so stay tuned:
twisted:
more coming up.....
_____________________________________________________________________________
Day 1:Mumbai-Ahmedabad-Himmatnagar :approx 600 kms
We had planned to leave on saturday morning.Couldnt sleep on thursday night before the ride.Anxiety was eating me up.We had planned to leave on saturday early morning.If I couldnt sleep on friday nite too it was trouble during the ride.Friday evening checked with DJ if he was okay to start at midnight so that we could cover some ground.He was okay to start early.
Left home at 11:30 pm on friday night.
Informed karthik,vaibhav,gaurav and gopi who were online at that time.
They came to see us off at short time @ hub mall in goregaon.
Stopped at a dhaba for some tea.A qualis pulled up at the same time.We had agreed to tell people that we were riding till Delhi incase anyone asked us.Qualis wala asked where we were head and we told him Delhi.
He said "Kisko bewakoof bana rahe ho"
We told him you asked ,we told,we never said anything ourselves,belive it else dont believe it is not our problem
Passed the bylane and divider where I had the little incident on jaisalmer ride
Covered some 150-200 kms and rode till 4:00 am and tiredness started catching up.Decided to sleep at dhaba.It had room with some cots where I decided to sleep.Still coulnt sleep
Got up and it was 4:45 and was getting little brigther.While I prepared DJ suggested I try out Red Bull from dhaba fridge.It did a good job in making me feel good.
Reached ahmedabad and Himmatnagar at around 1-2 pm and the sun was in going in full glory..
Checked into
Landmark hotel
at himmatnagar which is VFM where I had stayed earlier during my 2009 leh ride.
Ordered food.Watched TV.Now that the ride had started instinct took over nerves were eased and I could finally sleep at around 9:00 pm.
Done this route zillion of times so hardly any photos were clicked
_______________________________________________________________________________
Day 2:Himmatnagar-udaipur-chittaur-Jaipur-Shahapura: Approx 650 kms
Woke up at 3:00 am to some hissing sound and DJ was already getting ready.I am a light sleeper and cant sleep with someone else moving around in the room.Had no choice but wake up and start myself.
Was feeling better however today.Took a shave and all.
Started at around 4:30 am and had to ride for an hour with HID before daylight broke completely.
Stopped at a restaurant at start of kishengarh jaipur expressway at around 1:00 pm and decided to wait there till 3:00 pm when sun was out in full glory
Reached "Hotel Highway king INN" on delhi-jaipur highway again by evening where I had stayed earlier.Somehow I liked my stay to be predictable this time.
DJ and struck a good bargain and came back.
Went window shopping into Adidas and Reebok showrooms downstairs.
Drank some beer.
Slept peacefully that night and things were perfectly going on according to plan.
___________________________________________________________________________________
Day 3:Shahpura-some turning after Behroad-Rewari-Jhaajar-Rothak-Panipat-Karnal-Kurukshetra(Approx 400 kms)
We started a bit late.And after some riding were on pretty nasty roads till Rothak.
Was dying to hit the GT karnal road and after long tiring ride reached panipat.By now the sun was completely up and two days of riding in heat started taking a toll and I started having a wee bit of headache.
Crossed Karnal and soon I realised that DJ was not seen in my RVM.I parked in shade and in couple of minutes he came up with another rider on P220.
Target for the day was chandigarh but with fatigue/heat and slight headache I had flashes of TV programs I had seen on heat stroke and sun stroke and started having doubts if I was gonna suffer one myself.Decided didnt want to take any chances and asked DJ if we stop for the day with chandigarh less than 75-100 kms away.
He said he was okay.....DJ was always open to change of plans...always....almost
Well the person DJ was riding with was a local lad and biking entu(Dharamveer was his name)
He had a probiking showroom somewhere near GT road and said there were good hotels in Kurushetra.We rode till Kurushetra and the lad helped us get into a decent hotel.
Ate some good hotel in the hotel which the lad recommended.
Later had a shower.Poured shampoo from my bottle.It was lying in top compartment of my haversack and it was frigging hot from all the heat.....Never had applied such hot shampoo on head....we both discussed that and came up with a theory that the cerebral fluid must have been superheated and hence we both had headaches
Started both the AC and fan and spent remaining of day watching TV and sleeping
____________________________________________________________________________________