wild donkeys=also known as kacchars in rann
Riders=Amit Patil,mumbai(me on a P200)
Vaibhav Gokhale(P180 UG-2),mumbai...another biker from bike nomads
The teaser part of the story..................
As soon as we entered rann of kutch we were a little confused.
It was a little swampy.Vaibhav pointed towards the sea and said maybe we are heading in the wrong direction.
I fished out my compass and my map.There was no water body available on the map.We caught up with a local salt worker who pointed vaguely when we asked for rann.
Then I asked where could I spot kacchar(wild ass :P).
He told me to take a dirt road.We biked on the road parallel to the sea.After five minutes with the sea on the horizon,the land became barren and greenery started dissapearing.....still there was no rann as i saw in photographs.
Vaibhav muttered something in marathi and I couldnt understand.I still couldnt spot rann as I should be.I just screeched my biked to a halt when I understood what he meant.Lol.....the sea was a fcking mirage,it fooled both of us....and across us was the mighty little rann of kutch
A 1300 km run from mumbai on 29,30,31st Dec 2007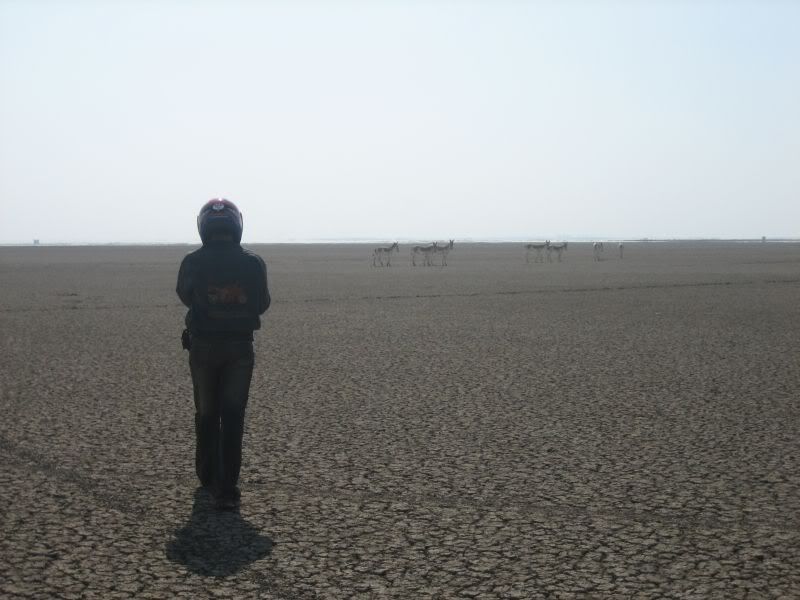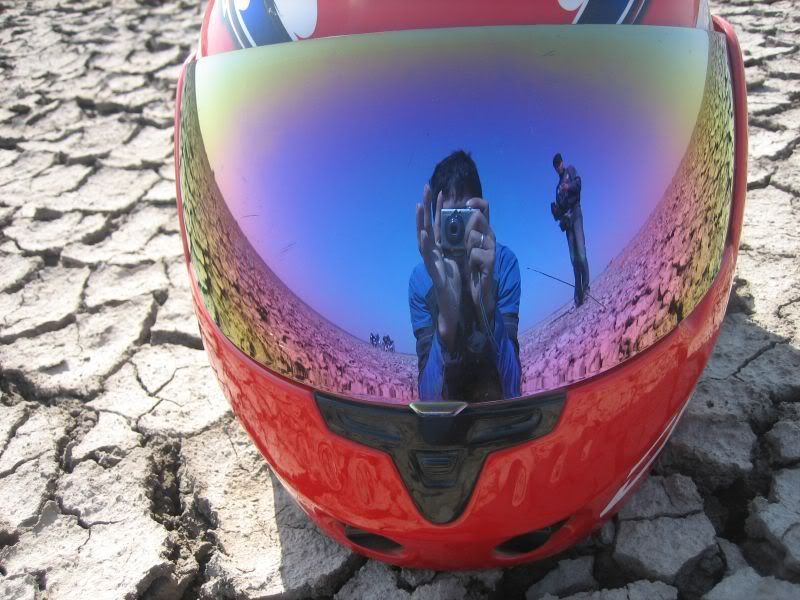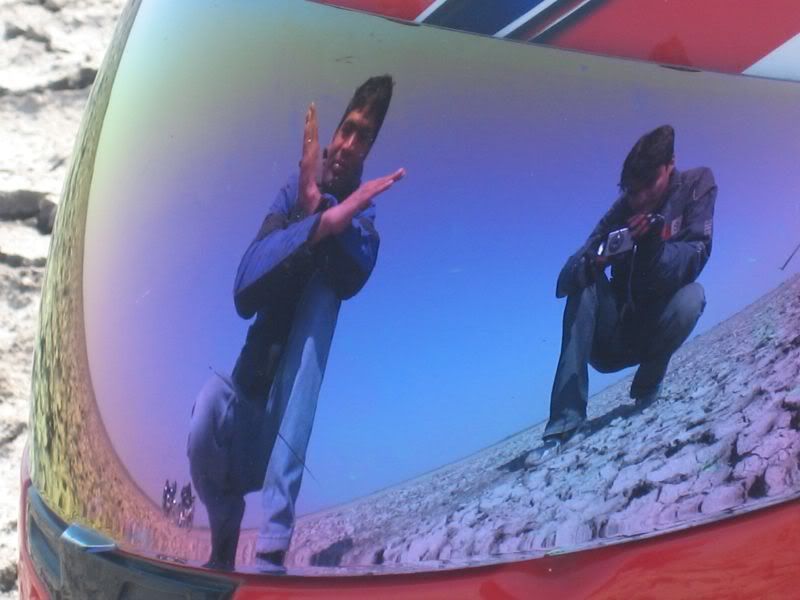 ______________________________________________________________________________________________________
28th Dec:I was going to rann of kutch tommorow and was casually sitting in office when my phone rang and a guy from bike nomads said he was interested in coming with me.I half expected to have any company for the ride and it was just a casual mail regarding my plan for new years eve.
29th Dec:Next morning I gave Vaibhav a wake up call at 4:30 once I woke up.We decided to meet at 6:00 am under Jog Flyover at andheri.When I rode out Vaibhav had reached there before I arrived.Finally I had company on my long ride.I introduced myself to Vaibhav Gokhale.A brief chit chat abt some riding strategies for the trip and we were all set out on our adventure on NH-8.
We had regular stops after every 50 kms or so.Drinking water/pee breaks.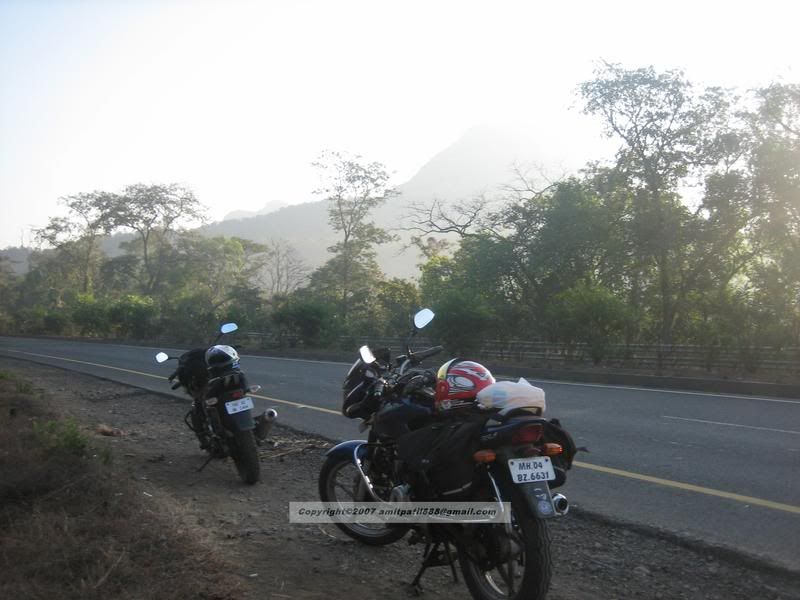 By 12:00 we were near surat and stopped at a dhaba for lunch.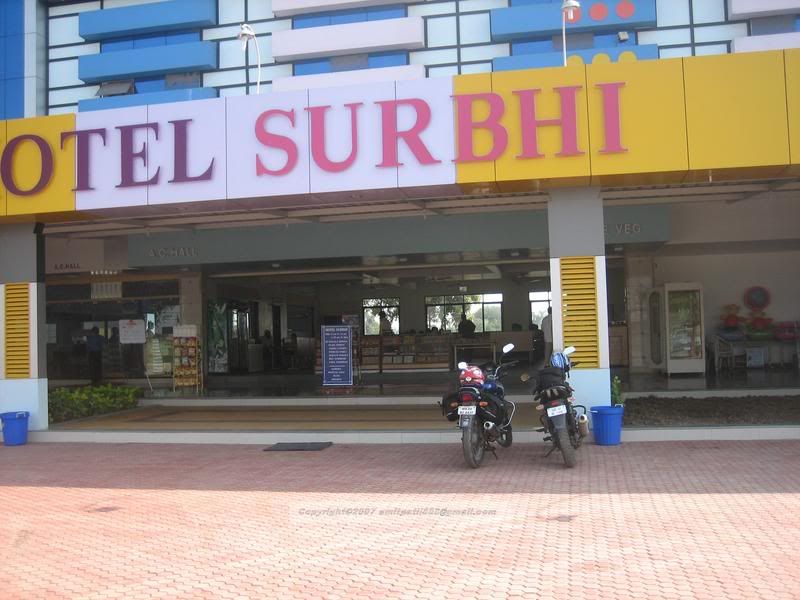 Progress was at 70 kmish and with regular stops we reached reliance plaza before vadodara for a mini snack break.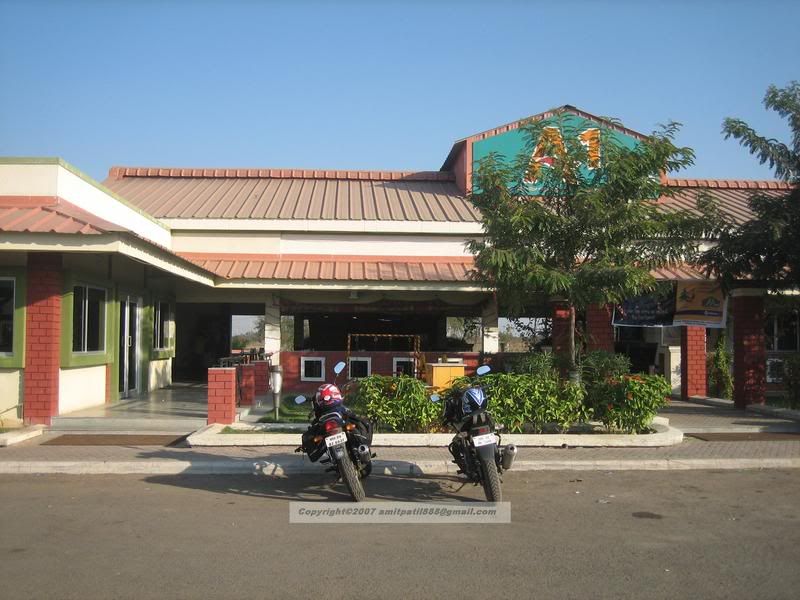 The break was longer than expected with both of us tired.The road is really bad near vadodara with some construction going on NH-8.Add to it there was plenty of traffic.Just then Vaibhav's bike skidded at a traffic signal and he lost a RVM(luckily a left one)and he had a bledding knee.
We stopped and I patched him up.By the time we reached vadodara-ahmedabad it was already late and I did not want Vaibhav to ride on a two laner without a RVM.So further futile efforts were spent looking out for a spares shop.
Later after a unsuccessful hunt we decided to go ahead till ahmedabad.By now its completely dark....Vaibhav had a tinted visor and he put up some yellowish shades on his eyes and said he could see clearly with them(well I wasnt exactly convinced).
Well with incoming trucks which blinded us,co-rider half blinded with no rvm and yellowish shades which might cause refraction of incoming lights,not having much experience of riding with each other and both of us shit tired(Also with plenty of a$$holes riding/driving without headlights on a two laner) we decided to ride real slow to make sure we didnt stick on to the incoming trucks.
Well our patience was rewarded as we reached ahmedabad at night but without any major incidents....most importantly we took water breaks and snacked reguraly that means we did not burn ourselves out.
We stayed in a dhaba close to ring road(Jashoda nagar) for 360 bucks.Later we had a good dinner at night.
Distance covered: Approx 525 kms
______________________________________________________________________________________________
Dec 30:We were supposed to start early to see birds and all at Nal Sarovar.But sandman took over and watching sunrise was out of question.Nal Sarovar was dropped fdrom the iternary for the 'next time '
We got up at around 7:00 am got ready and started biking towards Rann.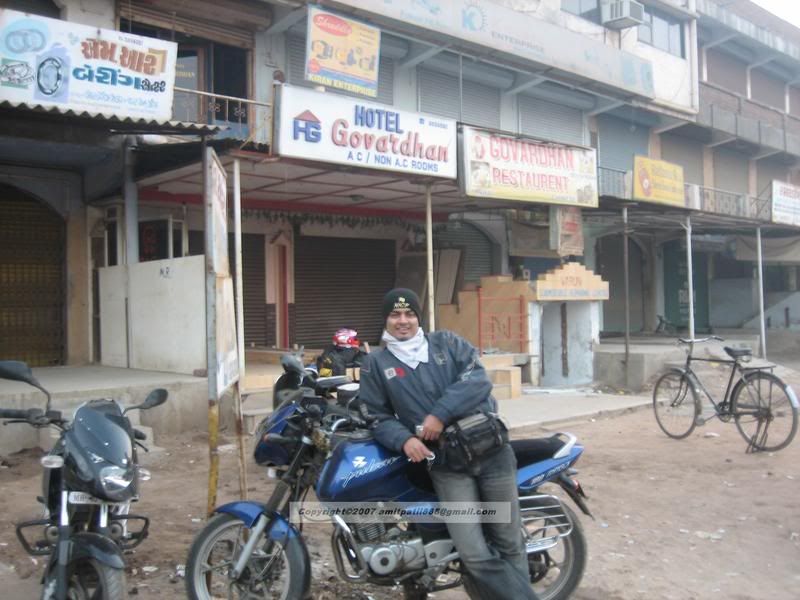 The route taken was ringroad at amdavad-viramgam-bike towards dasada-take a turn for kharaghoda(its not there in eicher map...but it is there....there a board which will tell you where to turn left)-Patadi-Karaghoda.
We stopped and snacked just before viramgam.Ate a heavy breakfast to make sure we went into rann well fed
.Also carried plenty of backup water bottles.
Reached karaghoda and asking locals took a dirt road into rann of kutch.
___________________________________________________________________________________________________________
Biking is rann of kutch:
Biking in rann is real fun.But the biggest worry is getting lost.The landscape being completely flat there are no reference points and it means horror if you get lost.
The surface was cracked and dry but had moisture underneath it which means there was water at some point.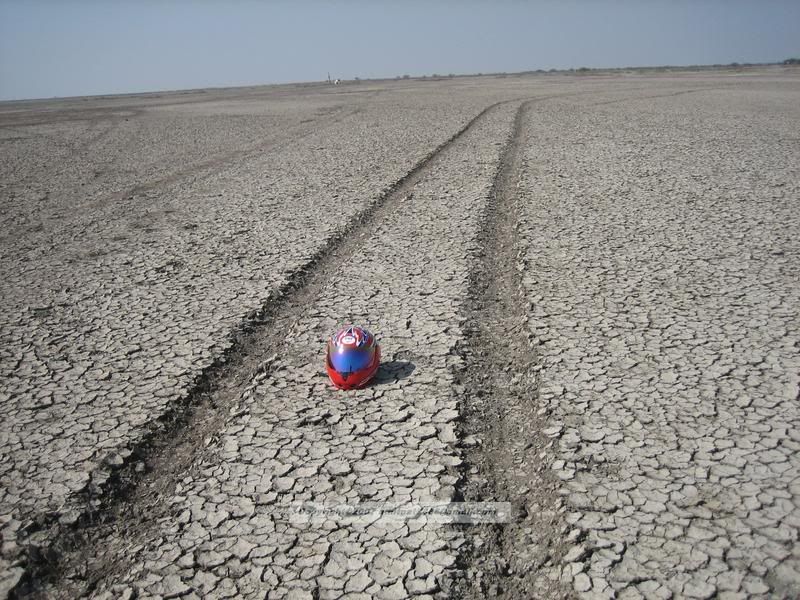 The best bet to bike the rann must be post november-december when water is completely dried off.We did encounter some sticky soil just after entering rann(must be made wet by the salt mining companies)
Navigating in rann maybe painful with no reference points in horizon and trackmarks going in all directions
We did encounter a few temples,flags etc which must be used by locals for navigations since they dont have any GPS.Make sure you have a reference point in visual range at all the time.When you reach one point search for another.Else getting lost in the rann is childs play if you dont have GPS with good battery life
Having said that we biked over there for two three hours and didnt venture deep into rann as we did not any navigational equipment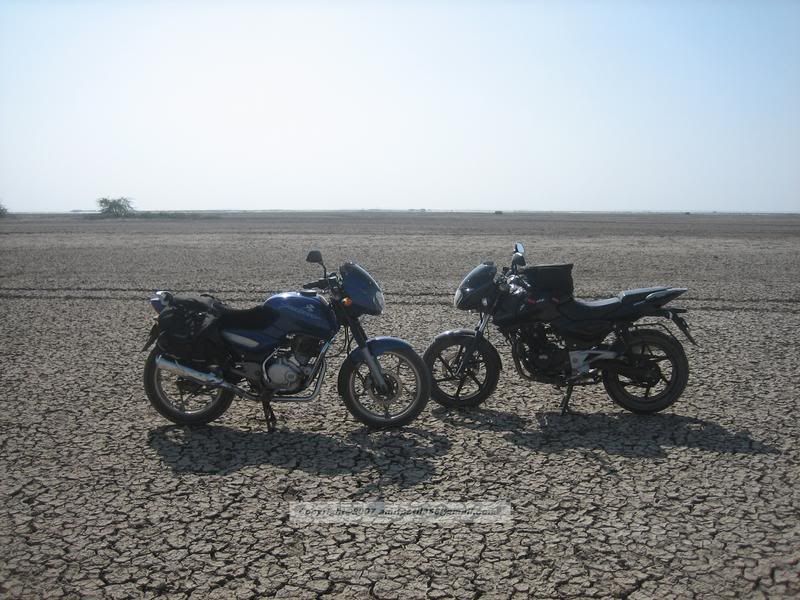 Two cautions must be exercised
1]Not getting lost
2]Not getting bike stuck in a swamp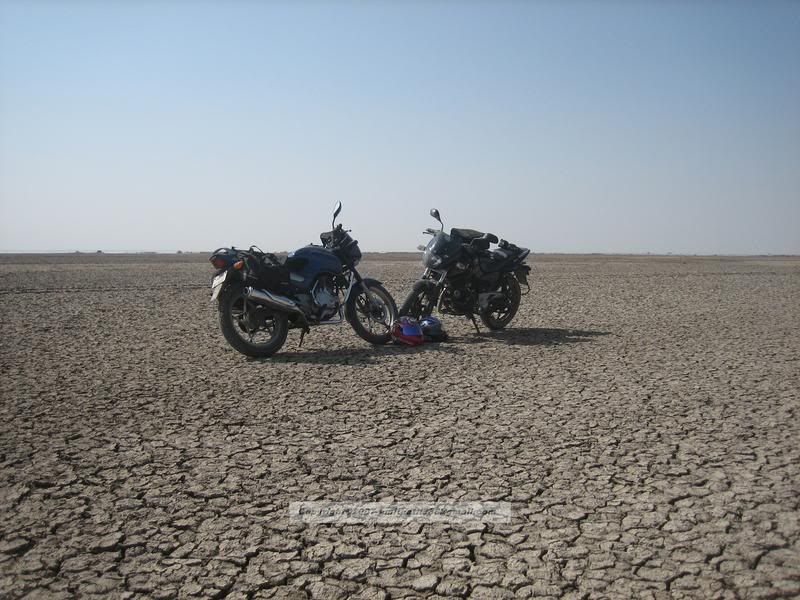 _____________________________________________________________________________________________
Rode back to amdavad.Fixed vaibhavs RVM on the way back.Travelled to vadodara to cover some kms on way back.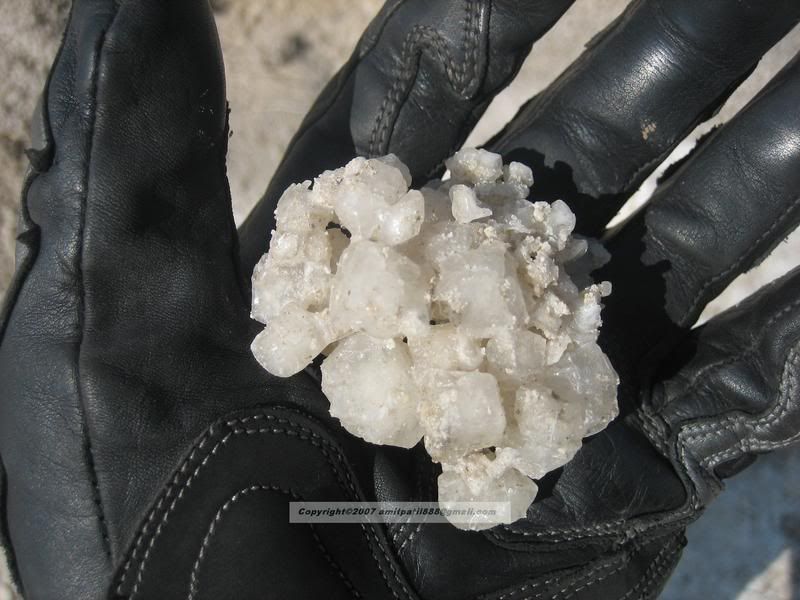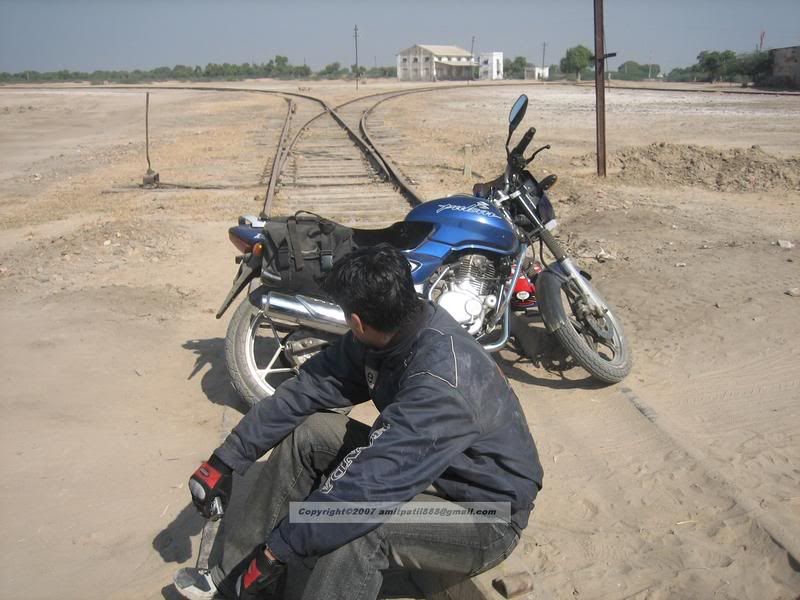 Dec 31st:Rode back home in a disciplined way.Reached home in evening
Trucks carrying atrocious goodies which you spot on NH-8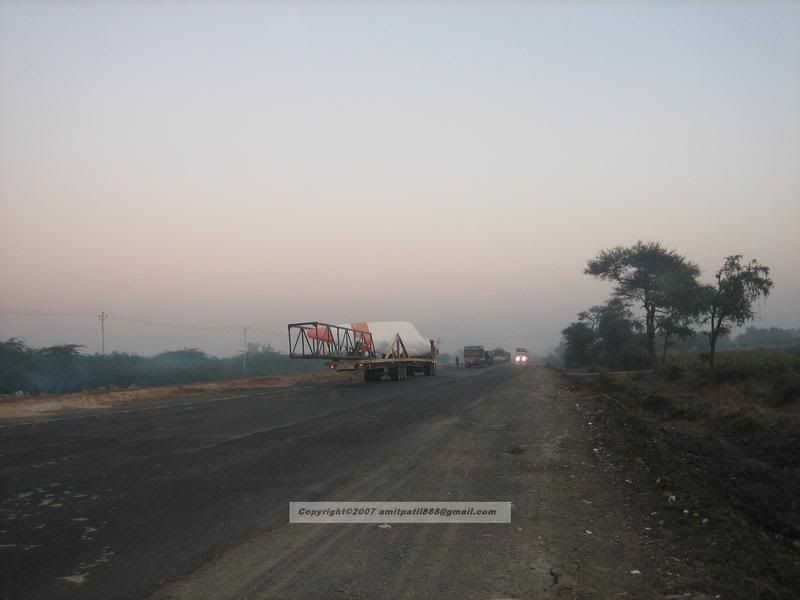 Added another destination in my biking resume