Riders:
Me,Razorblades,Winzee,Ambidexterous and pulsarider and ChiragV(Till lonavala).
We had decide to meetup very early in the morning.
Had called up everyone 5:00 am and everyone was awake before.Good so there would be no late comers.Started early and reched powai at 5:45.
Winzee was already there.Five minutes later ambidexterous calls up and informs he would be little late as he has lost his keys.Meanwhile Razorblades shows up and we were joined a while later by ChiragV.
Ambidexterous shows up after 10 minute.A round of introduction later we are all set to ride.
Half a kilometer into the ride I slam my brakes.Front disk locks and bike starts fishtailing like crazy and I go skidding into the gravel.My brake settings are incorrect since its straight out of a mechanics place.Good I realised it on a small road then on a highway.Fell down
Pick up my bike mostly by myself,ambidexetous giving me a hand.Though I have done it often picking up bike at almost 6:00 in morning with me half alsleep and the sudden jerk I gave caused me a sprain in the back and I had to ride with a hurting back for rest of the day
Met up vaibhav at 6:15 ish at center one in Vashi and I adjusted my brakes while rest of the gang was chit chatting.Filled up near dattas while rest of gang had sutta etc.
Sunday morning so there were tons of bikers there.Spotted a R1 flying past on the road and Gopi and Winzee said they spotted a face inside the helmet and it seemed like a chic was riding it
Rode to RKs in lonavala and stopped there for breakfast.......
From left to right:
Pulsarider(Vaibhav),ChiragV,Gopi(Razorblades),Winz ee,Ambidexetous
Had called up Roamer and he was already ahead of us(They had taken the mumbai-pune expressway).......so rather than randevous point at dehu road they had already passed lonavala and we decided to meet in satara.
Dehu Road to satara:
Alrite so finished all this yummy idli-vada sambar and rode to dehu road and from there to satara
Well there isnt
much to write abt this except we rode slow at times..add to it there was some traffic.
Took a couple of stops in between.We finally stopped abt 40 kms from satara where
we met a uncle riding his pulsar from mumbai.He showed us his new seat and expalined that difference is like a seat in volvo bus and ordinary bus
Met another local and we inquired abt our destination
Local:What is there in kass?
Us:flowers
Local:Flowers are all gone.If you want to see flowers you should go to himalayas
Local:You should see badrinath,kedarnath there(maybe wanted to say I have been there)and there are flowers at one place.
Us:Tell us the directions to kass and we will check out
Local gives directions
Bad attitude locals in central and south India have at times.Why the fck was he marketing himalayas when we
had come to his home town?
Just a flashback to my hampi ride I can recollect the cop who we bumped into bang outside the ruins asking me and Navin ,
"What have you come to see here?"."What have you come to visit here????This place ofcourse".
Indian youngsters visiting "Hampi ruins" didnt seem convincing reason.
You should learn a thing or two from people in Rajasthan :P
Call up roamer and learn that he has already reached satara and are planning to leave for Kas.
Reach satara and take old pune satara highway and I was sweeping following ambidexterous and others rode ahead
in the traffic and we got split.Called up Vaibhav and informed that we were waiting at Rajawadi chowk.Well we waited
this guys didnt show up.Suddenly glances on across the chowk and spotted them.Apparently some thulli(Lady thulla) was
speaking to the guys.I crossed the street and joined them.
Razor and Winzee were quite and apparently had no clue of ongoings or what they were charged for(i am sure they still hav no clue)
,with vaibhav and me the only person who understood marathi
I dont see any one way or dividers.
Apparently for a city where all the bikers were helmetless,three people ride on one bike,these guys were being charged
for riding on the wrong side of the lane.Well there was no divider either......
Apparenly a street lamp serves as a
divider and anyone who exits the road on the wrong side of the lamp is fined for riding on the wrong side.
Vaibhav's pocket got a lighter by 100 bucks and the righteous cop stopped us and asked us to collect
the reciept(Must be a fake one)
It was getting late(Must be 1:30 or something)We then rode to Kass which was only 25 kilometers now
some pics........................
'the secret levitation lessons' that we practised:P
Dam close to our destination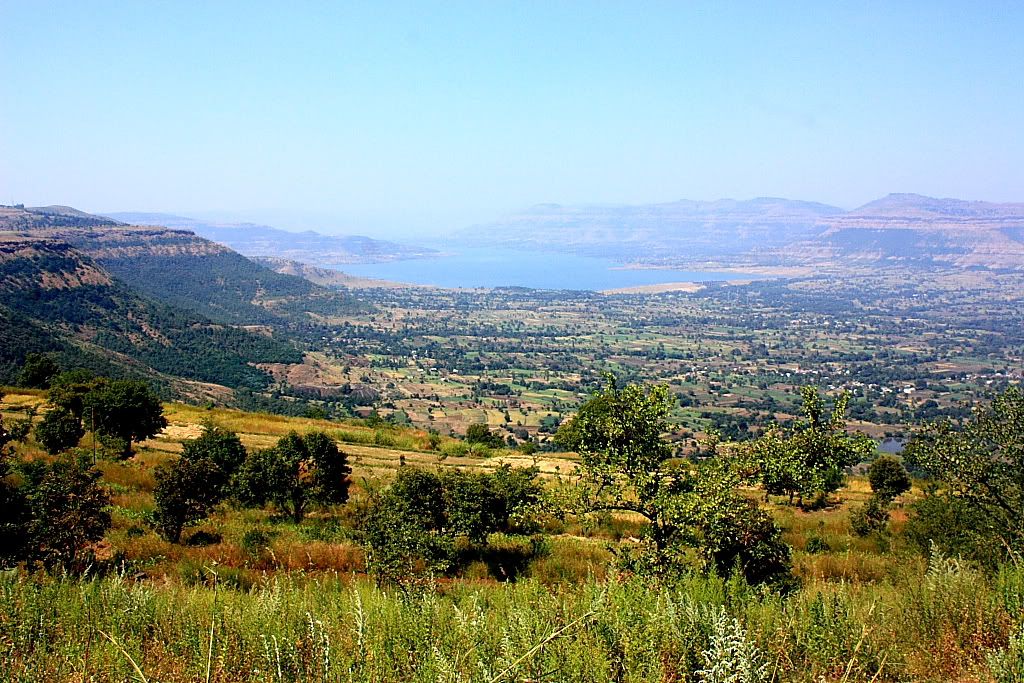 .........................more later
....more later